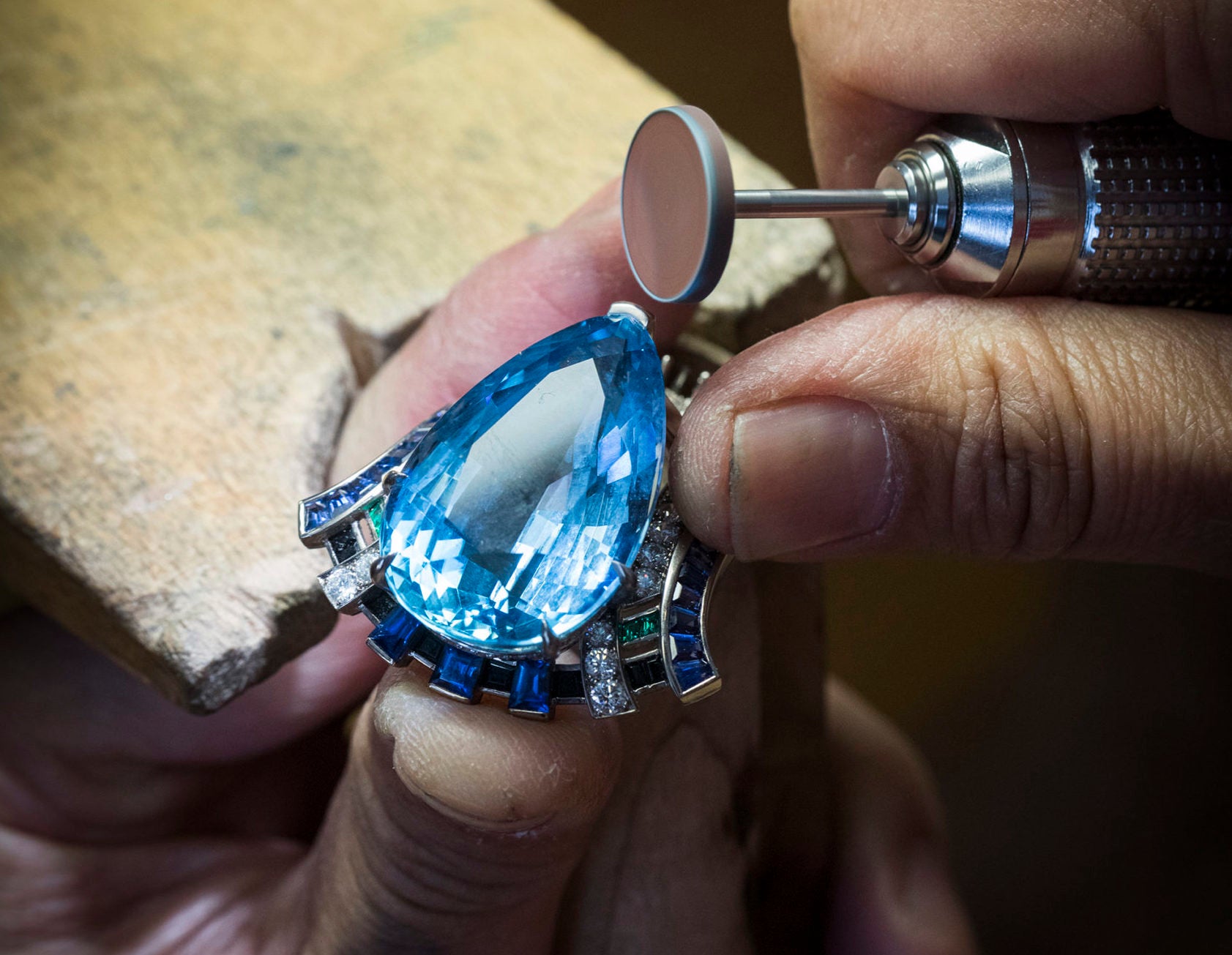 Each year, Van Cleef & Arpels' president and CEO, Nicolas Bos, dreams up a romantic theme for the firm's exquisite high-jewelry collections. He's taken us into the ocean's depths, reimagined classic fairy tales from the Brothers Grimm, and brought to life pairs of charming animals aboard Noah's Ark. Now, he whisks us to fair Verona in an ode to William Shakespeare's eternal love story, Romeo and Juliet.
During Paris Couture Week, Van Cleef & Arpels unveiled its latest high-jewelry collection, Romeo and Juliet, which features 100 unique pieces celebrating the beauty and poetry of the tragic tale.
The pieces range from literal representations of the story, including a pair of clips with figures of the doomed lovers and a clip of a diamond balcony that drips with emerald and tsavorite leaves and has a secret door showing the couple embracing, as well as abstract interpretations.
One exceptional piece, the pictured Fiore bracelet, has two stunning pear-shaped aquamarine that signify Romeo and Juliet: They are connected, but never touching.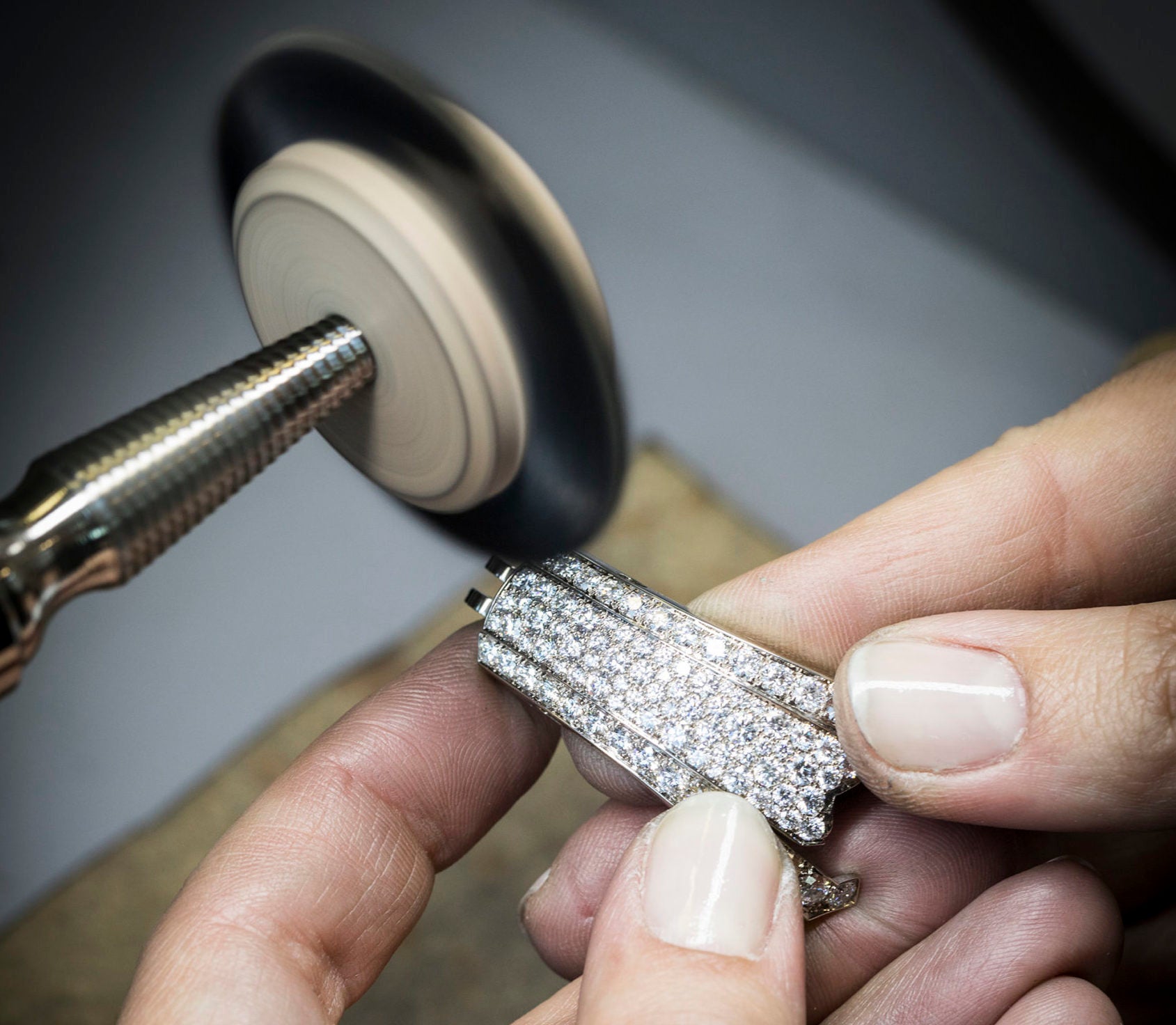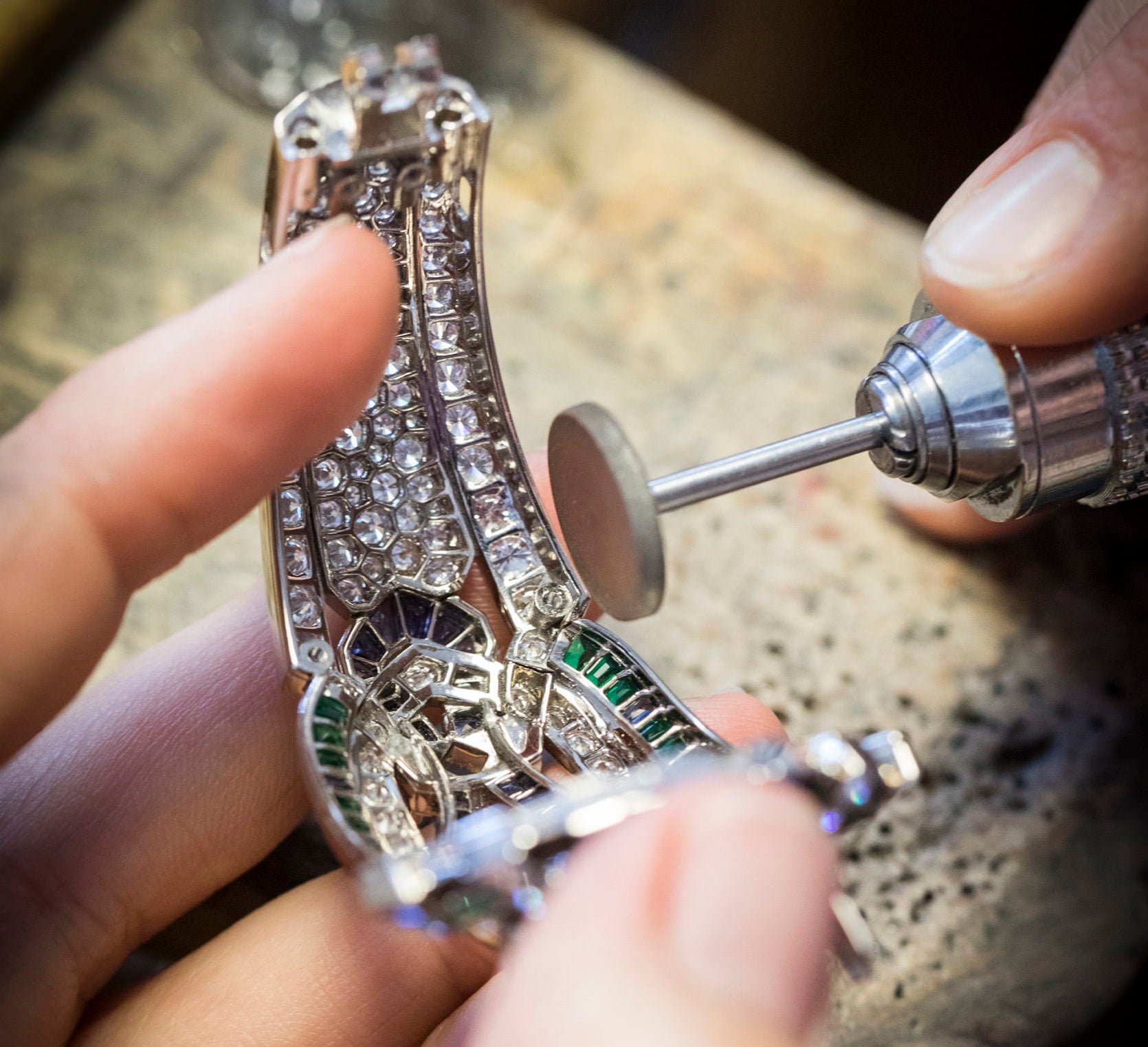 The stones are set atop hidden diamond palmettes — which can be seen when gazing through the exceptionally clear 50-carat stones — that represent their clandestine marriage vows. The blue color recalls the fountains of Verona, as well as being the color of the Montague family's coat of arms. The interwoven stone bands allude to trickling water, as rivers of diamonds wind their way under channel-set sapphires.
Bos tells us exclusively "one of the most spectacular pieces of the collection" and says that its "hidden decor highlights both the Maison's expertise in selecting stones, its attention to details and its poetic interpretation of the lovers' secret vows." Each high-jewelry design begins with a gouaché painting — a traditional watercolor technique — showing the design from different angles.
Goldsmiths use the gouaché design as a guide to create the 18K white gold mountings, adjusting spaces for individual stones. The stones are set by hand, then the pieces are pre-polished. A master craftsman assembles the individual parts of the bracelets, then the entire bracelet is brush-polished to achieve a gleaming finish. In total, the Parisian artisans spent 1,645 hours creating this sensational piece.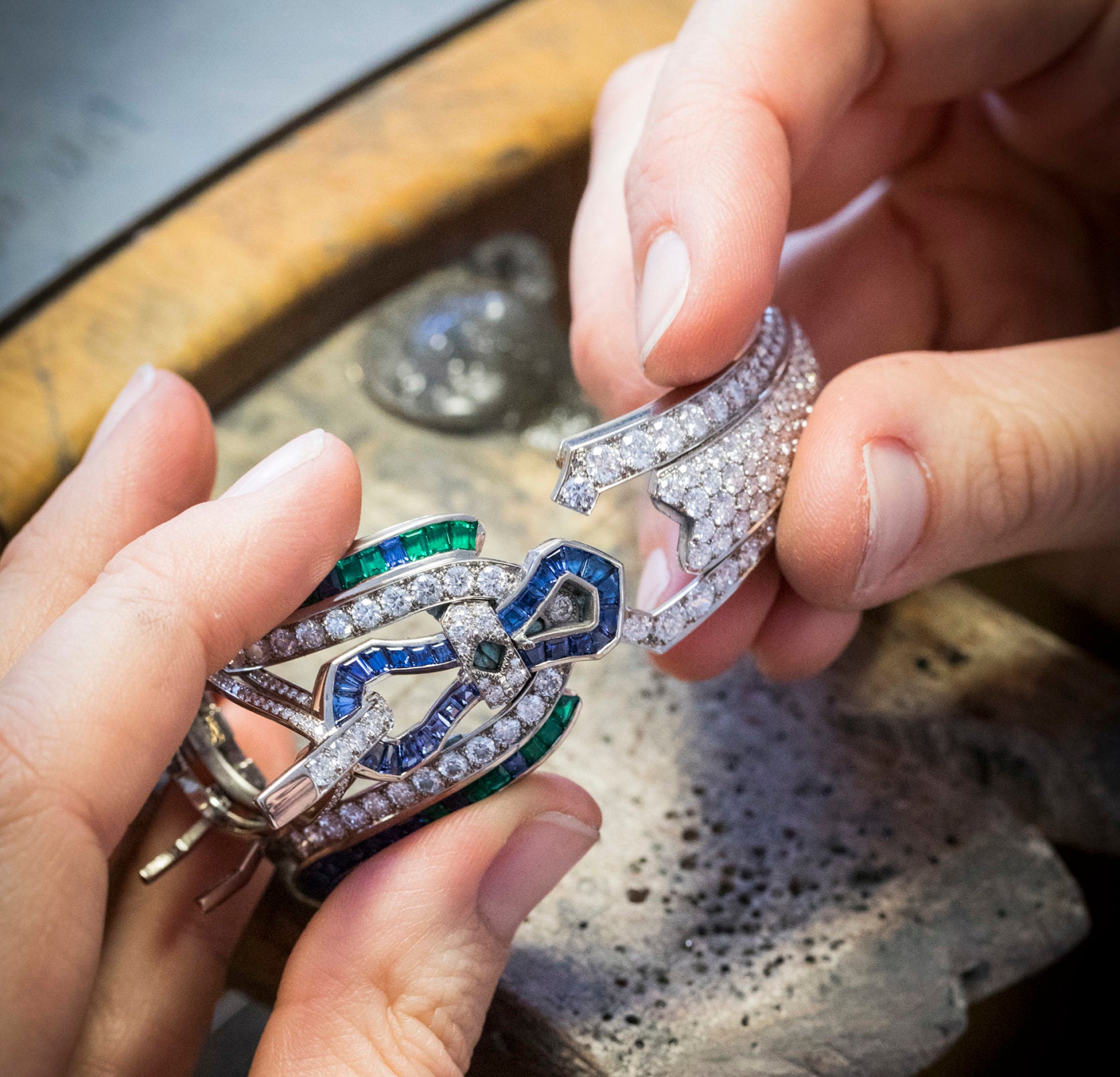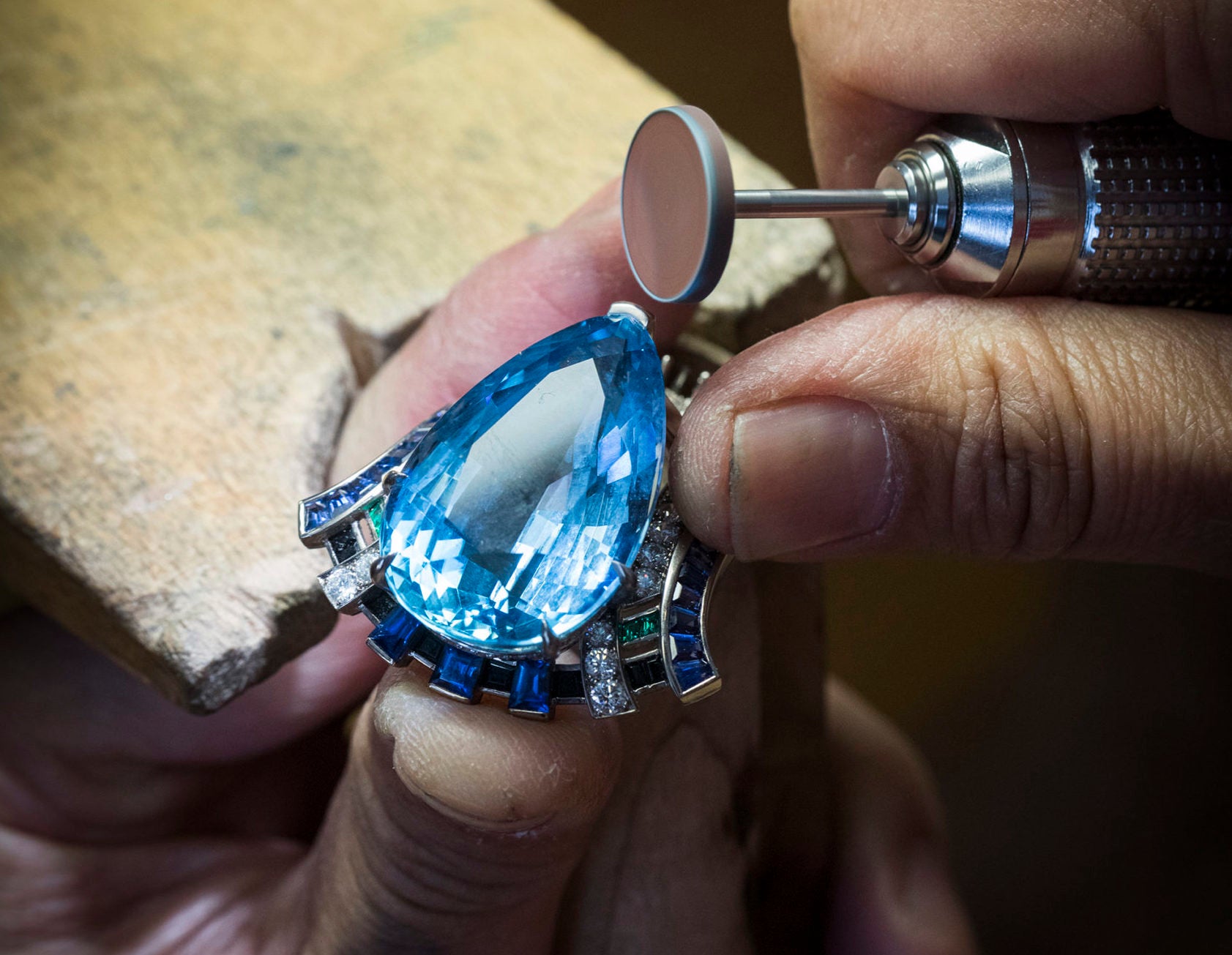 Fiore bracelet in 18K white gold with 50.87- and 50.50-carat aquamarines, 16.55 carats diamond, 10.75 carats sapphire, 1.79 carats emerald, 1.30 carats black spinel, price on request, available by appointment, +1 877 826 2533, vancleefarpels.com
Images: Van Cleef & Arpels