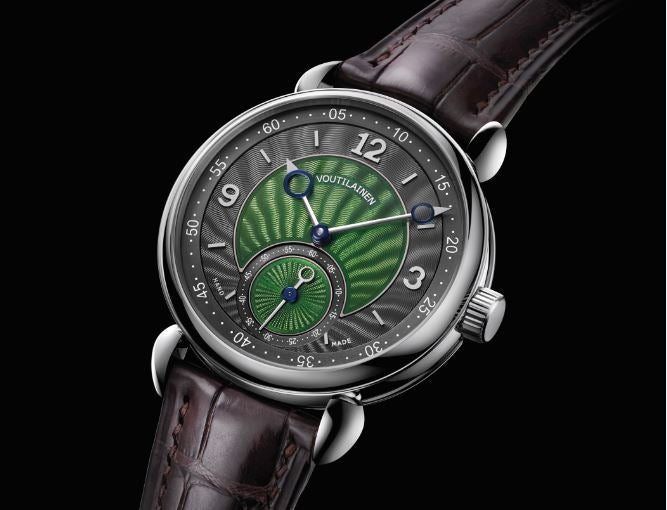 This story originally appeared in the November/December 2017 issue of Elite Traveler.
One of the industry's most beloved independent watchmakers, Kari Voutilainen is as well-known for his artistry and dedication to métiers d'art as he is for his innovative, and sometimes mind-bending, timepieces featuring in-house movements. Voutilainen uses traditional horology techniques, but the resulting timepieces are anything but traditional thanks to design and a liberal use of color.
Vingt-8 ISO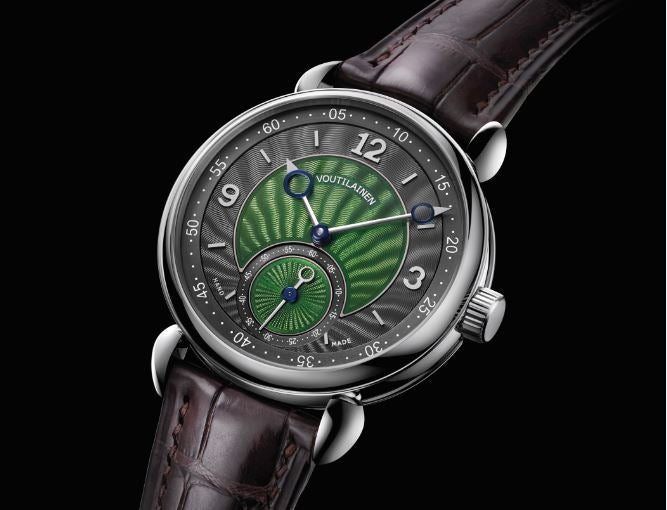 Here, telling time is not as easy as a quick glance at the wrist,but that's not the point. The unique method of telling time requires a bit of thought, which creates a deeper relationship because it's not simply a reflex. Each hour, the minute and hour hands
overlap, and every half hour the hands are opposite each other, forming a straight line. At 15 minutes and 45 minutes, the hands are at a right angle (90 degrees and -90 degrees). The combination of unusual movement and traditional guillochéd dial is a perfect encapsulation of this brand.
$89,000
Aki-No-Kure
Blending traditional Japanese lacquer with high horology, Voutilainen collaborated with Unryuan, the famed lacquer studio in Japan, to create this incredible bespoke watch. The decoration alone took over 1,000 hours. Gold dust, gold leaf,mother-of-pearl, abalone shell and Yakou-gai (green turban shell) depict a masterpiece of Japanese grass gracefully waving in the wind. On the inside case, there is a dragonfly and ripples of water, and the movement and caseback are also decorated.
$350,000
GMT-6
One of the most elegant GMT watches currently on the market, the GMT-6 features a fine guiochelléd dial with several examples of the craft. The GMT is indicated with a subdial at 6 o'clock and includes a day/night indicator in transparent grand feu enamel. The integrated in-house movement has two escape-wheels for increased precision and a 65-hour power reserve. It is easily adjusted—by simply pressing the crown, the GMT disc advances by one hour.
$98,000
Contact voutilainen@voutilainen.ch, +41 32 861 4832, voutilainen.ch