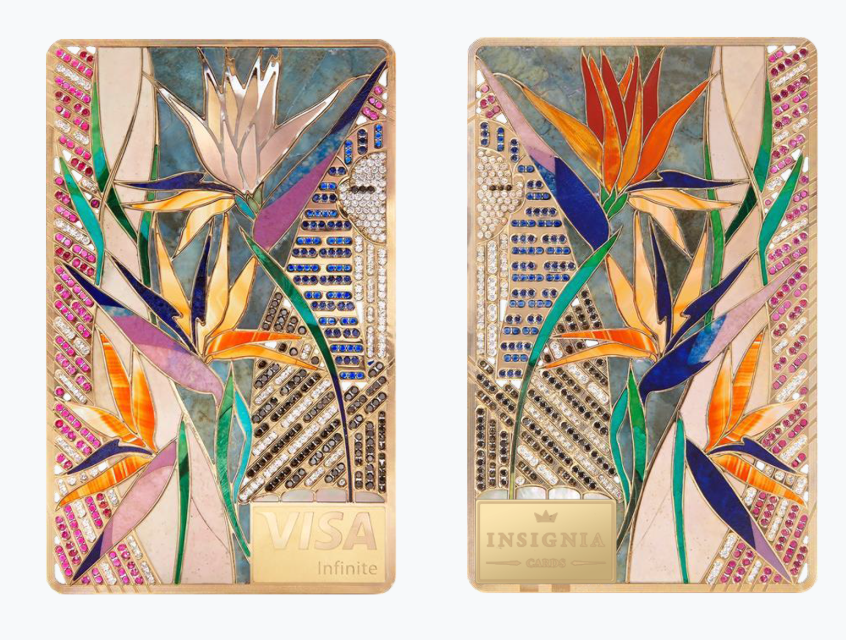 London-based luxury lifestyle management service Insignia has decided that the US is ready for its premium services. The brand recently launched its coveted, super-premium payment card — its jewelry card — to the American market at the 2019 New York Jewelry Show. The catch? The services, including owning the card, is invite-only. 
The jewelry card, whose main competitor is the American Express Black Card, is exactly what it sounds like — a credit card embellished with rare gemstones that signifies the spending power of its owners. The card comes in a variety of prints and colors, all embellished with precious metals, including gold, and rare gemstones (like rubies, pearls and diamonds). The card alone costs up to $200,000, and is handcrafted by artisans in Switzerland. Those invited who want to partake in the service can even work one-on-one with the artisans to create a totally bespoke card, like emblazoning your favorite sports' team's logo, an image or name of your pet or even a family crest. Of course, most insure their cards in the off-chance they are lost. 
So, what is Insignia? The company, founded in 1996, started as a travel-related service and payment card provider and has grown exponentially to encompass all luxury lifestyle management services. The invite-only membership invites ultra-high-net-worth individuals with enormous spending power, and the company even caps membership numbers to keep it exclusive. Insignia works with billionaires all over the globe, and currently has more than 800 clients in Europe, and about 50 in the US so far. Insignia partners with hotels, restaurants, spas and high-end fashion, jewelry, car and art brands and companies to allow exclusive access to some of the world's most coveted items.
Clients of Insignia have access to a dedicated, 24/7 personal assistant who help organize detailed travel, from organizing a detox program at a remote spa or a private dinner at a Michelin-starred restaurant. And members can do it all in style, by paying with their magnificent, one-of-a-kind jewelry card.
For more information, visit insignia.com