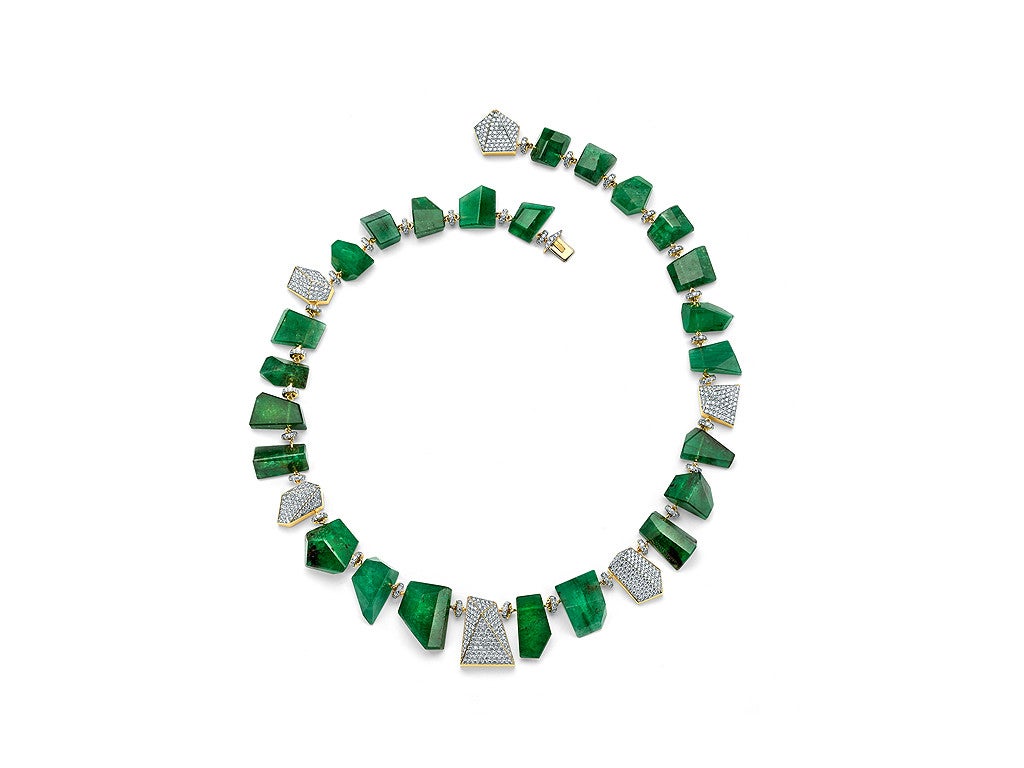 Renowned jewelry brands and independent designers from around the world descend upon Las Vegas each June to unveil their latest collections at the Couture show held at The Wynn. Far more than a tradeshow, this is a must-attend event for exclusive luxury jewelry retailers and global media outlets, all of whom are eager to discover fresh, new jewelry creations in a highly-curated environment. While innovation did abound, there were clear trends spotted throughout the show as well. Enjoy the unique perspectives designers brought to these six trends in this slideshow featuring emeralds, triangle motif, front facing hoops, aphids, jade and stars.
Emeralds
Although the emerald is typically considered a more traditional gemstone, it emerged on this year's Couture show scene in much more contemporary ways. Some designers chose an edgier approach while others opted for sheer drama. Standouts were Sarah Hendler, who combined the asymmetrical placement of emeralds on posts with dangling diamonds and golden spearheads, and Pamela Huizenga, who used emerald nuggets offset by free-form golden shapes with pavé diamonds.
Sarah Hendler 18K yellow gold double drop Spear earrings with 13.27 carats of ethically-sourced Gemfields Zambian emeralds and .74 carats pave diamonds, $14,500, sarahhendler.com
Pamela Huizenga 18K yellow gold necklace with 343.80 carats faceted emerald nugget beads and 10.58 carats pave diamonds, price on request, pamelahuizenga.com
Vanleles 18K white gold Bonetta octahedron ring with 2.15 carats center octahedron emerald, 4.13 carats Gemfields sourced emeralds and 0.53 carats diamonds, price on request, vanleles.com
Click through for the Triangle Motif trend.
Triangle Motif
The triangle motif was a rather new trend at Couture. In some cases, such as the Melissa Kaye lariat and Marli New York slip on necklaces, the triangular gemstone shape clearly inspired the direction of the pieces. In the case of Hearts on Fire, the inspiration came from the iconic Chrysler Building in New York City.
Melissa Kaye 18K white gold Chloe Lariat with 6.85 carats diamonds, $36,410, melissakayejewelry.com
Marli New York 18K rose gold Avant slip on necklace with 3.10 carats diamonds, $17,200, marlinyc.com
Hearts On Fire 18K yellow gold Triplicity Golden necklace with 17.95 carats diamonds, price on request, heartsonfire.com
Eclat Jewels 18K white gold Chandelier earrings with 16.94 carats pear-shaped diamonds and 1.45 carats round diamonds, price on request, eclatjewels.com
Click through for the Front Facing Hoops trend.
Front Facing Hoops
Front-facing hoops were seen all throughout the Couture show, each representing an entirely different look and feel. Some earrings, like the diamond-encrusted Mattia Cielo pair, retained the classic hoop form while adding a slight twist that allowed the hoop to face forward with its tail tucked neatly behind the ear. Other more memorable pieces are the 22K yellow gold and rose-cut fancy sapphire Gurhan earrings, and the David Webb 70s throwback 18K yellow gold and ebony Doorknocker earrings.
Mattia Cielo 18K white gold Rugiada hoop earrings with 1.07 carats diamonds, $5,600, mattiacielo.com
Gurhan 24K yellow gold earrings with 11.24 carats amorphous rose-cut fancy sapphires, $7,950, gurhan.com
David Webb 18K yellow gold Doorknocker earrings with Ebony, $8,200, davidwebb.com
Jemma Wynne 18K rose gold hoops with 0.8 carats diamonds, $5,880, net-a-porter.com
Click through for the Aphids trend.
Aphids
Aphid-inspired jewelry was a prominent trend at Couture, and in most cases their intricacies were not lost on this year's designers. While some chose big and bold for their flying creatures, others stuck to a simpler approach. One of my personal favorites is the Victor Velyan butterfly necklace, which exudes the truest beauty of real-life butterflies with iridescent opals and the dreamy blue hue of paraiba. Lord Jewelry's fantastical Lady and the Dragonfly, handmade with diamonds, emeralds, rubies and jewelry enameling, is also an exquisite piece not to be missed. Jon Apel's dragonfly and flower necklace displayed a softer side with platinum and diamonds.
Victor Velyan 18K white gold Butterfly Pendant with 121.66 carats of clear fire opal, 3.91 carats paraiba and 5.60 carats diamond, $198,000, victorvelyan.com
Lord Jewelry 18k yellow gold Lady & the Dragonfly necklace/brooch with 5.30 carats diamonds, 1.04 carats emeralds, 0.10 carats rubies and jewelry enameling, $50,000, lordjewelry.us
John Apel platinum Dragonfly necklace with 1.92 carats diamonds, $10,800, johnapel.com
Click through for the Jade trend.
Jade
The Jade trend at Couture emerged in several ways with several pieces harkening back to a different time and place. Paul Morelli's carved white jade earrings accented with chalcedony, diamonds and sapphires, are reminiscent of vintage lace, while Wendy Yue's art deco inspired carved green jade earrings are a beautiful nod to the roaring 20s. On the other hand, Ray Griffiths' gorgeous green Burmese jade and tsavorite earrings simply hint at a little bit of rock and roll.
Paul Morelli 18K white gold earrings with 1.97 carats white diamonds, 2.96 carats lavender sapphire, 5.51 carats chalcedony and 21.56 icy jadeite, $22,000, paulmorelli.com
Wendy Yue 18K black gold earrings with 9.6 carats jade, 1.9 carats emeralds, 3.1 carats tsavorites, 0.2 carats white diamonds and 0.9 carats fancy diamonds, $10,200, wendyyue.com
Ray Griffiths 18K yellow gold Crownwork set earrings with 5.69 carats tsavorite and 41.04 carats natural Burmese jade, $7,975, raygriffiths.com
Click through for the Stars trend.
Stars
Celestial stars shown brightly at this year's Couture show. Some designers created minimal pieces that were more dainty and others chose a more prominent approach. Some notable pieces include Anzie, who kept things simple yet strong with three stars of topaz and diamonds displayed atop a wide yellow gold cuff, and designer Colette, who chose black and pink gold to contrast the sparkle of her star pendant made with moonstones and diamonds.
Anzie 14K yellow gold one-of-a-kind Aztec Starburst cuff with 5.62 carats topaz and 0.45 carats diamonds, $14,500, anzie.com
Colette 18K black and pink gold pendant with 2.2 carats white diamonds and 4.9 carats moonstones, $11,700, colettejewelry.com
Arman Sarkisyan 22K yellow gold and oxidized silver Cupcake earrings with 1.62 carats blue sapphires and 0.68 carats diamonds, $9,200, armansarkisyan.com