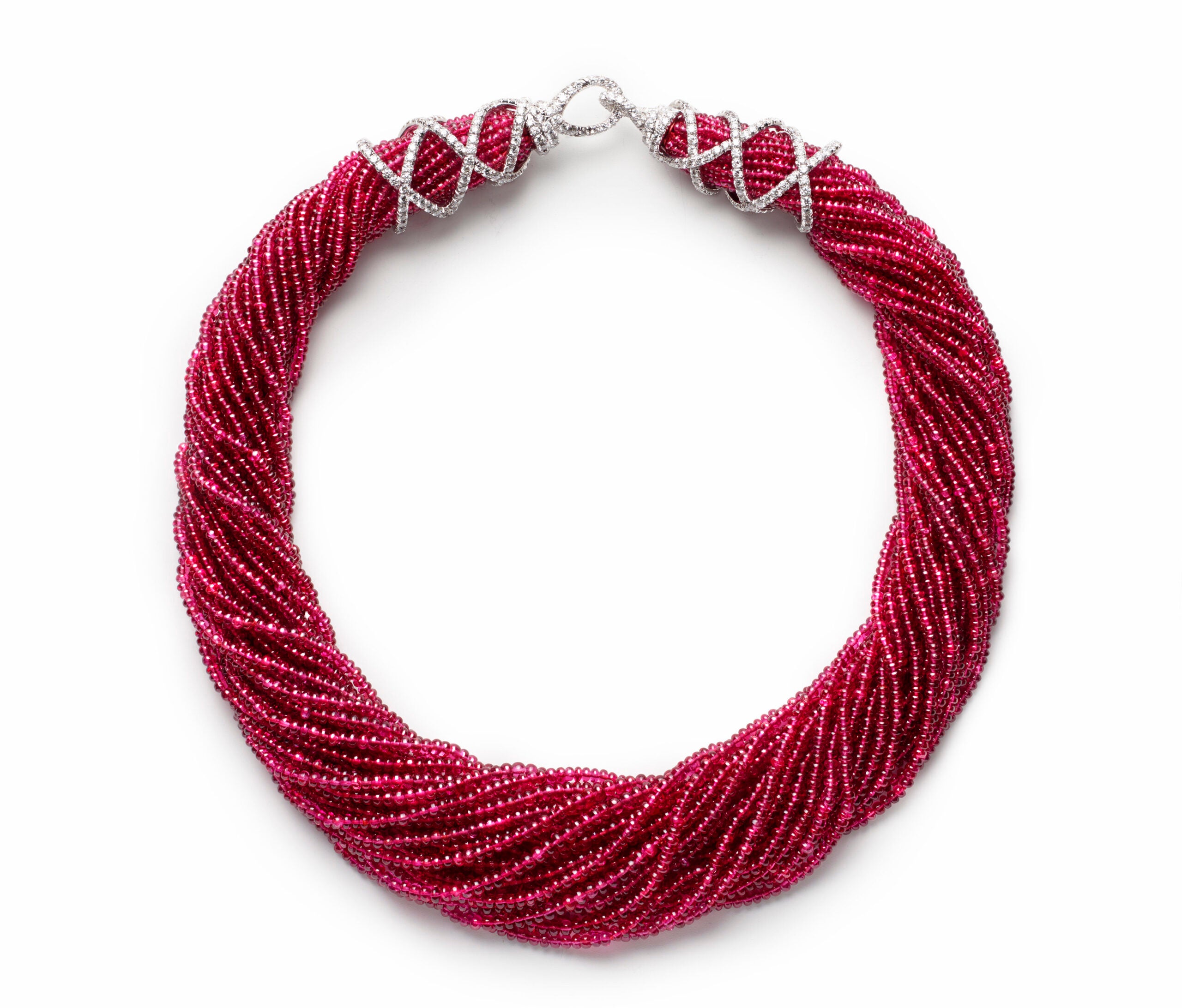 David Yurman 18K white gold High Jewelry Chain Stax bracelet with 2.75 carats blue sapphires and 9 carats custom-cut baguette diamonds, $58,500,  davidyurman.com
It wasn't the first jewelry piece David Yurman made when he and wife, Sybil, launched the David Yurman company back in 1980, but it was arguably the one that put his name on the map: the cable bracelet, an iconic jewelry piece that has become as American as Levis, baseball and apple pie. The twisted metal tubes forming the cable design was a natural extension of Yurman's early life as a master sculptor. The idea to carry the motif throughout the core of Yurman's jewelry designs was groundbreaking for the jewelry world in terms of developing and sustaining a recognizable brand, and it's one of a few key features that are carried through its newer high jewelry collection. In my interview with Evan Yurman, David and Sybil's son and chief creative officer of the company, he shares what he sees as the future of the David Yurman jewelry brand, saying, "What's important to us as a family is to continue making pieces that are true to our origins – my father's as a sculptor and my mother's as a painter. That's where the brand started, and it's what we continue to use as our inspiration for every piece we've designed over the last 38 years."
David Yurman 18K yellow gold High Jewelry Eternity Stax earrings with 6 carats custom-cut baguette diamonds, $42,000, davidyurman.com
David and Evan Yurman meet regularly with their team of designers and craftspeople to ensure their designs are seamlessly translated from sketch to finished piece. A tremendous amount of care is given to maintaining the soul of the brand by incorporating the brand's unique design elements while also breathing a fresh wind of new ideas into each high jewelry piece. The Stax Eternity collection, one of my favorites from David Yurman high jewelry, tells the brand's story of past, present, and future. The 18K gold Stax Eternity earrings with diamonds, shown above, incorporates the cable element, which symbolizes the company's heritage. It also features the chain element, which is currently used today in the brand's mainline collections and symbolizes strength and confidence, as well as the company's present. The company's future is symbolized in the collection by its use of the newly incorporated faceted-metal element, a nod to graphic modernism. The faceted-metal element was introduced in the mainline Stax collection and is also prominent in the high jewelry Stax collection, with added embellishments of gorgeous white baguette diamonds. Evan says, "The Stax high jewelry collection is an extension of our core Stax collection. It was so well received by our customers that we wanted to take that core motif and elevate it."
David Yurman 18K white gold High Jewelry Diamond Wrap necklace with 655 carats red spinel beads and 7.3 carats diamonds, $150,000, davidyurman.com
The Yurman family brings the traditional metal cable motif into technicolor with vibrant precious gemstones strung on cords that are twisted and fastened together with exquisite diamond caps at each end, shown above in the Diamond Wrap necklace with red spinel beads and diamonds. Another of my favorites from the David Yurman high jewelry collections is Night Petals. Evan explains, "the Petals collection was actually one of my father's high jewelry designs, and it was directly inspired by one of his earliest 'sculptural jewelry' pieces, which he made for my mother, Sybil, in the 80s." Inspired by the starry skies and lily-pad-laden pond near his Putnam Valley, New York residence, David Yurman created abstract-shaped flower petals in 18K blackened gold dotted with sparkling diamonds. These flower petals, when linked together, form the luxurious Night Petals bib necklace, shown below.
David Yurman 18K white gold with black rhodium Night Petals necklace with 40 carats diamonds, $159,000, davidyurman.com
For more stunning pieces from the David Yurman high jewelry collection click here.
David Yurman 18K white gold High Jewelry Chain Stax ring with 1.25 carats blue sapphires and 2 carats custom-cut baguette diamonds, $26,500,  davidyurman.com
David Yurman 18K yellow gold High Jewelry Eternity Stax Necklace with 9 carats custom-cut baguette diamonds, $72,000,  davidyurman.com
David Yurman 18K white gold High Jewelry Diamond Wrap earrings with 94.5 carats red spinel beads and 3.84 carats diamonds, $90,000,  davidyurman.com