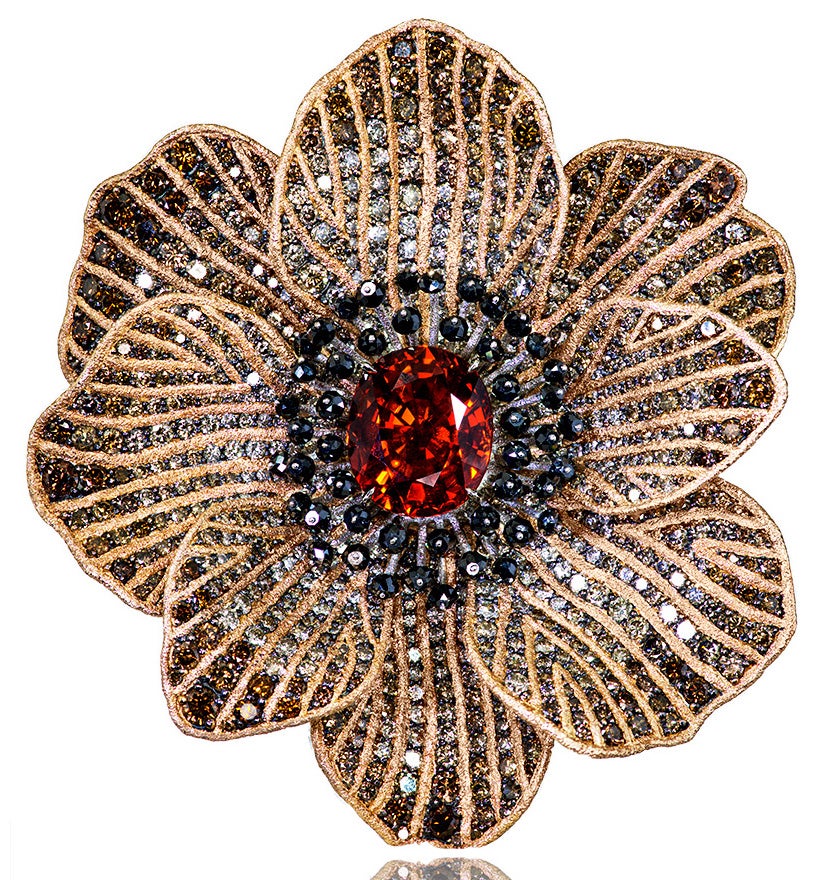 Whether the medium is canvas and paint, a sculpture of bronze or a modern dance, art is an intersection of life experiences; a meeting place of enlightenment and kinship. The same is true of fine-jewelry works of art, except before we get to the enlightenment and kinship part, we are first confronted with a deep, visceral response to a visual feast of precious metals and gemstones. The exquisite pieces below epitomize the uniqueness of the fine-jewelry art form. They have left me wondering, if I were their proud owner, whether I would wear them or prominently display in my home.
Crevoshay 18K white gold and enamel one-of-a-kind Portuguese Man of War pendant with 32.48 carats Mexican opal, 3.29 carats opal, 1.80 carats chrysocolla, 1.51 carats sapphires and 3.53 carats coral, price on request, crevoshay.com
Paula Crevoshay discovered this Mexican opal, extremely rare in its clarity and full of fire from every angle, at the Tucson Gem Show a few years ago. She immediately knew that she would use the stone in what would one day be her one-of-a-kind Portuguese Man of War pendant. It was important to Crevoshay that her piece be anatomically correct, which is why it took two more years to assemble just the right stones for each organism comprising this seafaring colony. The Crevoshay Portuguese Man of War is beautifully illustrated with Mexican opal, sapphires, Oregon opals, chrysocolla, coral and enamel. The Portuguese Man of War can be worn as a necklace or brooch.
Sevan Bicakci 24K yellow gold and silver one-of-a-kind Swan ring with carved rock crystal and rose-cut diamonds, price on request, sevanbicakci.com
Sevan Bicakci's imagination truly goes to a place where no other has traveled when he crafts the mind-bending pieces in his fine-jewelry art collection. Bicakci hand-carves beautiful creatures in ethereal landscapes out of precious and semi-precious gemstones, then fills in their finer points with a stroke of his paint brush. Bicakci's white swan glides along rippling crystal waters under a clear, faceted rock crystal sky set in silver and gold in this hand-carved crystal ring. The pointed angle of this one-of-a-kind diamond and rock crystal-encrusted ring mimics the swan's tail, giving the illusion of a swan in forward motion.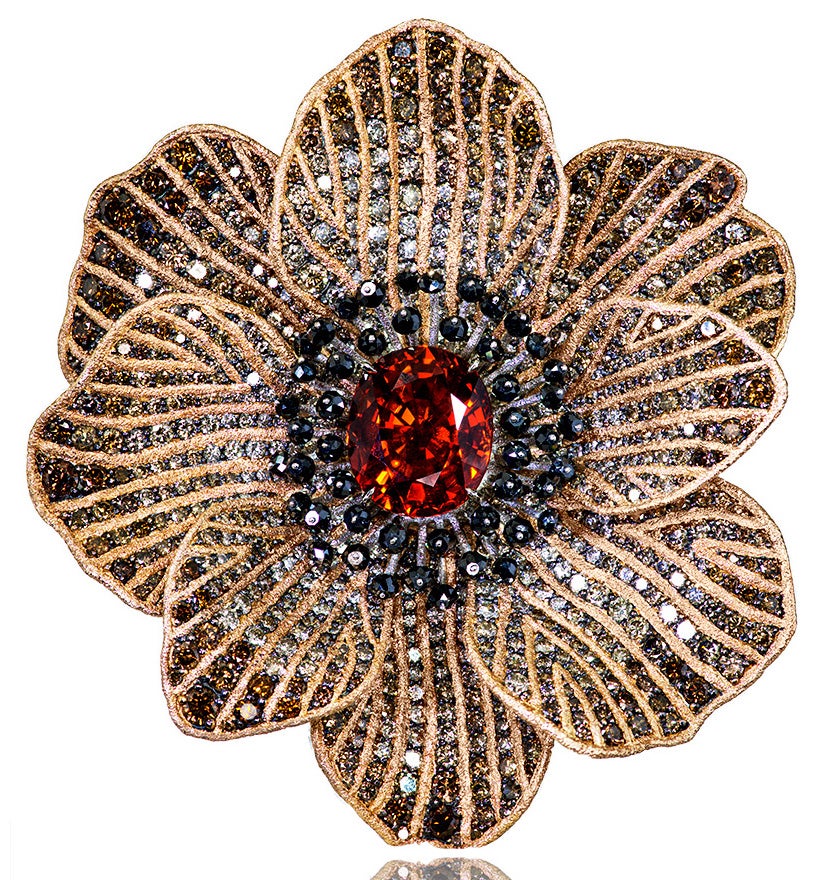 Alex Soldier 18K rose gold one-of-a-kind Mandarin Coronaria pendant with 13.6 carats Mandarin garnet, 16 carats champagne and chocolate diamonds, 6 carats carats black diamonds and 0.005 carats ruby, $79,000, alexsoldier.com
It's no surprise that Alex Soldier's one-of-a-kind Mandarin Coronaria masterpiece is rich in velvety textures and vibrant color. Soldier invented his own tools over 20 years ago to achieve the textural finish that today marks his signature on each of the jewelry pieces in his collection. The texturing process is done in layers under a microscope, providing lush lines and curves in the Mandarin Coronaria's petals. The Mandarin Coronaria piece can be worn as a ring, brooch, cuff and necklace.
Lydia Courteille 18K black rhodium gold one-of-a-kind Topkapi earrings with 3 carats aquamarine, 20.5 carats opals, 12.45 carats rubies, 10.58 carats sapphires, 6.76 carats light sapphires and 5.25 carats tsavorites, price on request, lydiacourteille.com
The 15th century Iznik floral motif makes its way into the 21st century with Parisian fine-jewelry designer, Lydia Courteille's Topkapi earrings. The vivid color pallet of cobalt blue, turquoise, greens and red was inspired by the Iznik ceramic walls she encountered in the halls of the Topkapi Palace in Istanbul, Turkey. Sparkling pointed wisps of green tsavorites and heart-shaped swirls of blue sapphires accentuate the pop of aquamarine and dainty flowers with ruby and opal centers.
Temple St. Clair 18K one-of-a-kind Wolf ring with 13.59 carats natural tanzanite and 0.13 carats diamonds, price on request, templestclair.com
Temple St. Clair's awe-inspiring Wolf ring is a perfect example of her life's work telling stories through her jewelry. She says of this piece, "the choice of gemstone colors and the patterns of detail reference the impermanence of our time on earth." This idea of impermanence is illustrated through the muse of the piece, the endangered wolf. The concept is further depicted by the natural, untreated tanzanites she uses in this piece, gemstones that are rarely available or seen in this violet blue hue in their natural state. Finally, the chiseling technique used to create the wolf's fur is a fading proficiency among Florentine jewelry artisans. In fact, the craftsman who created the wolf's fur in this one-of-a-kind piece may very well be the last among his peers in Florence, Italy to practice this artistry.
Click through for more incomparable fine-jewelry art pieces from these five artists.
Paula Crevoshay 18K white gold one-of-a-kind Le Fleur de Reves brooch with 1.71 carats moonstone, 22.36 carats sapphire. 0.42 carats fire opal and 0.33 carats pink spinel, price on request, crevoshay.com
Sevan Bicakci 24K yellow gold and sterling silver one-of-a-kind Sultan ring with carved smoky quartz and diamonds, price on request, sevanbicki.com
Alex Soldier 18K white, yellow and rose gold one-of-a-kind Sunflower ring with 2.5 carats intense yellow, champagne, cognac, brown, orange and black diamonds and 4.5 carats tsavorites, $25,000, alexsoldier.com
Lydia Courteille 18K black rhodium gold one-of-a-kind Topkapi cuff with 1.31 carats tourmaline, 0.70 carats aquamarine, 20.5 carats opals, 10.68 carats rubies, 19.75 carats tsavorites, 7.15 carats sapphires, 12.72 carats light sapphires, 0.72 mixed sapphires and 1.2 carats diamonds, price on request, lydiacourteille.com
Temple St. Clair 18K one-of-a-kind Phoenix Chicks earrings with 26.86 carats tanzanite, 4.66 lightening ridge black opal, 3.55 carats pink tourmaline, 5.15 carats royal blue moonstone, 1.00 carats ruby, 0.96 carats tsavorite and 0.45 carats sapphire, price on request, templestclair.com