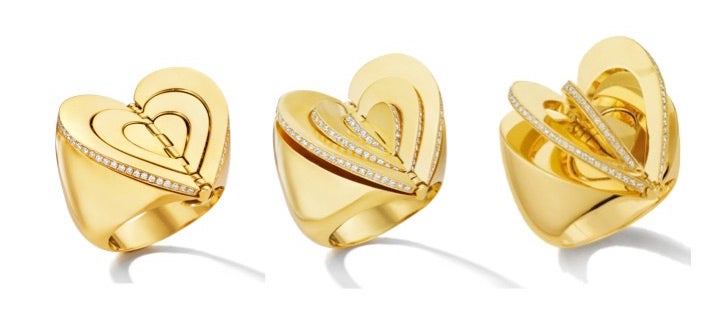 It could be said that I have an ardent affection for all jewelry designers simply due to their ability to create something visually exquisite. When said jewelry designers are also mathematicians, architects and philosophers? Well, then they have me enthralled with their genius as well! I had the pleasure of meeting three of these beautiful, passionate and very intelligent jewelry designers at a number of events over the past few months, and I discovered a refreshing ingenuity in their mechanical approach to jewelry design when they showed me how each of their jewelry pieces moved and transformed. While some jewelry designers translate a story or idea only visually, these women use both the visual element and movement in their jewelry, creating a connection to the inspiration of each piece through a three-dimensional experience.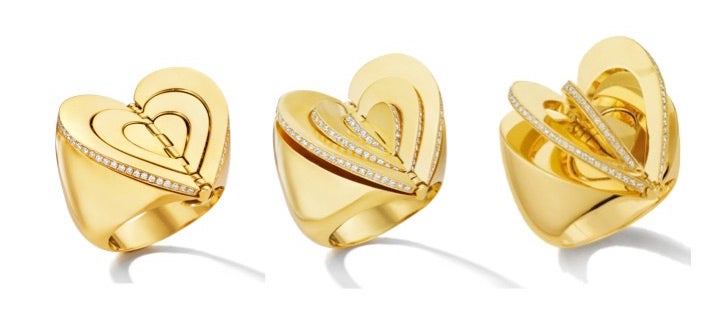 Cadar 18K yellow gold Endless cocktail ring with 0.95 carats diamonds, $13,000, available at Bergdorf Goodman and cadar.com
Mical Kadar has taken the fine jewelry world by storm with her Cadar collection featuring six suites of jewelry called, Light, Water, Bloom, Reflections, Endless and Unconditional Love. The 18K yellow gold Cadar Endless cocktail ring with diamonds, shown above, has a golden heart at its center surrounded by layers of gold set with hinges. The gold layers move upward to create a larger, sculptural heart or down to create a flat heart. For Kadar, the Endless heart ring symbolizes her idea of love as two people being strong together while also maintaining individuality. A trip to cadar.com is definitely in order to view videos depicting Kadar's masterful feat of expressing her ideas through mechanically engineered, exquisite jewelry pieces.
Yael Sonia 18K yellow gold Spinning ring with 0.90 carats diamond, $12,000; 18K white gold Perpetual Motion Spinning Wheel bracelet with Tahitian pearls, $35,000, yaelsonia.com
Yael Sonia is a self-proclaimed lover of mathematics, geometry and physics, yet she is also a creative soul. The uniqueness of her jewelry design lies in the jewelry's ability to move in tandem with the movements of the person wearing it. In her Perpetual Motion collection, shown above in a 18K white gold bracelet with Tahitian pearls and 18K yellow gold and diamond ring, gemstones and diamond-encrusted gold balls fit within a space that allows the spheres to travel about the piece freely. Sonia explains that the jewelry's movements accompany a woman's movements, "creating melodic sounds that are unique to her rhythms, a series of taps and rolls that create their own soundtrack." Click here to see how these stunning and imaginative pieces move.
Julie Lamb 18K yellow and white gold The Entrepreneur riveted ring with .88 carats diamonds, $9,000, julielambny.com
Julie Lamb 18K yellow gold The Freelancer flexible anniversary ring with 1.08 carats baguette diamonds, $8,750, julielambny.com
Julie Lamb's 18K yellow and white gold Entrepreneur riveted ring with diamonds, shown above, is a whimsical reminder to Lamb to not overfocus on one area of life while neglecting others. An 18K yellow gold rivet with diamonds set at each end passes through the 18K yellow gold bar with channel-set diamond baguettes, allowing the bar to move up and down like a scale. In speaking to Elite Traveler, Lamb explains, "At the end of the day or week, it's important for those of us feeling all over the place to find balance – work, life, creative or business – whatever has you pulled in all directions. I like to hear the 'click' this piece makes when the channel of baguettes is securely back in place." The 18K yellow gold Freelancer hinged ring with diamonds pays homage to Lamb's early days of attending metalsmithing classes where she gained an appreciation for the engineering aspect of jewelry making. In this piece, form follows function and the combination of exposed hinges and sparkling baguette diamonds create a juxtaposition between an industrial aesthetic and pure luxury. Of The Freelancer hinged ring, Lamb says, "Basically, I am talking to myself – be flexible. Appointments get cancelled, deadlines come up suddenly, projects get pushed out- this is life as a freelancer. It's a precious reminder to myself to go with the flow." Be sure to see more of Lamb's one-of-a-kind pieces at julielambnyc.com.