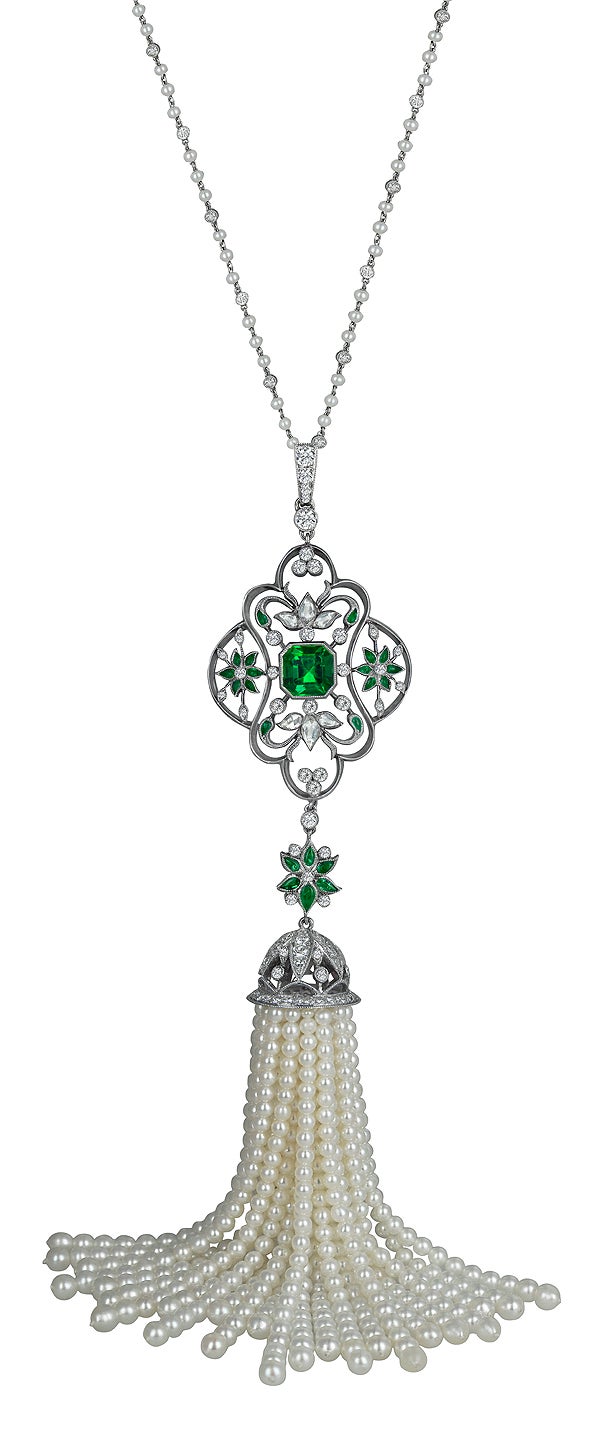 Mastoloni 18K white gold Fringe Chandelier earrings with 11.65mm South Sea pearls and 2.27 carats brilliant white diamonds, $14,300, mastoloni.com
I'm not sure if the tassel trend is back or if it never actually left, but recently I've been seeing tassel-themed jewelry pieces emerging from several jewelry designers' latest collections. Tassels are being shown in all categories of jewelry, each adding an element of liveliness to otherwise strictly elegant pieces. See below for some of my personal favorites.
Goshwara 18K yellow gold tassel earrings with 58.26 carats opal and 2.55 carats diamonds, $19,500, goshwara.com
Mastoloni's spiraling, delicate white gold chains create a tassel cascade in its pearl and diamond earrings, while Goshwara's opal-beaded tassel earrings are offset by black enamel, 18K yellow gold and diamonds.
Yoko London 18K white gold Rope necklace with 12-14mm South Sea pearls, 1.69 carats diamonds and 5.61 carats sapphires, $38,000, yokolondon.com
Yoko London's stately 18K white gold, pearl, diamond and sapphire rope necklace features long tassels of cabochon sapphire beads.
Gumuchian 18K yellow gold one-of-a-kind Panther necklace with 240 carats carnelian beads, 2.53 carats diamonds, 1.90 fancy yellow diamonds and 20 carats green tourmaline, $44,000, gumuchian.com
Gumuchian's one-of-a-kind carved Panther necklace is especially exotic. Its fiery, ombré-toned faceted carnelian bead tassel is capped with an 18K yellow gold flower petal ensconced with diamonds, and it drops from 20 carats of carved green tourmaline set in an 18K yellow gold flower pendant glittering with white and fancy yellow diamonds.
Ray Griffiths 18K yellow gold crown work finial cap and toggle with 380 carats black spinel and 0.16 carats diamonds, $5,270, raygriffiths.com
Ray Griffiths' 18K yellow gold crown work and faceted black spinel bead tassel is convertible, and can be worn with either its counterpart bracelet of faceted black spinel bead and 18K yellow gold crown work toggle with diamonds or on any necklace of choice.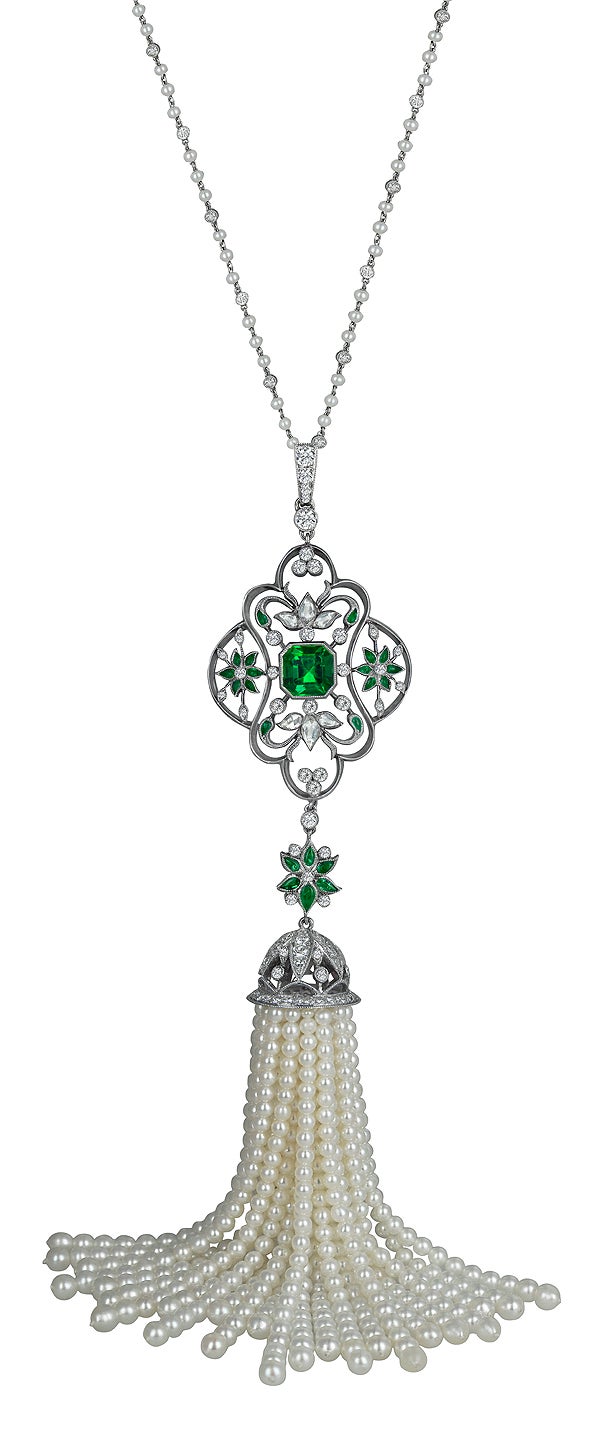 Jacob & Co Platinum Tassel necklace with 71.85 carats natural pearls, 1.23 carats Columbia emerald center stone, 0.5 carats emeralds and 1.43 carats diamonds, $140,000, jacobandco.com
Jacob & Co's Tassel necklace is reminiscent of vintage romance with nearly 72 carats of natural pearls hanging elegantly from a laced pendant of emeralds and diamonds set in Platinum.
De Beers platinum Aria Tassel necklace with dark blue aventurine and 52.39 carats diamonds, price on request, debeers.com
The De Beers Aria Tassel necklace exudes feminine drama with three long tresses of round brilliant diamonds dangling playfully from a pendant of dark blue aventurine and diamond swirls.
Van Cleef & Arpels Arbre de Vie earrings with 18K white gold, 97.00 carats onyx, 11.13 carats green tourmaline, 2.16 carats pink tourmaline and 4.80 diamonds, price on request, vancleefarpels.com
Van Cleef & Arpels' Arbre de Vie earrings emanate full-scale glamour with opulent black onyx bead tassels, tourmalines and diamonds.
Boucheron 18K white gold Opalescent Serpent necklace with 5.02 carats rose cut pear diamond, 32.82 carats fancy opals, 28.98 fancy rock crystals, 24.26 princess diamonds, 34.65 carats round diamonds and .30 marquise diamonds, price on request, boucheron.com
Boucheron's Opalescent Serpent necklace is gloriously arrayed in opals, diamonds and rock crystal set in 18K white gold. Its tasseled tail extends into a sparkling spray of diamond strands.