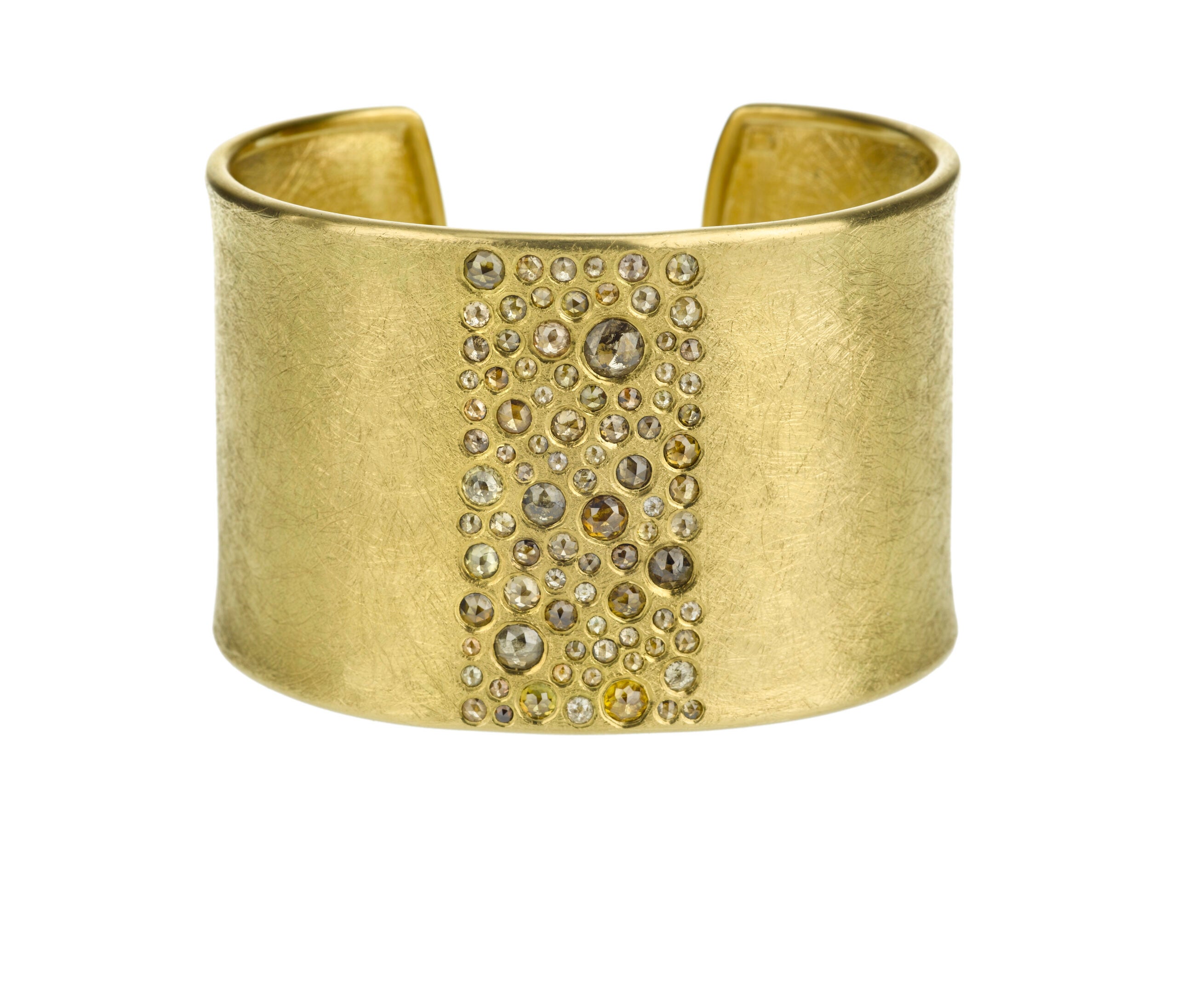 I've always assumed that Todd Reed's jewelry designs are a product of his surroundings in Boulder, Colorado. I thought his primary inspiration for using natural elements, sustainable metals and raw diamonds was due to his living in such a progressive and beautiful, if not earthy town. In my interview with Reed, however, I learned this assumption was flawed. In truth, Todd Reed's jewelry designs are an extension of himself and his way of speaking about the things that truly matter to him. Reed's jewelry is the expression of some of his philosophical beliefs and the connectivity he finds in nature, as well as the means through which he connects to others.
Reed grew up in a home where creative arts were encouraged, so it's no surprise that as a young adult he would find pleasure in painting, sculpture, designing furniture and even attending culinary school. It was making jewelry, however, that gave Reed what he calls, authentic communication. He often made jewelry as gifts to convey his love for the important people in his life. Later, while being mentored by a diamond-collector friend, Reed was introduced to the beauty of raw diamonds.  He was inspired by the organic, natural sculpture he found in each of the uncut stones. He decided then that he would use raw diamonds in his jewelry designs, which brought a new message to the diamond jewelry industry: beauty is in the eye of the beholder.
Reed began his jewelry career in the late 1980s with the belief that the cost of a diamond shouldn't determine its worth. He says, "what I say is beautiful is beautiful because I love it," and in his view beauty can found in the natural state. Reed is considered a pioneer of the raw diamond jewelry market, and has shared his philosophy on beauty through his jewelry for nearly 30 years. He often uses 1 carat 4mm x 4mm x 4mm cubes, and ½ carat 3mm x 3mm x 3mm cubes, which Reed says, "are perfect in nature." Sustainability is another core value of Reed's, which he conveys in his jewlery by using only recycled metals including silver, gold, palladium and platinum.
The signature design elements of Todd Reed jewelry are twofold, and are the core of the brand's fundamental spirit: raw elegance. Just like the rugged Rocky Mountains meet with a crystal blue Colorado sky, Reed's jewelry illustrates the connectivity we find in nature. The combination of matte-finished metals, raw, cabochon and polished diamonds and fancy-cut stones gives each of Reed's pieces the organic, textural aesthetic collectors have come to love.
Reed's jewelry is also an agent of connectivity in the collaboration he shares with his artisan bench jewelers, who hand-craft each Todd Reed piece in his flagship Todd Reed boutique in Boulder. Reed's new Forged as One campaign proclaims, "One language. A collective voice," and emphasizes the synergy between Reed, the designer, and each artisan who carries out his vision. Todd Reed jewelry is a means of authentic communication that connects the artist with the artisans, and in turn connects the hand-forged jewelry pieces to their collectors.
Click through the gallery to see more from Todd Reed or view Forged as One here.
18K yellow gold and sterling silver necklace with 63.37 carats tourmalines, 6.75 carats white brilliant-cut diamonds, 5.11 carats sapphires, 1.73 carats emeralds and pearls, $155,760, toddreed.com
18K yellow gold cuff with 5.01 carats natural-colored rose-cut diamonds and .01 carats raw diamond cube, $35,640, toddreed.com
18K yellow gold ring with 2.55 carats rose-cut diamond, .44 carats white rose-cut diamonds, .11 carats white brilliant-cut diamonds, $50,000, toddreed.com
Palladium cuff with 32.9 carats cabochon diamonds, 1.77 carats brilliant-cut diamonds, 4.31 carats silver brilliant cut diamonds and .01 carats raw diamond cube, $132,000, toddreed.com