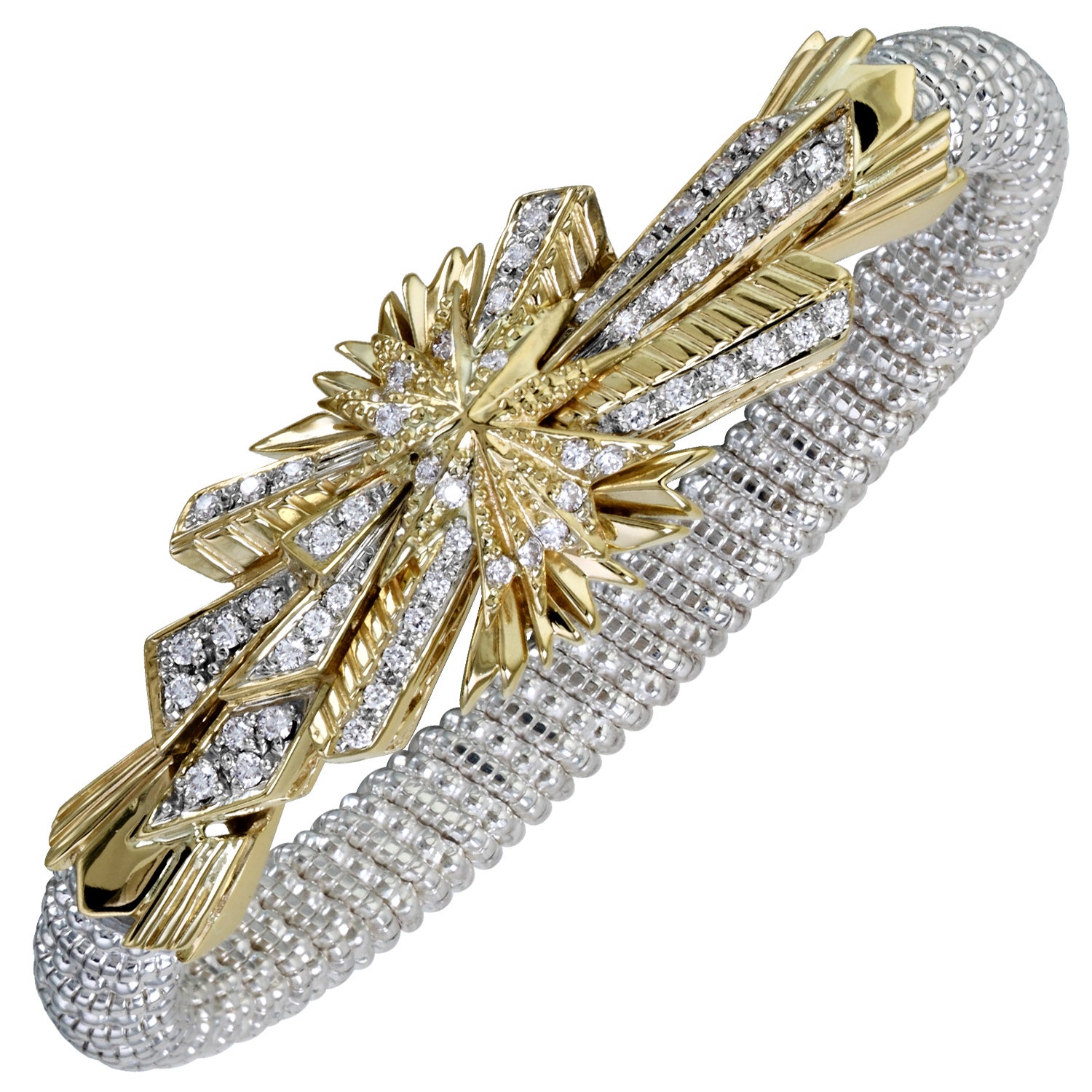 In catching up with Greg Der Calousdian of the Vahan jewelry company, I was fascinated to learn the rich history of this multi-generational family-owned jewelry company. Greg and his younger brother, Cedric, both work in the family business, but it's the older brother, Greg, who co-designs today's Vahan collections alongside his father Sacha Der Calousdian. In my interview with him, Greg was reluctant to speak on his role with Vahan without first shining the spotlight on his parents, the two people responsible for building the American jewelry company since 1968.
Sacha was raised in Paris, where his father, Arsene Der Calousdian, ran a luxury jewelry business. Arsene's father, Manasse Der Calousdian, established the jewelry company in the 1880s, and later passed it down to Arsene in the 1930s. This was, so to speak, the playground in which Sacha discovered the passions of his father and grandfather. Manasse and Arsene both designed and created exquisite one-of-a-kind pieces of jewelry for the discriminating tastes of Parisian society. In reference to the first, second and third Der Calousdian generations, Greg says, "My great-grandfather and grandfather built a following. My father, Sacha, built a company."
Sacha studied at the prestigious jewelry design school, La Chambre Syndicale de la Bijouterie, in Paris. He also explored many other creative fields, such as fashion, architecture, painting and sculpting. However, his primary focus ultimately became jewelry design. For over 20 years, Sacha designed jewelry for companies such as Hermès, Cartier and David Webb before starting his own business, Alwand Vahan, in 1968.
Vahan 14K yellow gold and sterling silver Nova bracelet with 0.86 carats diamonds, $11,250, vahanjewelry.com
Throughout the years, the Vahan jewelry collections were distinguished by their aesthetic: mixing sterling silver with 14K yellow gold accents. Before long, Alwand Vahan jewelry, which later became Vahan, was sold in Bergdorf Goodman, Bloomingdales and Neiman Marcus. In 1973, Sacha's wife, Natalie, joined the business as COO, working very closely with the Vahan customers. By 1994, Vahan came out with its still hugely popular stackable Moiré bracelets. Moiré is a repeating pattern in the metal that Vahan created through a patented process. Vahan collectors love the combination of textual, shiny metals in sterling silver and 14K gold with diamonds used in the popular Moiré bracelets, because it allows for different motifs to be worn alone or together in stacks of two or three.
Like his father, Greg Der Calousdian is very artistic and enjoys sketching, sculpting and digital media. He officially joined the family business in 2009, but says he's always had a "life's internship" with the family business. While a college student, Greg designed the Vahan trade show booth with blown up images of earrings and unique jewelry props he created for the showcases. He spent the first 12 years after college as an executive recruiter with fashion brand leaders Louis Vuitton, Marc Jacobs and Brooks Brothers. The over decade-long experience with such heavy hitters brought what he called, "a level of cutting your teeth with the best of the best" in the world of luxury fashion. Greg says that working in that environment was like " the ivy league school I never went to," and considers the business acumen he gained during these years a great match for his creativity as the VP of Design at Vahan.
Since joining Vahan in 2009, Greg has emboldened the lifestyle persona of the Vahan brand through his creative direction in marketing initiatives, and has worked closely with his father to fully understand all aspects of the business. Today, Sacha continues to explore his creativity in the high jewelry category and Greg focuses on developing the core Vahan jewelry designs. While Sacha and Natalie are still very active in their respective roles at Vahan, they can rest assured that it will one day be in very capable hands.
Click here for additional Vahan Moiré bracelets.
Vahan 14K yellow gold Ribbon bracelet with 2.04 carats diamonds, $24,500, vahanjewelry.com
Vahan 14K yellow gold Roulette bracelet with 1.92 carats diamonds, $27,500, vahanjewelry.com
Vahan 14K yellow gold Fleur de Lys bracelet with 0.61 carats diamonds, $17,500, vahanjewelry.com
Vahan sterling silver and 14K yellow gold Buckle bracelet with 0.41 carats diamonds, $5,250, vahanjewelry.com