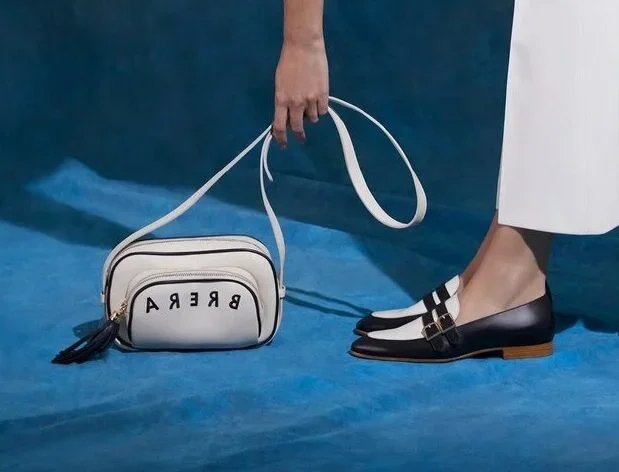 A luxury lifestyle is expressed through many outlets, from fashion and jewelry to vacations and cars. In the world of fashion design, clothing trends are dictated by the major brands that create prestigious clothing and accessories. With the growing number of designers, Haute Couture enthusiasts are learning about the best effigies of clothing and accessories. This mini-guide presents the must-have clothing styles and luxury fashion brands for summer 2022.
[See also: How to Build the Ultimate Spring Capsule Wardrobe]
Luxury fashion trends
Luxury fashion trends are typically a combination of clothing styles inspired by the designs of prestigious brands. While we have naturally seen fluctuating trends through the years, since the late noughties and early 2010s, there's been a growing preference for well-made but casual clothes, as seen in Palm Angels' latest collection. Thus, the classic bourgeois clothing styles are no longer unanimous.
However, while casual minimalism is on the rise, out-and-out drama still has its place too – just look at the recent resurgence of towering platforms thanks to Valentino Garavani and Gucci's penchant for feather embellishment. Some trends this year rely on more colorful look too, with many designers focusing on bright and deep colors such as candy pink, bright red Mars and Veri Peri purple.
Designers are also using classic clothes such as mini-skirts or micro-skirts for this summer's clothing trends, with this classic character of some looks combined with rhinestones and sequins to bring more playfulness.
Choosing accessories
A carefully chosen accessory can elevate virtually any look, and determine your individual style. For that perfect summer 2022 style, pick statement pieces that artfully clash.
The handbag
The handbag is a must-have fashion accessory, and not just for their practicality. A perfect chance to add a pop of color or smarten up an otherwise casual look (or vice-versa), handbags have the power to carry (no pun intended) your entire outfit. For an evening look this summer, a classic YSL cross body can do no wrong, or for daytime convenience, go for a timeless Mulberry tote or a Loewe basket bag.
The shoes
Again, while shoes are naturally a vital part of any look, their power to elevate any outfit have made them a striking accessory too. Often considered one of the key indicators of style, no matter your own personal taste, picking the perfect shoe should be a thoughtful process. Opt for Dior's slanted high top sneakers or Margelia's replica sneakers to complete your casual attire, or assert your classic sartorial style with a Fratelli Rosseti loafer.
Finishing touches
Finishing touches like belts, jewelry, glasses or caps shouldn't be ignored when creating a stand-out look. A casual pair of jeans and white t-shirt, for example, can be instantly transformed with a few flashes of jewelry, like the Christian Dior metal bracelet and a Givenchy belt.
Also, to dress classy this summer, opt for a card holder or leather clutches made by Bottega Veneta or Tom Ford. Similarly, luxury brands like Alexander McQueen and Palm Angels offer stylish sunglasses and caps to protect yourself from the summer sun.
Clothing brands at 24S
Luxury clothing is dedicated by famous designers in the fashion world. Each fashion house offers unique pieces for your distinguished look.
 Louis Vuitton
Louis Vuitton is a distinguished luxury brand recognized across the world, having been founded in Paris in 1854. Through the years, the house has had some of the most distinguished names in fashion at its helm, including the likes of Marc Jacobs and the late Virgil Abloh. Although best recognized by its signature monogrammed LV handbags and luggage, the Louis Vuitton offering spans from Haute Couture and high jewelry to ready-to-wear and beauty.
Balenciaga
Characterized by its fine craftsmanship and innovative designs, Balenciaga was originally founded in 1917 by Spaniard Cristóbal but is now headquartered in Paris. The label is credited with revolutionizing women's fashion in the 20th century with the introduction of never-seen-before shapes and cuts. This revolutionary spirit has been maintained through to present day, with the likes of the sock sneakers unlike anything else on the market.
Céline
The prestige brand Celine was founded by Celine Vipiana in 1945. The designer launched her business after World War II by creating custom-made shoes for children, with the success of these pieces eventually leading her to present haute couture in Paris. The fashion house's most iconic pieces span from the widely adored Céline cat-eye sunglasses to the ever-chic Luggage bag.
Dior
Dior is a Parisian fashion house that first rose to dizzying heights thanks to its New Look revolution 1947, when Christian Dior presented his debut haute couture collection which was awash with swirling skirts and clinched waisted jackets. Known for its timeless and elegant pieces that embrace modern femininity, Dior is easily named as one of the forerunners in luxury fashion.
Tom Ford
Having launched his high fashion career at Gucci (for which is he credited with saving), American designer Tom Ford launched his eponymous label in 2006. The designs of the fashion house combine modern minimalism with classic shapes to create its signature understated luxury. Sharp tailoring, clean lines and louche sexiness are all key traits of Tom Ford's most famous pieces, making them perfect for summer 2022 fashion trends.
As a member of the Louis Vuitton Moët Hennessy (LVMH) group, 24S brand is a privileged partner of some of the world's most prestigious brands, making it a one-stop shop for summer 2022 fashion. Browse the full 24S collection via its website.