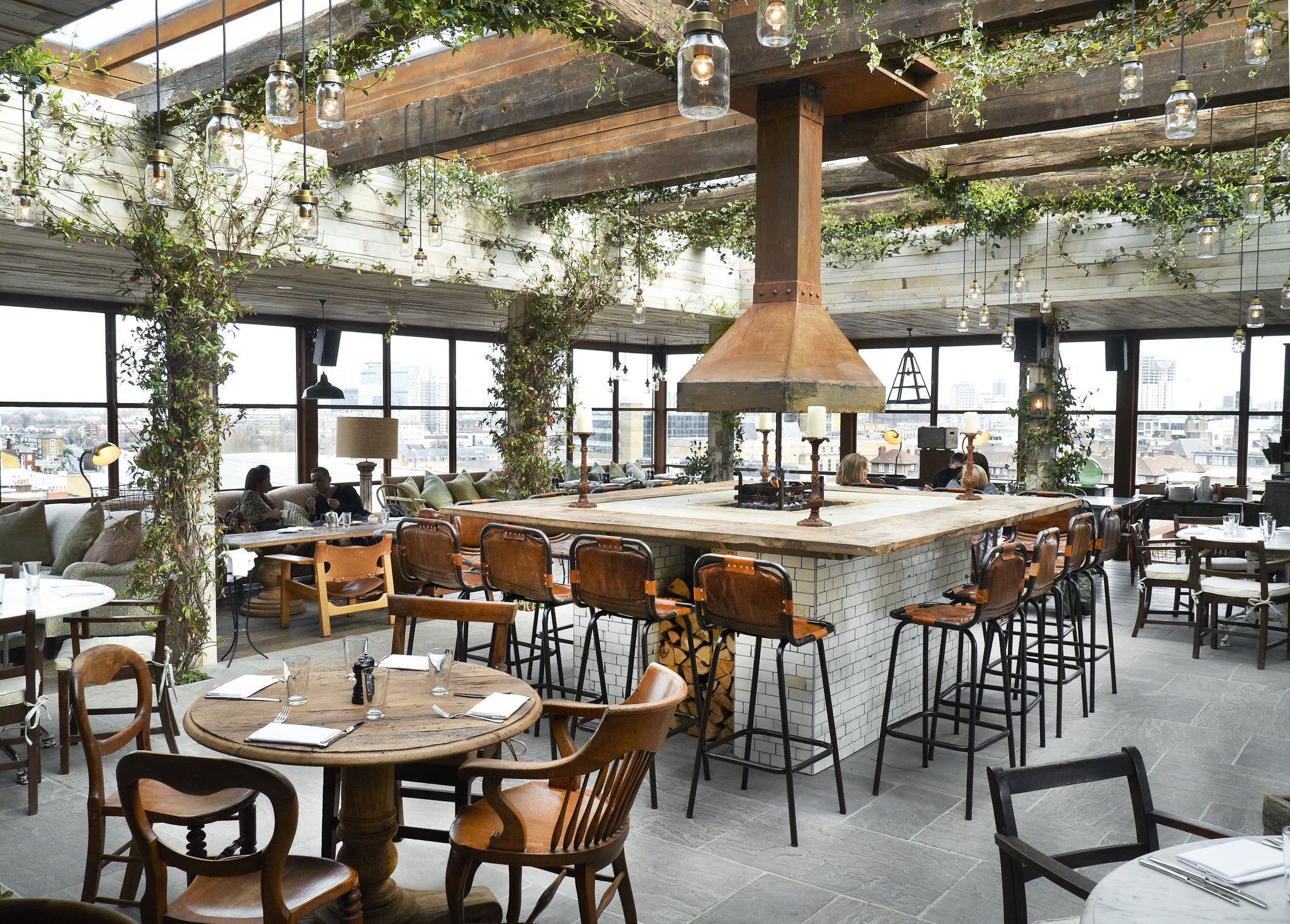 Whether it's your first date or your regular date night, everyone wants to spend an evening at a chic venue with delicious food, inspired cocktails and romantic ambiance. To narrow down the search for the perfect spot, Elite Traveler turned to matchmaker extraordinaire Emily Holmes Hahn and asked for her favorite places to send her clients. With offices in New York, the Hamptons, Los Angeles, San Francisco, Miami, London and Paris, Hahn and her team at LastFirst know both the newest and the best places that encourage sparks to fly. 
Best Places for Dates in New York City
Apotheke
"I think there are few better first date spots in the world than Apotheke, especially in the upcoming snuggling seasons. It's incredibly intimate and low-lit, with plenty of hidden nooks for getting to know each other properly! The bartenders are top-notch, and can create any cocktail you could imagine. My male clients love the Catcher in the Rye, a soothing honey-chamomile-whiskey mix, and I'm partial myself to The Matador, a tequila-red pepper-cantaloupe blend. You can also just tell the bartender your favorite spirits, or better yet, how you want to feel from your potion, and trust in the master!"
Apotheke is located at 9 Doyers Street, +1 212 406 0400, apothekenyc.com
See below for more of the best first date bars in New York City.
Dear Irving
55 Irving Place, info@dearirving.com, dearirving.com
Maison Premiere
298 Bedford Avenue, Brooklyn, +1 347 335 0446, maisonpremiere.com
Claudette
24 Fifth Avenue, +1 212 868 2424, claudettenyc.com
Raines Law Room
48 West 17th Street, raineslawroom.com
Bar Pleiades
20 E 76th Street, +1 212 772 2600, barpleiades.com
Terroir
24 Harrison Street, +1 212 625 9463, wineisterroir.com
Best Places for Dates in the Hamptons
Dopo La Spiaggia, Sag Harbor
"This Gaby Karen and Chef Maurizio Marfoglia gem is my favorite spot in the Hamptons. In this quaint turn-of-the-century harbor-front cottage, you can enjoy your Chianti by the living room fireplace or al fresco on the string-bulb-lit brick patio. The service is warm and attentive, and the food is exquisite. The creamy burrata with vine-ripe tomatoes will make you feel like you're in Tuscany, but the citrus-y daily fish crudo is so Hamptons —  and both are perfect to share!"
Dopo La Spiaggia is located at 6 Bay Street, Sag Harbor, +1 631 725 7009, dopolaspiaggia.com
See below for more of the best first date bars in the Hamptons.
East Hampton Grill
99 North Main Street, East Hampton, +1 631 329 6666, easthamptongrill.com
Bay Kitchen Bar
39 Gann Road, East Hampton, +1 631 329 3663, baykitchenbar.com
South Edison
17 South Edison Street, Montauk, +1 631 668 1465, southedison.com
Topping Rose House
One Bridgehampton-Sag Harbor Turnpike, Bridgehampton, +1 631 537 0870, toppingrosehouse.com
Navy Beach
16 Navy Road, Montauk, +1 631 668 6868, navybeach.com
Click through for date ideas in Los Angeles, San Francisco and Miami.
Best Places for Dates in Los Angeles
République
"Our LastFirst signature LA date is a private hour-long tour of LACMA, followed by a stroll to République for a drink (or three, if all goes as we expect!). Situated in a 1928 French Provençale-style building and run by a charming couple whose hearts are clearly where their mouths are, it's an ideal spot to get to know someone over a glass of Sancerre and the generous 'let's-just-call-it–dinner' cheese or charcuterie board."
République is located at 624 South La Brea Avenue, +1 310 362 6115, republiquela.com
See below for more of the first date bars in Los Angeles.
Gracias Madre
8905 Melrose Avenue, West Hollywood, +1 323 978 2170, graciasmadreweho.com
Malibu Farm Restaurant
23000 Pacific Coast Highway, Malibu, +1 310 456 8850, malibu-farm.com
Sunset Tower
8358 Sunset Boulevard, West Hollywood, +1 323 654 7100, sunsettowerhotel.com
Rooftop of the Petit Ermitage
8822 Cynthia Street, West Hollywood, +1 310 854 1114, petitermitage.com
Bestia
2121 7th Place, +1 213 514 5724, bestiala.com
Best Places for Dates in San Francisco
Local Edition
"This speakeasy lounge, several flights down in the basement of the iconic Hearst building, is usually my first stop in San Francisco. Most nights they feature a wonderfully talented live jazz band, which is an asset if you want to really experience the evening together, in a way that's more meaningful than flirtatious banter. The space itself is thoughtfully adorned: there's always a one-of-a-kind bottle behind the bar, a unique framed newspaper edition hanging on the wall, or an intricate goblet housing your craft cocktail, to discuss with your date. This place is so special I actually have run into people from my network there several times, back for more after I've chosen it for one of their LF dates!"
Local Edition is locates at 691 Market Street, +1 415 795 1375, localeditionsf.com
See below for more first date bars in San Francisco.
The Battery
717 Battery Street, +1 415 230 8000, thebatterysf.com
Spruce
3460 Sacramento Street, +1 415 931 5100, sprucesf.com
The Slanted Door
One Ferry Building #3, +1 415 861 8032, slanteddoor.com
Bix
56 Gold Street, +1 415 433 6300, bixrestaurant.com
A16
2355 Chestnut Street, +1 415 771 2216, a16pizza.com
Best Places for Dates in Miami
Casa Tua
"Part restaurant and part private club, Casa Tua strikes that tricky balance between new-world chic and old-world charm. Situated in an Italian-inspired villa in central South Beach, you'll need to be a member (or book through your matchmaker!) to secure the coveted pair of plush armchairs in the upstairs lounge. I adore their selection of champagnes, many from up-and-coming boutique growers, and I recommend their signature Beausoleil oysters as the best in town."
Casa Tua is located at 1700 James Avenue, Miami Beach, +1 305 673 0974,  casatualifestyle.com/miami
See below for more first date bars in Miami.
Sugarcane
3252 Northeast First Avenue, Miami, +1 786 369 0353, sugarcanerawbargrill.com/miami
Saxony Bar 
Faena, 3201 Collins Avenue, Miami Beach, +1 305 534 8800, faena.com
The Matador Room 
The Miami Beach Edition, 2901 Collins Avenue, Miami Beach, +1 786 257 4600, matadorroom.com
Cecconi's
Soho Beach House, 4385 Collins Avenue, Miami Beach, +1 786 507 7902, cecconismiamibeach.com
Wynwood Kitchen & Bar
2550 NW 2nd Avenue, Miami, +1 305 722 8959, wynwoodkitchenandbar.com
Click through for date ideas in London and Paris.
Best Places for Dates in London
Barts
"It's hard to get bored at Barts, which is equally great for first date or a girls' night. You'll feel like you're in Alice in Wonderland walking in: Enter this old (haunted?) South Kensington apartment building, walk down a bleak hallway to an inconspicuous black door, behind that another bleak hallway, then a password-protected pop-art-decorated door, before reaching the quirky salon where world-class cocktails and sushi fuel stylish patrons. My friends and I usually opt for a porcelain teapot full of the Purple Prohibition– it's a refreshing mix of vodka, Chambord, muddled strawberries and prosecco. Better than chic communal cocktails, though? They've got antique books, games of Monopoly and a dress-up-box full of wigs, corsets, and more…that somehow here, feels clean and not cheesy!"
Barts is located at Chelsea Cloisters, Sloane Avenue, Chelsea, +44 20 7581 3355, barts-london.com
See below for more first date bars in London.
Berner's Tavern
The London Edition, 10 Berners Street, +44 20 7908 7979, bernerstavern.com
Shoreditch House 
Ebor Street, +44 20 7739 5040, shoreditchhouse.com
The Botanist
No 7 Sloane Square, +44 20 7730 0077, thebotanistonsloanesquare.com
Discount Suit Company
29A Wentworth Street, +44 20 7247 8755, discountsuitcompany.co.uk
Loulou's
2-5 Hertford Street, Mayfair, +44 207 408 2100, 5hertfordstreet.co.uk
Best Places for Dates in Paris
Prescription Cocktail Club
 "This library-meets-boudoir speakeasy was scene of the crime to many of my own (good, bad, ugly, hilarious) first dates when I lived in Paris, so I'm constantly sending my French clients here to vicariously re-live those wonder years! The friendliest bartenders in the city mix bespoke cocktails with pharmaceutical precision, using droppers, beakers, tweezers and the like. Arrive early and head upstairs to secure velvet stools by the grand bookcase overlooking the main bar, so you and your date can spy on other lovebirds below." 
Prescription Cocktail Club is located at 23 rue Mazarine, +33 9 50 35 72 87.
See below for more first date bars in Paris.
Chez Loulou
51 Rue de Montreuil, +33 6 75 71 68 82, chez-loulou.lafourchette.rest
Hôtel Amour
8 rue Navarin, +33 1 48 78 31 80, hotelamourparis.fr
Le Hibou
16 Carrefour de L'Odéon, +33 1 43 54 96 91, lehibourparis.fr
Bar Costes
239-241 Rue Saint-Honoré, +33 1 42 44 50 00, hotelcostes.com
Le Roch 
28 rue Saint Roch, +33 1 70 83 00 00, leroch-hotel.com
Derrière
69 rue des Gravilliers, +33 1 44 61 91 95, derriere-resto.com
LastFirst is a boutique matchmaking service founded by Emily Holmes Hahn. For more information, please visit LastFirst online or call +1 646 241 6022.