The jewelry world lost one of its brightest stars on June 4 when Roberto Faraone Mennella passed away in his hometown of Torre del Greco, Italy. He was 48 years old and the cause was cancer. The devastating news was announced to the world by his business and life partner Amedeo Scognamiglio. "Robu is finally free," Scognamiglio wrote on his Instagram account, "sketching jewels and interiors in his new home in Heaven."
Faraone Mennella shot to prominence in the early 2000s when his iconic Stella earrings appeared in the popular TV series Sex and the City. The earrings, priced at $450 a pair, struck a chord with the public, and Faraone Mennella jewelry was soon seen on a number of Hollywood A-Listers. Faraone Mennella and Scognamiglio took their meteoric rise in their stride and soon forced their designs into the shop floors of New York's most illustrious boutiques.
While the original Stella earrings remain popular today, Faraone Mennella jewelry offers a wide collection of stunning pieces at the very top of the market. Elite Traveler picks five designs that put Faraone Mennella's genius in plain sight.
Fireworks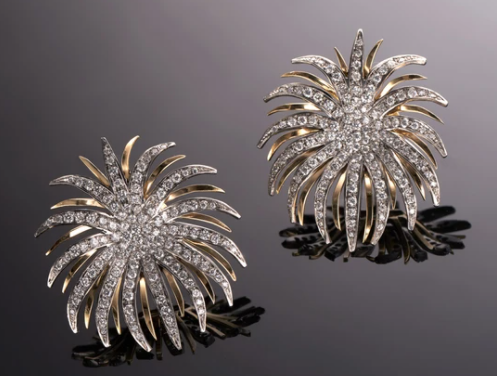 The perfect accessory for a celebratory occasion, these earrings are inspired by the explosion of a firework. The sparkle is provided by 2.67ct of white diamonds set in 18kt yellow gold and titanium. At $15,000 a pair, they represent the best of Roberto Faraone Mennella's work in Haute Couture jewelry.
$15,000, faraonemennella.com/fireworks
Abracadabra
A stunning piece that perfectly demonstrates Faraone Mennella's affinity towards vibrant colors. A 59ct green tourmaline is set in 18kt gold and titanium in the center of 1.97ct diamonds. The tourmaline was historically worn to protect from evil, but today is worn more in tribute to the golden age of art deco design.
$41,000, faraonemennella.com/abracadabra
Kaleidoscope of Hope Blue Sapphire Earrings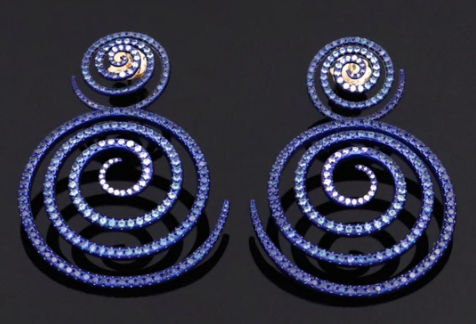 Released earlier this year, the Kaleidoscope of Hope earrings represent one of Faraone Mennella's last pieces of work before his death. The earrings are handcrafted from 18kt gold with three different shades of blue sapphires alongside 1.04 of white diamonds. The design took Faraone Mennella jewelry a step deeper into the more mature chapter dedicated to ultra-luxury. The earrings were aptly named for 2020, which has provided huge challenges for many around the world.
$22,000, faraonemennella.com/kaleidoscope-of-hope
Stella Collection Earrings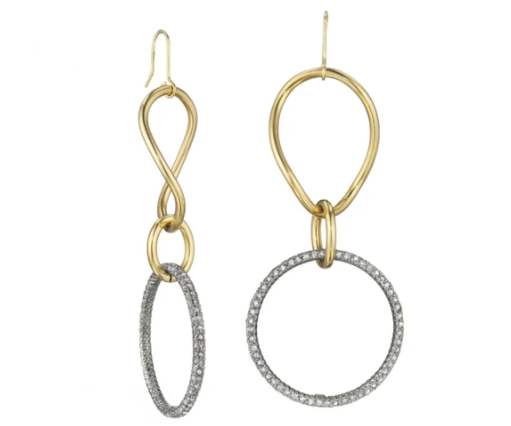 The design that has endured for over two decades, the Stella Hoop earrings originally shot Faraone Mennella and Scognamiglio to fame when they appeared on Sex and the City, a TV series renowned for its commitment to style. The original pair that appeared on the ears of Samantha (played by Kim Cattrall) cost $450. They were by no means cheap but were nonetheless seen as accessible to a new generation of independent women. The same pair with turquoise links are still available today at $2,100, but the design above appeals to a much wealthier consumer with the turquoise links replaced with 3.42ct white diamonds.
$13,450, faraonemennella.com//stella
Tuca Tuca Collection White Agate Necklace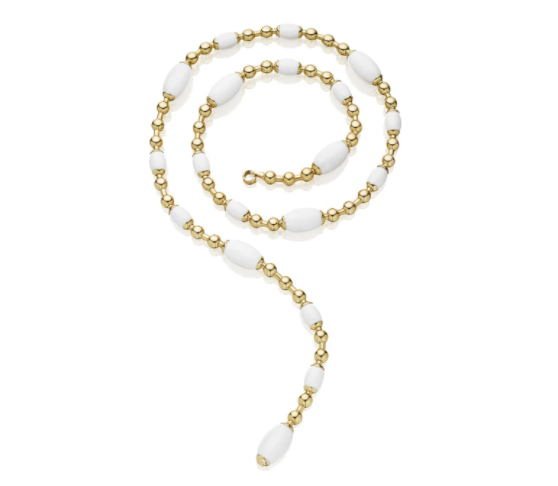 A beautiful necklace using 18kt gold and white agate stones to create an elegant piece that lends itself to casual and formal occasions. Crafted in Italy, the 36-inch necklace can be worn in a number of different ways to further increase its versatility. The necklace is also available in onyx, turquoise and gold.
$20,100, faraonemennella.com/tuca-tuca