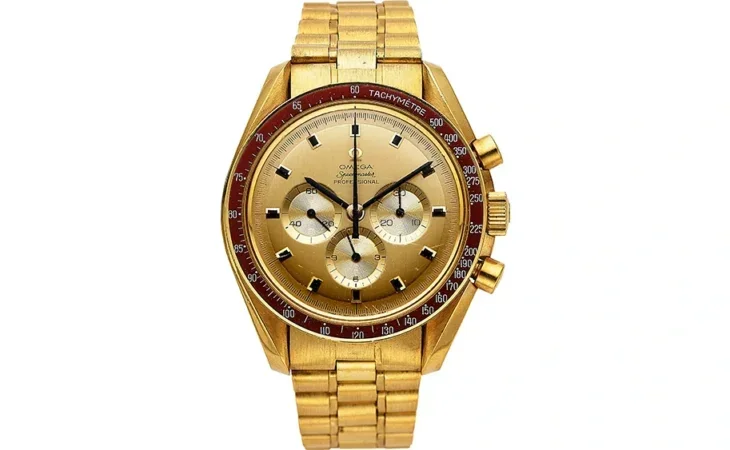 A watch once owned by one of the greatest unsung heroes in the history of space exploration has sold for $765,000. The sale, hosted by Heritage Auctions, featured numerous exquisite timepieces. However, it was the 18-karat gold 1969 Omega Speedmaster — once owned by Michael Collins — that really had bidders looking to the stars.
Michael Collins was the third astronaut who traveled on the Apollo 11 mission in 1969, when man landed on the moon for the first time. Alongside Neil Armstrong and Buzz Aldrin, Collins flew the command module around the moon while his crewmates descended to and walked on the lunar surface.
Although Collins did not actually walk on the moon he was still a key figure who took part in the most famous space mission in history. Upon the successful return to earth, Omega produced 1,014 limited edition gold watches to commemorate the mission.
The first 30 watches were numbered and issued to key figures who took part in the mission based on order of superiority, Collins was given number 19. The first two watches were intended for President Richard Nixon and Vice President Spiro Agnew, however, they both turned down their gifts and can now be found at the Omega Museum in Switzerland.
This timepiece features a Caliber 861 manually wound movement. The rear of the case is engraved with Collins' name, the two space missions he took part in (Gemini 10 and Apollo 11) as well as the inscription "to mark man's conquest of space with time, through time, on time." This engraving alone makes the watch truly one of a kind.
"This is an incredibly rare watch," said Jim Wolf, director of watches and fine timepieces at Heritage Auctions "This watch is a piece of space history and a piece of timepieces history."
In addition to the watch, the new owner will also receive a handwritten note from Michael Collins himself, which reads: "This Omega watch was given to me shortly after the flight of Apollo XI and has been in my personal possession ever since. I wore it seldom if ever, but I have wound it every decade or so, and I believe it is in perfect operating condition. Michael Collins, Apollo XI CMP."
Although slightly worn, the fact that every mark found on the casing was likely made by Collins himself creates a patina of authenticity. In mid-May, the highest bid stood at $105,000 however, by the time the auction ended on June 1, its price had rocketed to $765,000. The new owner now possesses a real piece of history from when man traveled further than ever before.