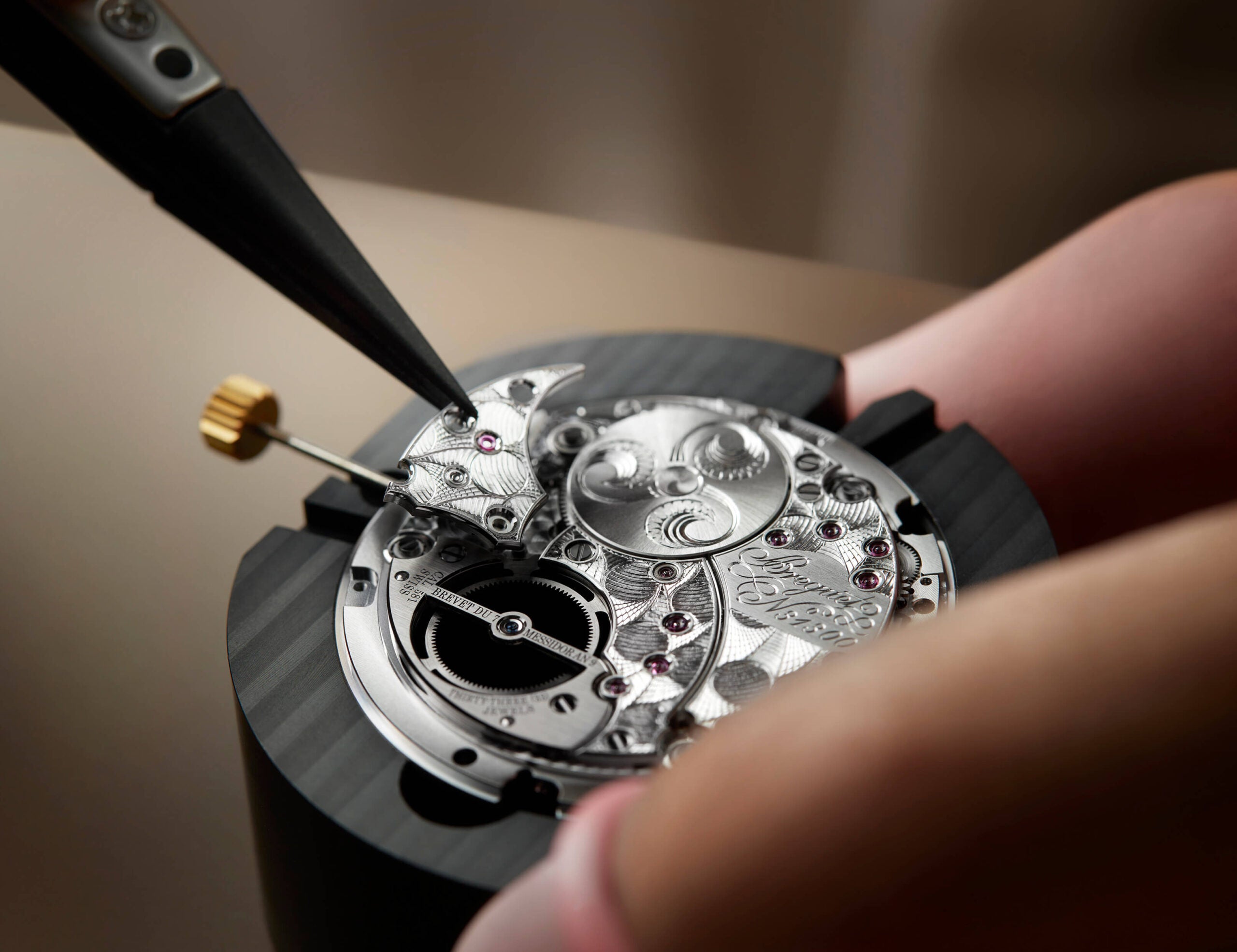 With 245 years of rich watchmaking heritage, Breguet is one of the world's oldest continually operating watch brands, but is never content to rest on its laurels; it consistently pushes the innovation envelope as it strives to perpetuate its legacy for centuries to come. Roberta Naas takes a look at the man who may well be the most important person in watchmaking history and the brand that he built.
The modern structure of the Breguet manufacture in Vallée de Joux, Switzerland, the cradle of high-end watchmaking, belies the incredible heritage and craftsmanship nestled within. Founded in 1775 in Paris by Swiss-born Abraham-Louis Breguet, the eponymous brand has had one of the most profound influences on watchmaking over the past two-and-a-half centuries.
Breguet's rich roots began in late 18th-century Paris, the thriving cultural capital of Europe. It was in this bustling pre-French Revolution city that Abraham-Louis, a young man with a dream of creating watches that would change the world, set up shop. The 28-year-old watchmaker could not have imagined that his contributions to perfecting timekeeping would impact watchmaking for centuries and make him one of the industry's most important figures.
Today, Breguet watches — most of which sell for the high six figures — are coveted by collectors, highly sought-after on the vintage market and studied by watchmakers looking for inspiration. Modern Breguet timepieces adhere to the same standards of quality, precision and unparalleled technical excellence that Abraham-Louis set as the standard for his watches.
After all, legendary status is not bestowed on just any brand; it is earned through decades of innovation and success. Breguet's legacy continues not just through its continued success, but throughout all of watchmaking, since Abraham-Louis' design codes and inventions remain widely used by many prestigious watch brands.
"Abraham-Louis Breguet was a genius who revolutionized watchmaking," says Emmanuel Breguet, vice president, head of patrimony & marketing for Breguet and a seventh-generation Breguet descendant. Curator of the Breguet Museum in Paris and keeper of the extensive Breguet archives, Emmanuel admits he is still impressed each time he reads a letter from Abraham-Louis or an entry from the extensive archives. "Breguet is known around the world, with many watches and clocks on display in the finest museums. We are lucky because we have a lot of archives and a lot of pieces that have survived that we can study."
Often referred to as the father of modern watchmaking, Abraham-Louis was an inventor, designer, watchmaker, astute businessman and apparently a very charming man. After he developed the world's first self-winding watch, the Perpetuelle, in 1780, he earned a place in high society, whose members were fascinated by his work. He quickly endeared himself to the French court and made watches and clocks for royalty.
His style consistently featured clean and sophisticated cases paired with alluring dials, even in the most complicated watches. They were coveted by royalty and the aristocracy, who knew that the simple exterior of the watch hid a secret mechanical masterpiece. Many illustrious names were his patrons over the years, including Marie Antoinette, Napoleon Bonaparte, King George III of England, the Duke of Wellington and Caroline Murat, Queen of Naples. During the challenging years of the French Revolution, Abraham- Louis recognized that to succeed, he needed to look outside of France for clients.
He began to travel the world to show his timepieces to other royal households, and as quickly as he had become a favorite of French royalty, he developed strong relationships as far-reaching as the Ottoman Empire, England and Russia. Letters he wrote to his son are filled with tales of meeting some of the most famed people in the world, attending balls and, naturally, talking watches.
After the French Revolution, Abraham-Louis returned to France for his most productive inventing years. He toiled endlessly to develop new concepts, new technologies and new innovations that could improve reliability and precision in early 1800s watchmaking. During this time, he created one of his most important innovations: the tourbillon escapement. This mechanical system compensates for errors in timekeeping due to the effects of gravity when the watch is in a certain position, which was very important in that era because gentlemen wore pocket watches in their breast coat pockets, so they were usually vertical. Even today, the finest watchmakers in the world continue to use the basic mechanical system of the tourbillon, which he patented in 1801.
Over the years, he also created a signature aesthetic for his timepieces, which were among the most elegant and charming of that time. Many of his stylistic creations, including watch hands and numerals that, to this day, are referred to as Breguet hands and Breguet numerals, and the incredible art of engine-turned, or guilloché, dials, continue to be used in high-horology.
"It was an incredible achievement," says Emmanuel. "Without machines, without electricity, without computers, he built amazing watches. When you look at the archives and see the names of those who commissioned watches, it is inspiring. A simple watch would take between one and two years to build, and a complicated watch could take four or five years."
One of Abraham-Louis's greatest achievements, which took two years to complete, was the introduction of the world's first wristwatch. It was a timepiece commissioned by Caroline Murat, Queen of Naples and sister of Napoleon Bonaparte. According to the archives, an oval watch with a strap made of gold thread and horsehair, so it could be worn on the wrist, was delivered to her in 1812. While the original watch has been lost over the centuries, the archives are so specific that Breguet was able to create a modern-day collection around it in 2002, aptly named Reine de Naples.
After Abraham-Louis' death in 1823, the company remained in the Breguet family until 1870 when it was purchased by the British Brown family, who owned the brand for 100 years. In 1970, with the quartz revolution on the horizon and a host of factors influencing the watch world, the brand changed ownership multiple times.
It was in 1976, when it was owned by Chaumet, that the company closed its French doors and moved to Switzerland. It was a monumental move, but a necessary one, as the firm could not find enough fine watchmakers in France; Switzerland had the watchmakers and the resources. Chaumet recognized the responsibility it had to watchmaking history to keep Breguet alive and thriving and, in the end, that move from France to Switzerland ended up being the saving grace for the company during that era.
Today, Breguet is owned by the Swatch Group, which also owns Blancpain, Harry Winston, Glashütte Original, Jaquet Droz, Omega and a host of others. Its executives, the Hayek family, have made an incredible commitment to perpetuating the art, style and genius that is Breguet for generations to come. Since purchasing the brand in 1999, they have honored Breguet's history and tradition with every collection they unveil. By studying the brand's archives and historical watches, they have managed not only to revive and perpetuate ancient arts, but also to grow and develop them.
Abraham-Louis was known for his incredible guilloché dials, and they remain a signature of the brand today. Artisans would use a hand-powered rose engine to create the guilloché pattern, which features intricate interwoven lines that form a beautiful geometric motif on the dial. While the rose engine was built in the late 17th century, Abraham-Louis was the first to apply the craft of guilloché to watch dials, making them uniquely alluring.
Today, to ensure this rare art survives, Breguet has created what may well be the world's largest guilloché department, where, at any given time, 20 artisans work in a single room on handpowered rose engines to create extraordinary dials. When Breguet created this department, there were not enough vintage machines to be found, so the company began the tool work to create its own two-handed machines and hired skilled artisans who could create these beautiful dials.
The brand also employs the finest artisans to create unique and rare dials, showing its commitment to the arts. Artisans carve shells for cameo dials — a rarity in the watch world — as well as hand-paint and finely lacquer dials, and handset dials and cases with precious gems. In another window-walled room of the manufacture, watchmakers work their magic creating new and exciting tourbillons, repeaters, perpetual calendar watches and other complications, always using the Breguet codes of yesteryear to turn out the masterpieces of tomorrow.
Today's Breguet watches still feature Breguet hands, numerals and other accents invented by the founder. While there have been technological advances that enable more precision and in machining components, Breguet watches are still hand-assembled in the brand's workshops, and every watch is still made to look like Abraham-Louis would want it to: simple and clean on the outside, but highly complex on the inside.
"The essence of Breguet for us today is exactly his style. Each watch has a quality, an authenticity and a look that is subtle but charming," says Emmanuel. "This is why clients today and tomorrow love Breguet. It is a spirit that remains alive, and always will, so we can propel the brand into the future." It is this deft blend of heritage and legacy, combined with a strong vision for the future, that makes a Breguet watch so covetable. Timepieces from this French-turned-Swiss brand will remain heirlooms for centuries to come.
Images: Photos Institut National de la Propriété Industrielle, Xavier Reboud