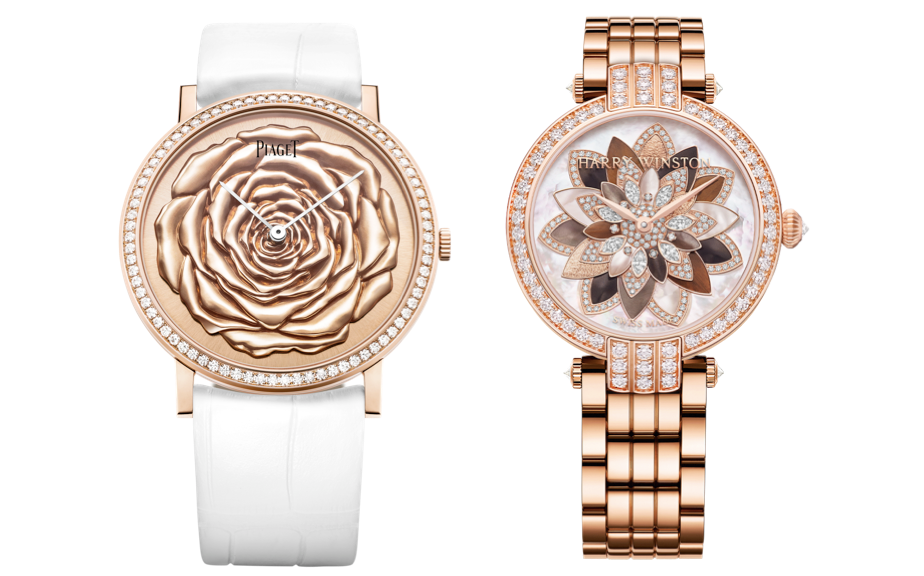 These carved and gilded dials prove that floral watches don't need to be pink to be beautiful, and beneath these artistic dials lie precise mechanical movements.
Graff, MasterGraff Floral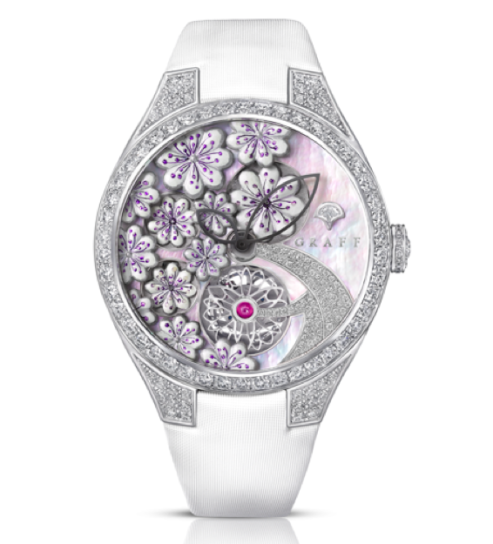 Graff perfectly unites a feminine aesthetic, gem setting and a mechanical movement in the MasterGraff Floral timepiece. White-gold flowers bloom across the white mother-of-pearl dial, and to show the movement is working, three of them slowly rotate. The flowers are brilliantly hand-painted using enamel, which creates a beautiful effect. It is time-consuming work: Decorating each dial can take up to 50 hours. A diamond-set bridge acts as the flower stem, and alludes to the automatic movement within. And as this is Graff, of course the bezel and case are set with even more diamonds.
$95,000 in 18K white gold with 4.49 carats diamond, Graff in New York, +1 212 421 3605, graff.com
Piaget, Altiplano Rose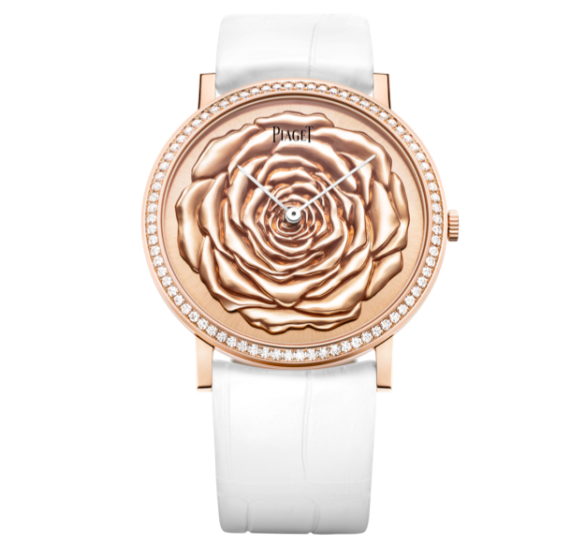 Piaget is one of the rare watch manufactures that does it all: It is an expert at métiers d'art and is globally renowned for its ultra-thin movements. In the beautiful Altiplano Rose watch, which is limited to eight pieces, the house combines its engraving skills with a 2.1mm-thick movement. The magnificent dial features a delicate rose carved from 18K rose gold. Artisans used different finishes on the gold, which means that each of the 80 petals glimmers with the slightest turn of the wrist.
$65,000 in 18K rose gold with .71 carats diamond, available by appointment, +1 855 258 0951, piaget.com
Jaquet Droz, Lady 8 Flower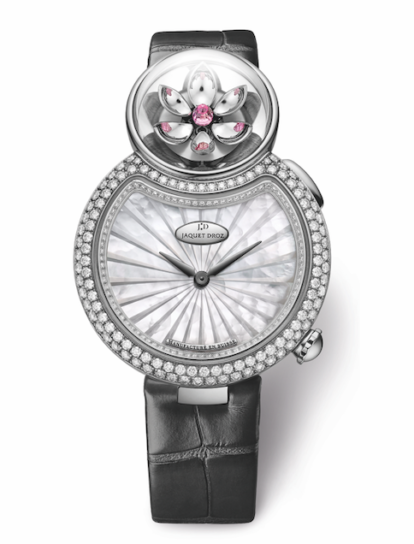 The unique case shape of Jaquet Droz's Lady 8 Flower watch isn't just for show. It hides a secret that honors its founder's mastery of automatons. At the top of the watch, encased in what could be considered a terrarium, lies a closed flower. By pushing the button at 2 o'clock, a flower bud blossoms, opening its petals and revealing a rotating, sparkling pink-sapphire briolette. When the automaton finishes, the petals close, ready to delight its wearer again. Beneath the engraved mother-of-pearl dial lies an automatic movement.
$141,800 in 18K white gold with 1.57 carats diamond and a .29-carat pink sapphire, available by appointment, +1 646 692 6470, jaquet-droz.com
Breguet, Reine de Naples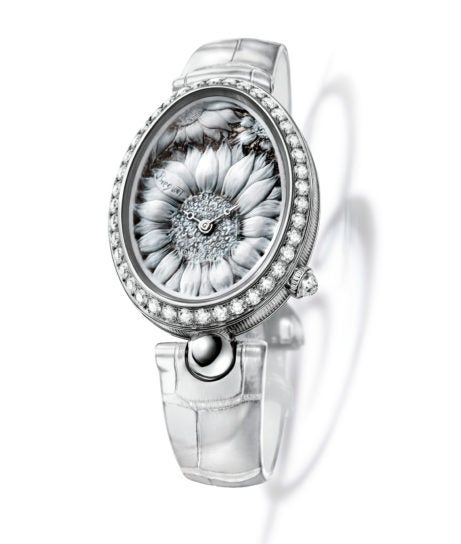 To achieve this stunning dial, Breguet's artisans worked with a somewhat unusual material for a watch: a cameo. Engraving a cameo is incredibly delicate work. An artisan uses a steel stylus to design a pattern of colors that highlight the naturally different-colored stratifications and gradations within a material — in this case, a seashell. The minute and hour hands are slightly offset to allow the beauty of the hand-carved cameo to shine. The caseback is open so you can admire the superbly finished movement, which has a guilloché gold rotor set with mother-of-pearl.
$64,800 in 18K white gold with 2.70 carats diamond, available by appointment, +1 866 458 7488, breguet.com
Harry Winston, Premier Lotus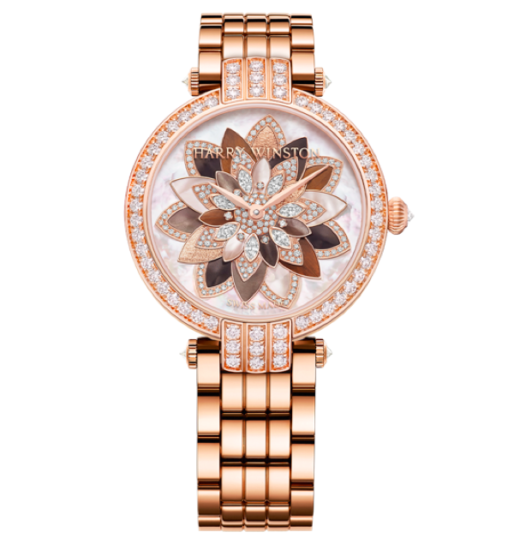 This charming watch from Harry Winston features a vivid lotus flower on the white mother-of-pearl dial, which is brought to life using an array of artistic techniques. The petals are crafted from hammered rose gold, tiger eye and different shades of beaded mother-of-pearl, ranging from white to dark taupe. For flashes of brilliance, diamonds adorn the petals, bezels and lugs. Should you want even more diamonds, there is a version with a diamond-set bracelet. Both versions have an automatic movement.
Price on request, 18K rose gold with 1.44 carats diamond, available by appointment, +1 800 988 4110, harrywinston.com