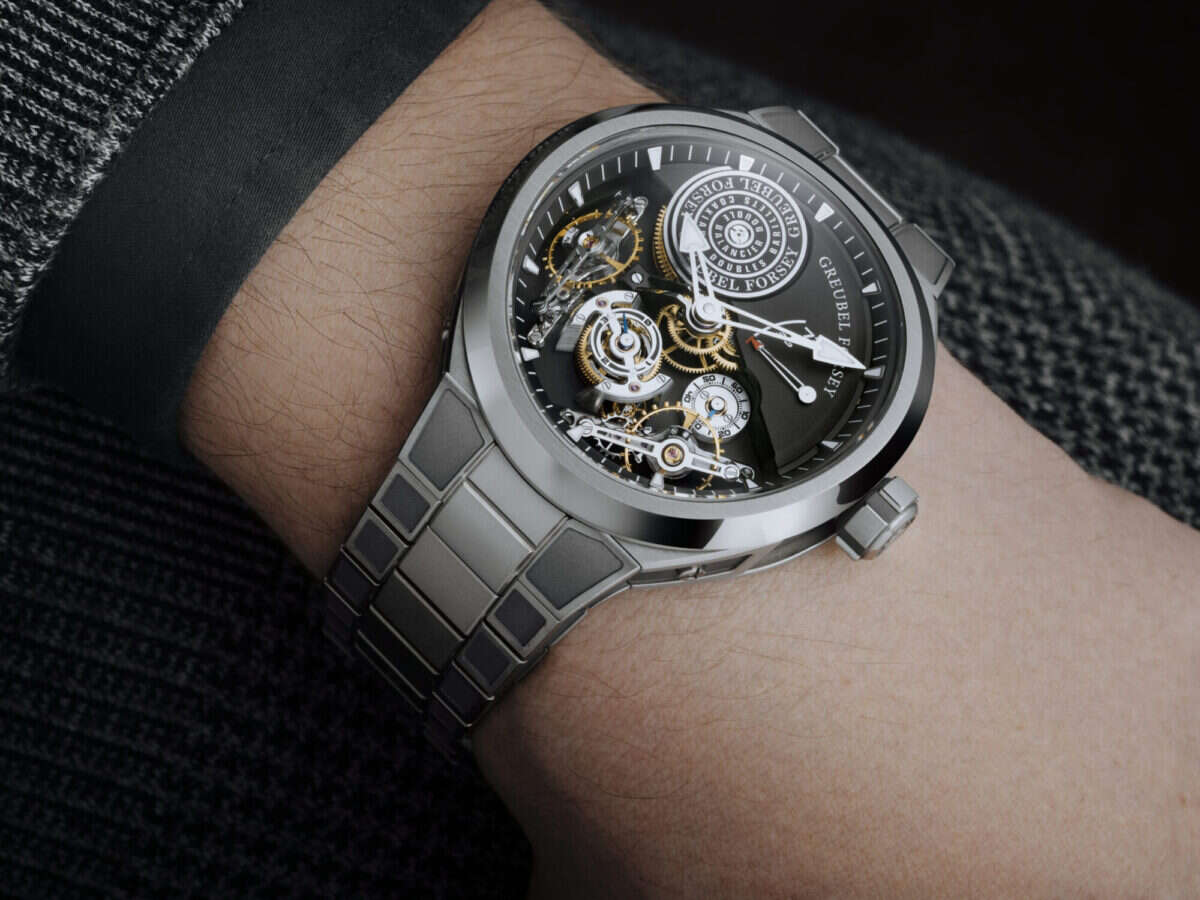 Swiss watchmaking company Greubel Forsey has announced its latest timepiece, the Double Balancier Convexe.
This striking piece leaves nothing to the imagination. Most of the dial is exposed and occupied by three regulating organs, two balance wheels and one differential. This bold design reveals the beating heart which makes the watch so accurate, while giving any onlooker a brief glimpse of the complications that lie within.
The modern design language lets the craftsmanship do the talking. This is a signature of Greubel Forsey, which focuses on quality and the artistry of horology.
The highly complicated Double Balancier Convexe features a movement made of 374 parts. Only 22 will be released per year until 2024, made for a total of 66 pieces overall.
Greubel Forsey prides itself on making technological leaps within the field of watchmaking. First patented in 2007, this particular timepiece has been 15 years in the making.
[See also: Top 50 Watch – Greubel Forsey, GMT Sport]
The Double Balancier Convexe takes its name from the convex profile of its 43.5mm titanium case. This outer shell which hugs the curve of the wrist led to several technical challenges, resulting in both the sapphire crystal as well as the movement to take on a unique shape.
Designed to be worn daily, Greubel Forsey reinforces this idea with the option of a texturized rubber strap or titanium bracelet. The watch itself is water-resistant to 100m, meaning it is ready for any occasion.
Each hand possesses its own geometry, finish and color. The primary hour and minute hands have a curved profile and are filled with Super-Luminova. These larger hands also take on a skeletal structure that can be seen across many Greubel Forsey watches, reducing obstruction of the watch face.
[See also: Top 50 Watches – Greubel Forsey, GMT Quadruple Tourbillon]
The smaller seconds and 4-minute hands are set lower than the main dial and are painted blue steel, while the 72hr power reserve is indicated by a polished hand with a red tip.
The two balance wheels — the watches focus — while identical in shape and function occupy a different plane, complementing each other as they regulate time.
Every component is hand-finished to Greubel Forsey's criteria. This ensures they all stand alone individually yet work together harmoniously to forge a truly striking timepiece.
Available now for $340,000 with Ballistic strap, $385,000 with titanium bracelet, greubelforsey.com