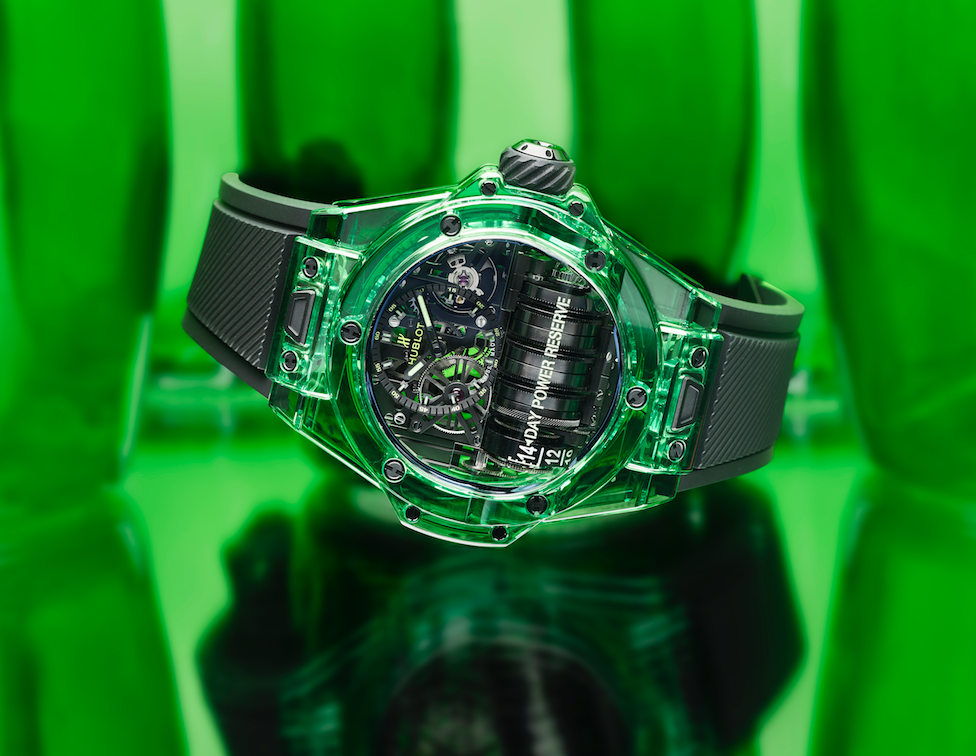 Hublot is celebrating a significant step forward in its ultra-technical and contemporary design with the release of a Big Bang MP-11 made with an innovative material never before used in watchmaking.
Having made huge investments in the industrialization of sapphire, Hublot has been able to offer watches in several colors such as black, yellow, blue and red. However, a true emerald green has proved elusive to the point that the company has moved to SAXEM.
This new material, a mixture of aluminum oxide and rare elements like thulium, holmium and chromium acronym of sapphire, produces a deep green that stands up to the finest emeralds and offers a level of strength that rivals that of a diamond. Its cubic crystalline structure guarantees the same shade and intensity of color regardless of the angle from which you look at the case.
"With this new Big Bang MP-11, Hublot once more asserts its regal mastery of innovation, at both a technical level and in terms of aesthetics," says Ricardo Guadalupe, CEO of Hublot. "By offering those that seek accomplishment a state-of-the-art material used in very high-tech applications, particularly in satellites, and by combining it with a manufacture movement with levels of performance that will go down in history, we are changing the face of our Art of Fusion."
The Big Bang MP-11 in green SAXEM is limited to just 20 pieces, making it attractive to discerning collectors of rare and innovative pieces. A price of $127,000 dollars reflects its technical innovation and also its grand complications.
The transparent material allows owners to see the state-of-the-art complications within the timepiece. There is a manual-winding skeleton manufacture caliber that achieves a 14-day power reserve. Hublot has accomplished this feat thanks to original and spectacular movement architecture that integrates seven barrels connected in series.
The power reserve is directly displayed on a cylinder placed to the left of the seven barrels. The readability of the auxiliary hours/minutes dial is reinforced by hands and indexes highlighted in green luminescent plating.