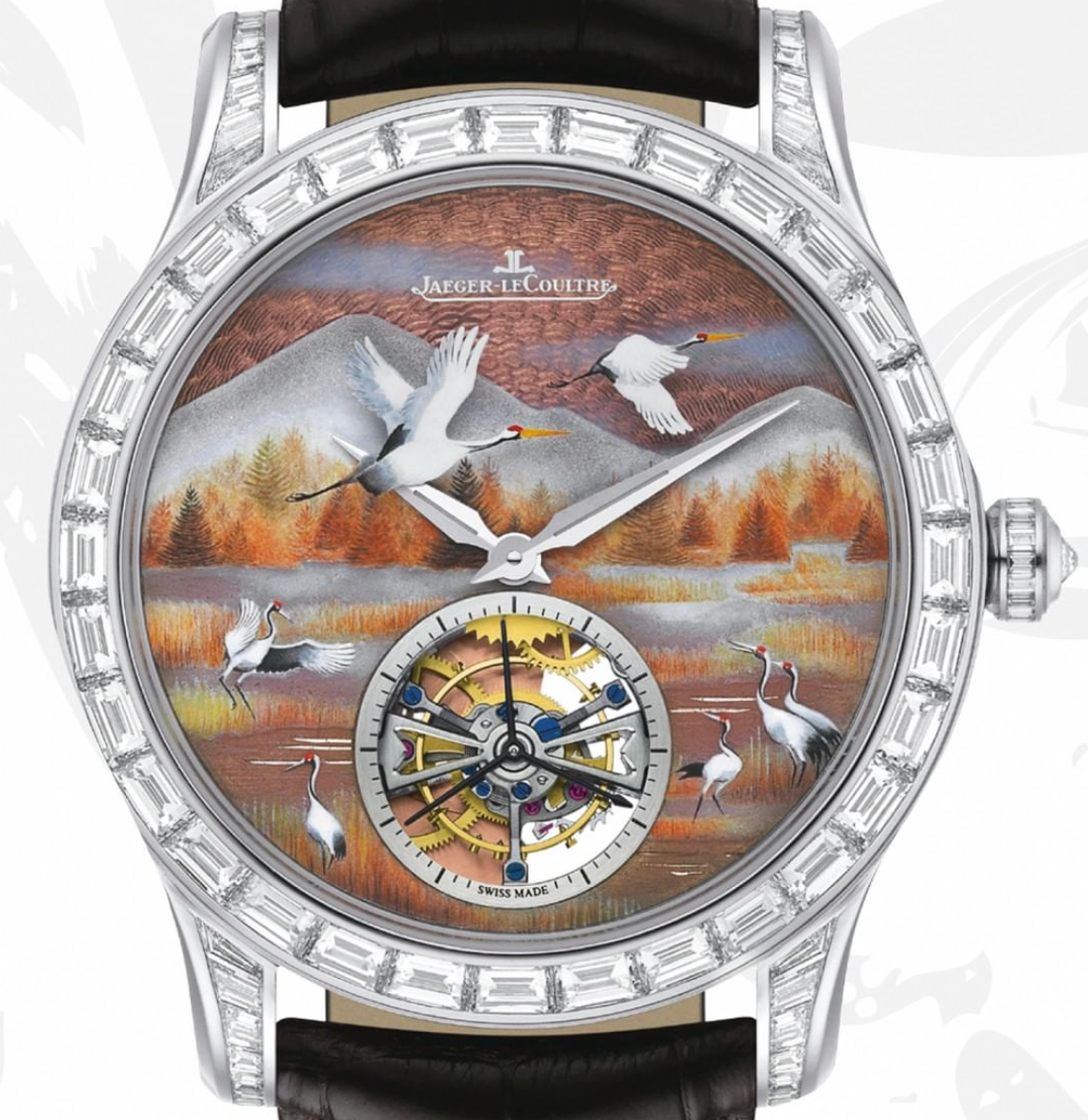 Today's finest watchmakers are breathing life into their dials by using them as canvases to reinterpret majestic animals and birds. Referred to as métiers d'art, decorating a watch dial is an art that dates back centuries. Today, brands and their artisans have elevated existing techniques to new heights and developed ever-more innovative methods for ornamentation.
Artisans turn to unusual materials such as lacquer made from the sap of special trees for paintings, or wood veneer to create unique patterning. Creative processes run the gamut from enameling and engraving to painting, sculpting and marquetry. Most of these dials are incredibly time-consuming to design, often requiring dozens of hours of meticulous work.
Jaquet Droz, Petite Heure Minute Lion
A master at métiers d'art, Jaquet Droz often turns to hand-painting to achieve its tributes to nature. This mighty king of the jungle — with such intensity in the face — is the result of dozens of hours of work. Using an array of fine brushes, some with no more than a single hair, the artist interprets the lion on a backdrop of black grand feu enamel, taking great care to achieve the minute characteristics of the fur, whiskers and eyes. Some details are so fine that they are barely perceptible to the naked eye.
$32,200 in 18K red gold, Jaquet Droz in New York, +1 646 692 6470, jaquet-droz.com
Bovet, 1822 Amadeo Fleurier 43 Minature Painting of a Horse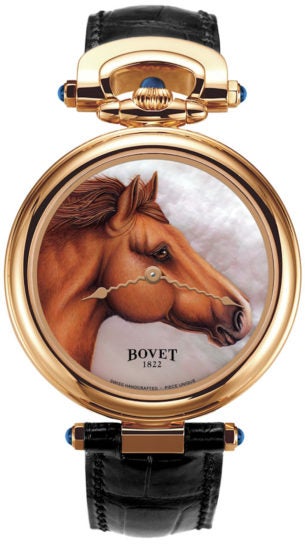 This stunning horse dial begins with a shimmering white mother-of-pearl orb. To achieve the details of this magnificent horse with its sinewy muscles and elaborate mane, the artisan hand-paints the motif using a polished lacquer technique, which allows for the best possible definition. Eight layers of translucent lacquer are then added to protect the dial and add luster; the process takes a full week to complete using a microscope and fine-bristle brushes. This Amadeo watch converts from wristwatch to pocket watch and table clock.
$82,000 in 18K rose gold, Cellini Jewelers in New York, +1 212 888 0505, bovet.com
Cartier, Rotonde De Cartier Panthére Wood Marquetry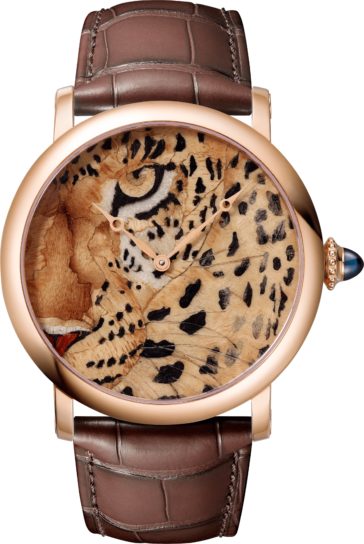 The Cartier panther has been a distinctive moniker of the brand since the mysterious and beautiful animal made its first appearance on a wristwatch in 1914, and it has melted hearts ever since. This newest interpretation is created using hundreds of tiny pieces of wood marquetry. Each piece is individually cut from ultra-thin slices of wood; then they are placed one by one on the dial using tiny tweezers, creating an incredibly detailed (and tiny) jigsaw puzzle of the panther's expressive face.
Price on request, 18K rose gold, Cartier in New York, +1 212 446 3400, cartier. com
Hermés, Arceau Awoooo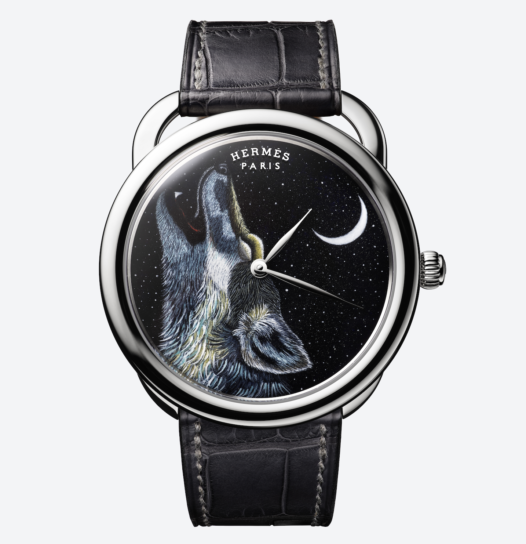 For this rich and intriguing dial, the artisans at Hermès recall a wolf howling at the moon hanging in a star-studded sky. The wolf's fur shines in hues of silver, gray, brown and blue — all achieved via intense and meticulous enamel work. The artist begins with a gold base that is enameled white. Then, she hand-paints enamel on both sides of the dial to achieve depth and dimension. Each layer of enamel is fired in the oven before the next can be applied. The beauty of the nocturnal wolf underscores its call to the wild.
Approximately $80,600 in 18K white gold, Hermès in New York, +1 212 751 3181, hermes.com
Graff, Gyrocraff Endangered Species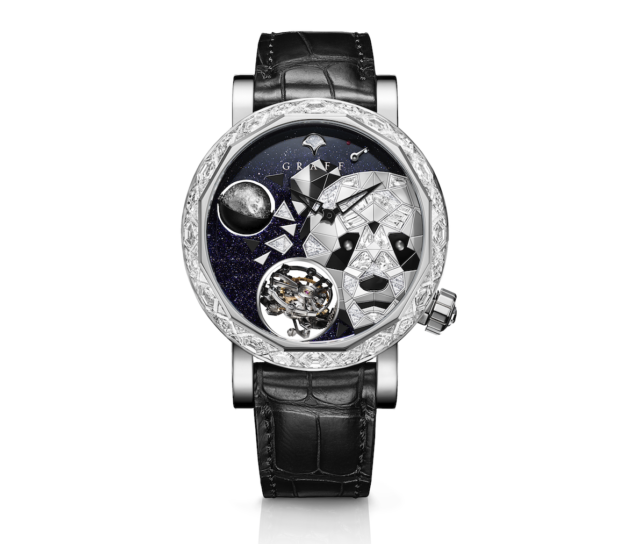 This year, Graff unveiled five unique GyroGraff Endangered Species watches that celebrate animals listed under the threat of extinction by the World Wildlife Fund. This panda dial is created using a technique of diamond and metal marquetry. The artisan combines mixed cuts and shapes of polished gold and diamonds, and hand-sets them individually to form the panda, leaving room for the 3D moonphase and the complicated GyroGraff double-axis tourbillon. In total, there are 112 individual parts positioned against a blue aventurine backdrop. The 48mm case is bedecked with invisibly set baguette-cut diamonds in a mosaic motif.
Price on request, 18K white gold, Graff in New York, +1 212 421 3605, graff.com
Vacheron Constantin, Les Mécaniques Sauvages Majestic Tiger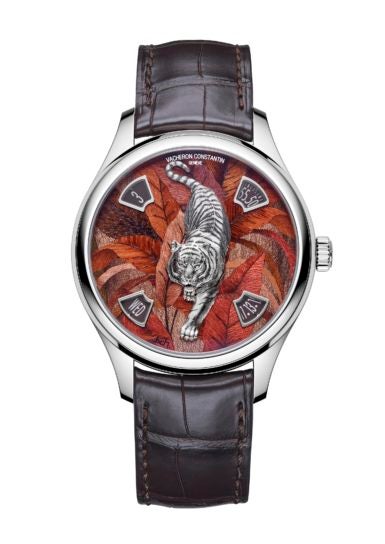 A bold tribute to the animal kingdom, this magnificent dial is created using wood marquetry and sculptural engraving. The tiger comes to life thanks to bas-relief engraving, with every stripe, hair and facial expression individually hand-carved. Different surfaces and finishings, including matte, polished, satin-brushed and black oxidation, were used to achieve the perfect look. Just creating the threedimensional tiger took more than 60 hours. The lush fall foliage in the background uses more than 200 hand-cut veneers in a host of different colors and types. Hours, minutes, day and date are displayed via four apertures.
Price on request, 18K white gold, Vacheron Constantin in New York, +1 212 317 8964, vacheron-constantin.com
Jaeger-Lecoultre, Master Grand Tourbillon Enamel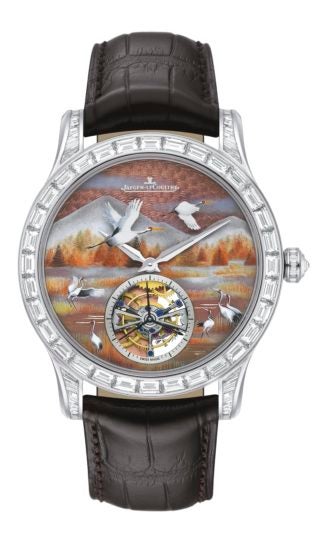 This autumnal scene of graceful herons in and above a marsh with trees and mountains in the background is created using a complex and time-consuming grand feu enamel process, which takes a single artisan more than 80 hours to complete. A gold dial coated in white enamel serves as a blank canvas. Then, a master enameller hand-paints successive layers of enamel, with repeated firings at every level, to ultimately arrive at the perfect colors. Finally, up to eight layers of protective coating are added, and the case is set with 94 diamonds.
$253,000 in 18K white gold, Jaeger-LeCoultre in New York, +1 646 828 4328, jaeger-lecoultre.com