Today, we take for granted that a quick glance at our phone tells us the date, but in the past, ingenious watchmakers had to devise mechanical marvels to keep track of the calendar.
The most complicated of those watches, perpetual calendars, even account for leap years thanks to hundreds of cams and levers. These watches have their roots in mid-18th-century London, where watchmaker Thomas Mudge invented a detached lever escapement, which he used in his first-ever perpetual calendar in 1762.
The perpetual calendar displays the time, day of the week, date, month, leap year and — in most instances — moon phases, and automatically adjusts the date every month, including February. Most do not need a manual adjustment until the year 2100, when the leap year that should occur will be skipped in order to have real-time and the Gregorian calendar align again.
Some models also include a retrograde date complication, meaning that at midnight on the last day of the month, the hand automatically flies back to "1" to start the trek again.
The less complicated annual calendar watch displays the time, day of the week, date, month and year, and automatically adjusts itself every month except February, when the date must be changed manually. It was developed by Patek Philippe in 1996, and these watches have grown quite popular as they are more user-friendly and easier to set than a perpetual calendar.
A Lange & Söhne Langematik Perpetual Honeygold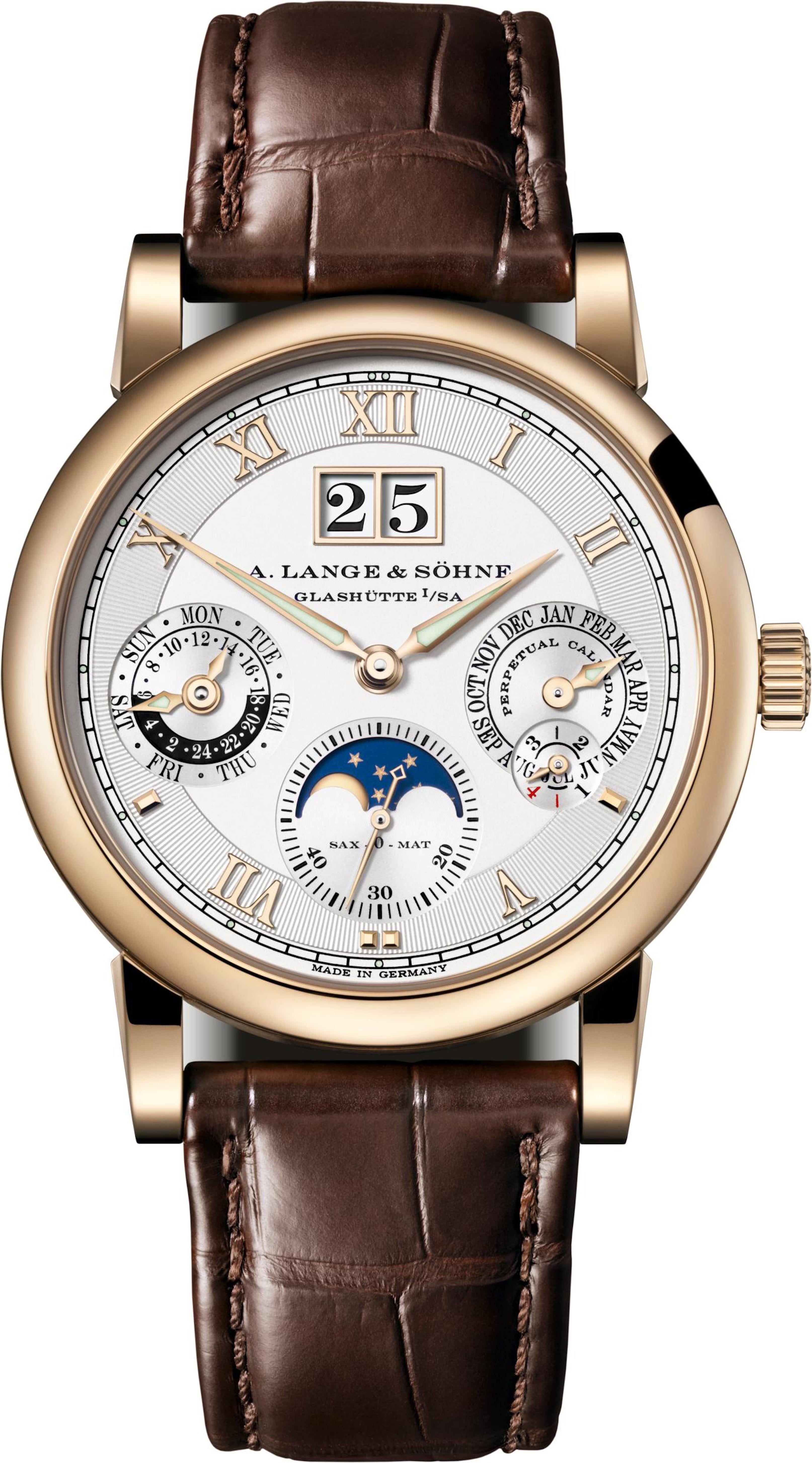 Germany's A Lange & Söhne is known for its complicated watches. Of particular note is the Langematik Perpetual Calendar, launched in 2001. At that time, it was the first self-winding watch that combined a perpetual calendar and an outsized date display.
The Sax-o-Mat movement is also equipped with a patented Zero-Reset mechanism that simplifies accurate time setting to the second: When the crown is pulled out, it stops the balance and advances the second hand to zero.
The newest version has a white dial and is crafted in the firm's proprietary HoneyGold, which has only been used for specially selected limited editions and one-of-a-kind pieces, ensuring its exclusivity.
A sapphire-crystal case back enables viewing of the 478-part movement with hand-engraved 21K gold rotor and Lange-style three-quarter plate. The escapement and balance cock are manually hand finished and flawlessly engraved.
Price: $85,000 in HoneyGold
Contact: A Lange & Söhne in New York, +1 646 828 3150, alange-soehne.com
Bovet 1822 Récital 21 Perpetual Calendar
With an unusual writing-desk-sloped case, Récital 21 is a vision in intrigue and technical prowess. This 44.4mm watch combines perpetual calendar functions with a three-dimensional, constantly moving tourbillon escapement and a retrograde date indication that outlines the circular blue dial.
The dial is brushed by hand, surface treated, hand painted with eight layers of lacquer, and polished by hand to bring out its luster. The watch is designed to display its information in an easy-to-read manner, with hour and minute hands on the center dial and days and months vertically displayed via apertures.
A small circular aperture at 3 o'clock shows the leap year. The patented double-coaxial second mechanism displays the second hand above the tourbillon, and the five days of power reserve are indicated on the back.
Price: $77,800 in 18K rose gold
Contact: Cellini Jewelers in New York, +1 212 888 0505, bovet.com
Montblanc Heritage Perpetual Calendar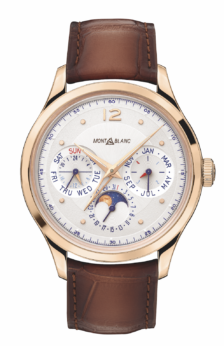 Inspired by the rich watchmaking history of its Minerva workshops in Villeret, Switzerland, this year Montblanc unveiled a host of Heritage watches that recall Minerva's 20th-century watches.
This new Heritage Perpetual Calendar watch boasts a vintage sectional dial and an early Montblanc logo. It houses the new self-winding, 378-part Caliber MB 29.22 movement that was three years in the making.
This movement has a built-in safety feature that prevents the user from setting the watch between 8pm and midnight, which could damage the caliber (as this is when the wheels that turn the calendar indications are in motion).
It is equipped with a second time-zone indication and 24-hour indication, making it perfect for travel.
Price: $26,240 in 18K rose gold
Contact: Montblanc in New York, +1 212 223 8888, montblanc.com
Vacheron Constantin Overseas perpetual calendar ultrathin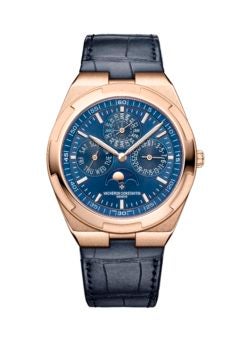 Vacheron Constantin has been known for its fine craftsmanship and superlative complications since its founding in 1755. In recent years, its sporty Overseas collection has attracted collectors thanks to the clean design.
Its new launch, the blue-dial Perpetual Calendar Ultra Thin, is a technical feat, combining a perpetual calendar function within a super-slim caliber. To build an ultra-thin watch means that all of the components must also be super thin without compromising strength.
That, coupled with the fact that the perpetual calendar requires so many extra parts, makes this accomplishment remarkable. The 276-part mechanical, self-winding movement is just over 4mm thick, so the finished watch measures just 8.1mm.
With luminescent hands and markers, reading the calendar information at a glance — even in the dark — is easy.
Price: $75,000 in 18K white gold
Contact: Vacheron Constantin in New York, +1 212 317 8964, vacheron-constantin.com
Patek Philippe Ref 5212A-001 Calatrava Weekly Calendar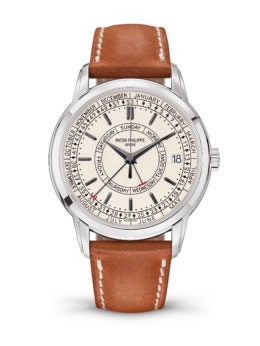 The Patek Philippe Calatrava Weekly Calendar watch has a new complication in the brand's calendar segment; for the first time, it offers not just the time, date and day of the week, but it displays the current week number in the year.
Although week numbers are not commonly used in North America, other countries frequently reference the week number, making it quite useful. The watch houses an all-new self-winding movement, Caliber 26-330 SCJ SE, with a semi-integrated mechanism that displays the week number.
The 304-part movement shows the day and week number using hands, and the date in an aperture at 3 o'clock. The movement is equipped with a 21K gold central rotor, high-tech balance and spring, and offers 35 hours of power reserve.
The silvery opaline dial is distinctive thanks to the letters and numbers that were first handwritten, then reproduced.
Price: $33,450 in stainless steel
Contact: Wempe Jewelers in New York, +1 212 397 9000, patek.com
Parmigiani Fleurier Toric Quantieme Perpetual Retrograde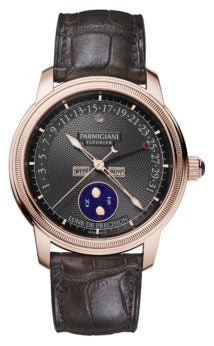 With a spectacular hand-engraved, guilloché, slate-colored dial and an aventurine disc for the moonphase complication, this Parmigiani Fleurier Toric Quantieme Perpetual Calendar Retrograde watch is a truly elegant take on a classic look.
It features a beautiful moonphase with depictions from both the Northern and Southern hemispheres, and the leap-year indication, day and month are indicated through apertures rather than subdials.
The retrograde date indication is shown via a black hand with red arc.
The 414-part, self-winding PF 333 movement powers the watch, and its moon phases are accurate for 122 years.
Price: $64,100 in 18K rose gold
Contact: Cellini Jewelers in New York, +1 212 888 0505, parmigiani.com
Laurent Ferrier Galet Annual Calendar School Piece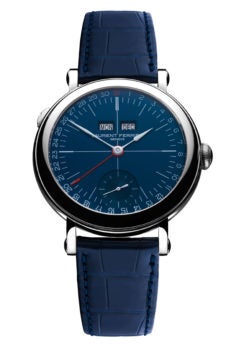 Introduced last year, the Laurent Ferrier Galet Annual Calendar School Piece watch quickly stole hearts with its minimalistic dial and clean looks.
This year, it released new versions with opaline dials in black and white, as well as a new blue-dial model.
Powered by the manual caliber LF126.01, the watch is easy to use: The date and month are adjusted simply by turning the crown forward or backward.
The hands are white gold, but the central date hand is bold red, making it easier to read the date along the dial's outer track.
Price: $58,000 in stainless steel
Contact: Cellini Jewelers in New York, +1 212 888 0505, laurentferrier.ch
Glashütte Original Senator Excellence Perpetual Calendar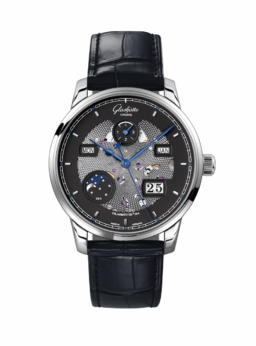 With a partially skeletonized dial that allows for the jewels and flashes of the movement to be visible dialside, this Glashütte Original Senator Excellence Perpetual Calendar watch is a study in harmony and craftsmanship.
The 42mm watch houses an automatic movement and features a key signature for the brand: the oversized Panorama Date indication at 4 o'clock.
Water resistant to 50 meters, the watch features aperture indications for all of the calendar functions, and has blued hands for the hour, minute and second.
Each watch is meticulously tested for 24 days under circumstances that exceed chronometer tests, ensuring ultimate precision.
Price: $37,500 in 18K white gold
Contact: Manfredi Jewels in Greenwich, Connecticut, +1 203 622 1414, glashuette-original.com