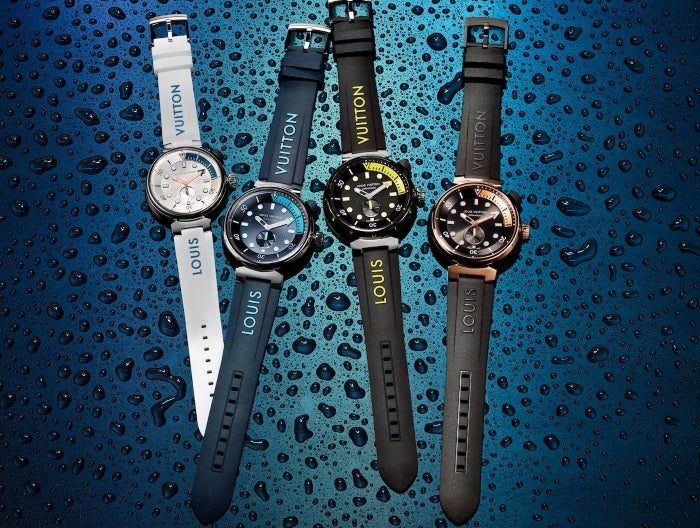 Louis Vuitton's new unisex Tambour Street Diver Watch is set to make its hotly anticipated debut this week. 
Offered in four eye-catching color palettes with interchangeable straps, the versatile Tambour Street Diver is the newest incarnation of the fashion house's iconic Tambour timepiece – Louis Vuitton's first-ever watch which launched in 2002. The new Tambour Street Diver stays true to its predecessor's distinctive silhouette – larger at the base than at the top – with a unique shape that was inspired by a drum. 
Louis Vuitton's latest watch encapsulates the house's pillars of travel, adventure and discovery through innovation, elegance and craftsmanship but separates itself from the classic Tambour with its modern style and array of uber-practical features. As the luxury brand's first foray into high-end sports-watchmaking, the Swiss-made timepiece is not only stylish, it also ticks all the boxes of a traditional dive watch. Screw-down crowns and a 100m water-resistant casing secure the watch's precisely-crafted inner-workings, while its dive bezel is set via a color-contrasting crown bearing a diver's silhouette. 
Not just to be saved for occasional wear in the ocean or the pool, the fashion house designed the Tambour Street Diver with modern city life in mind, taking its wearer from the gym to the club and the beach to the office. With its chic and contemporary aesthetic, Louis Vuitton is hoping its newest offering will challenge the codes of the standard utilitarian timepiece.
Launching on April 9, three automatic models in 44mm will be available in three colorways: 'Skyline Blue' featuring a deep blue dial and strap with cerulean accents; 'Neon Black' featuring a black dial and strap with bright yellow accents; and 'Black Blaze' which features a black dial and strap with pink-gold accents. A 39.5mm quartz option will also be available in 'Pacific White' featuring a white dial and strap with royal blue accents.
Louis Vuitton Tambour Street Diver watch from $5,605, us.louisvuitton.com