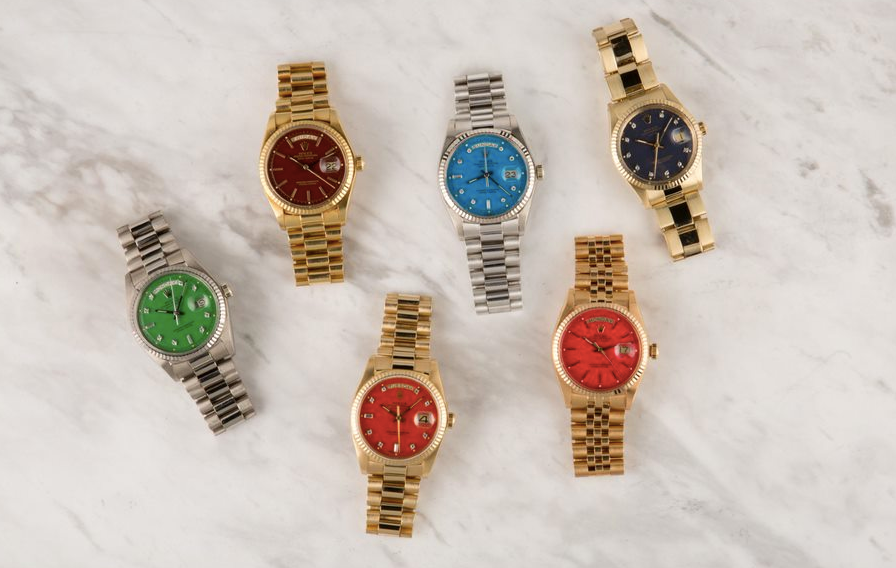 The world's only collection of original Rolex Stella Dial watches has been completed by Carol Altieri following a global hunt for the elusive timepieces. Carol, who together with husband Paul runs the influential Bob's Watches, took years to source each pristine timepiece from locations around the world.
Speaking to Elite Traveler, Carol said: "A beautiful blue-dialed day date came into the store nine years ago when we were just starting out and we thought it was a repainted dial but the quality of color was amazing and we knew it had to be something special. It's too difficult not to complete the collection. To not have one of the dial colors would be like a puzzle missing the last piece."
Rolex originally released the Stella Dial collection for the Middle East market in the 1970s. It is believed the colorful enamel dial set was named after American artist Frank Stella, who specialized in bright colors. Others claim it was taken from the Latin word for 'Star'. Either way, the collection was met with a lukewarm reception and was quietly scrapped after a limited run.
Perhaps Rolex was too ahead of the curve because demand for the style has rocketed in recent years, so much so that the Swiss watchmakers released a modern batch of Stella Dial watches in 2013. These were far more successful and brought the original 1970s collection back into focus. Watch collectors have been scrapping around for them ever since.
Due to their unpopularity, the original Rolex Stella Dial timepieces were produced in very limited numbers, making them highly-prized for enthusiasts like the Altieri's. Values have spiked and Carol's collection has an estimated value of $250,000. The solid enamel dial is also prone to cracking and deterioration, making it harder still to find a collection as pristine as this one.
The Stella Dial watches sit in a modest 36mm, making them attractive to women as much as men. The bright colors are also seen as a rare moment of whimsicality from the ultra-conventional watchmaker. Indeed, the bright blue, green, pink and orange dials went completely against any Rolex model before and, to an extent, since.
Speaking to Hyperbeast, Paul likened the collection to "the psychedelic paint job on John Lennon's Rolls Royce; a watch as traditional and old-school as a Brooklyn brownstone dragged into the modern era to appeal to a completely different type of buyer."