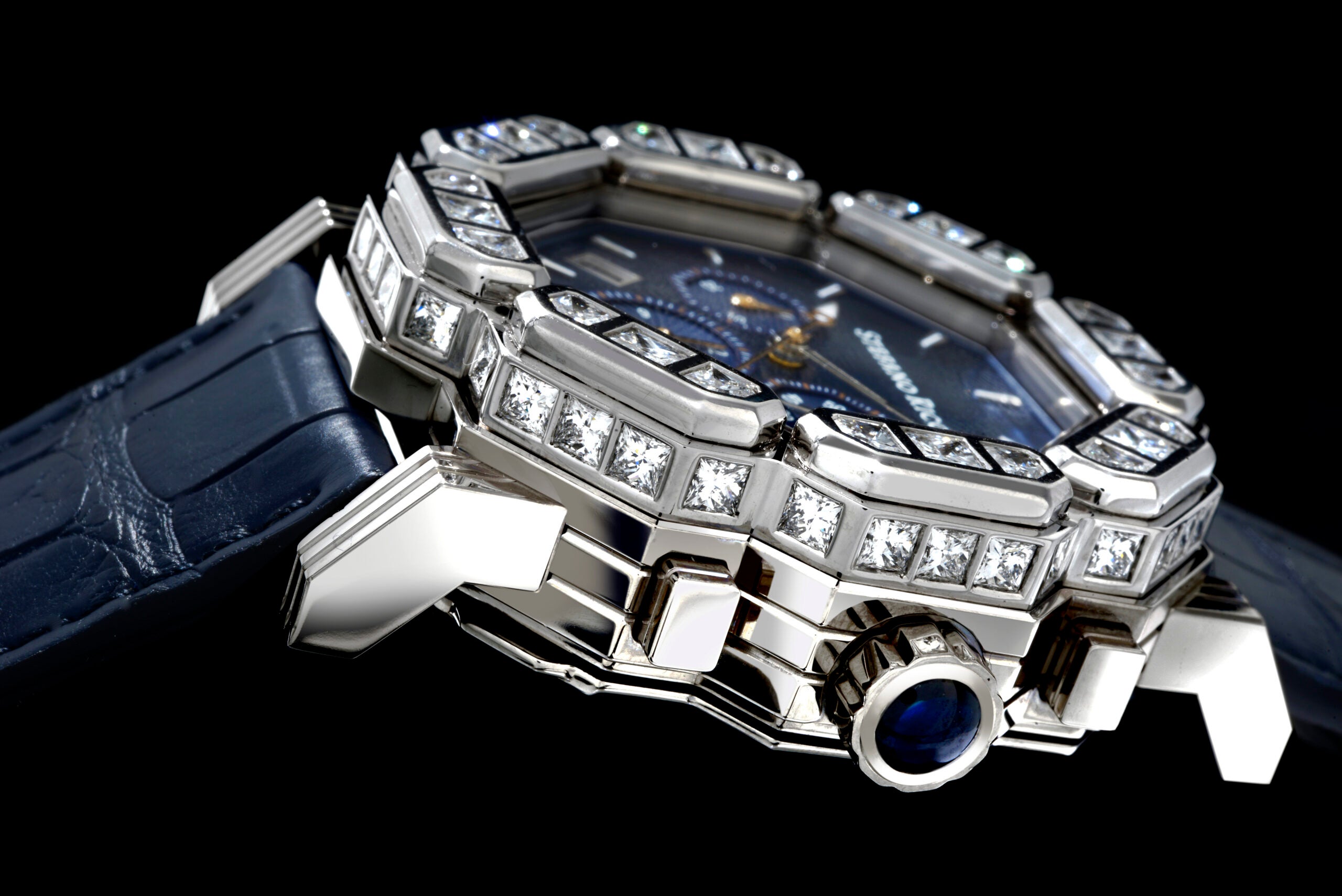 One of Italy's most recognizable luxury fashion brands, Stefano Ricci, has stepped into the world of haute horlogerie with the launch of its debut watch collection, Octagon.
The new series includes three watches: a Perpetual Calendar, an Annual Calendar and a Chronograph. True to nature, the legendary designer has not held back on the opulence or the exclusivity. Each version is limited to just 10 pieces with a further 10 available in a diamond edition, which includes 88 princess cut stones totaling 8.25 carats.
Created in tribute to Florence, where the company was founded and is still based, each and every watch has been designed in the Italian city. Ricci says: "Florence, the city where I was born, has always been an inspiration for me. Its geometry, architecture and art convey a sense of incorruptible balance in the face of time".
The octagonal case of all three models is made from white gold, measuring 45.5 mm in diameter and 14.8 mm in thickness. The strap is hand-stitched crocodile leather and features a white gold folding clasp with an octagonal buckle bearing eight radial-notched screws.
Its most notable feature is a hinged cuvette on the case back. Using the historic technique of  English scroll, it features an extremely complicated engraving, each one unique to that timepiece. The standard editions of the watches contain mainly floral themes and the 10 Diamond Lux Limited Edition Perpetual Calendar watches depicts animals in nature, such as the eagle, leopard, elephant and lion.
The movements on each timepiece are modular. Stefano Ricci carefully selected a haut-de-gamme manufacturer in Fleurier, Switzerland, to ensure each timepiece is of the highest quality. The movements feature the same self-winding base, operating at 28,800 vibrations/hour, with a variable inertia balance wheel (flat spiral) and two barrels arranged in sequence to guarantee a power reserve of 50 hours.
For the Diamond Lux Limited Editions, every diamond was meticulously selected in the in-house workshops of the Stefano Ricci production site, on the hills of Fiesole. Master goldsmiths set the gems using the ancient a battuta technique, in which the metal is hammered around the diamond, and it is polished, creating a flat surface that is completely devoid of any protuberances.
Every watch is presented in a case befitting its exclusivity. The octagonal shape is crafted from Californian briar-root wood by expert Florentine artisans and lined with a fine suede that is color-corordinated with the watchstrap. The box also contains a travel watch holder in crocodile, a retractable cufflinks holder, a document holder in crocodile and the certificate of origin.
Those who purchase a Stefano Ricci watch will also benefit from a dedicated after-sales service. This includes a three-year guarantee that in the event of a problem, a Stefano Ricci representative will reach you anywhere in the world to collect your timepiece and arrange for it to be fixed. Once the timepiece is fixed, it will be returned to the customer, again by a Stefano Ricci representative. Any work carried out within the original three-year period will also come with its own two-year guarantee.
Stefano Ricci Octagon watches priced from $110,000 to $200,000. stefanoricci.com