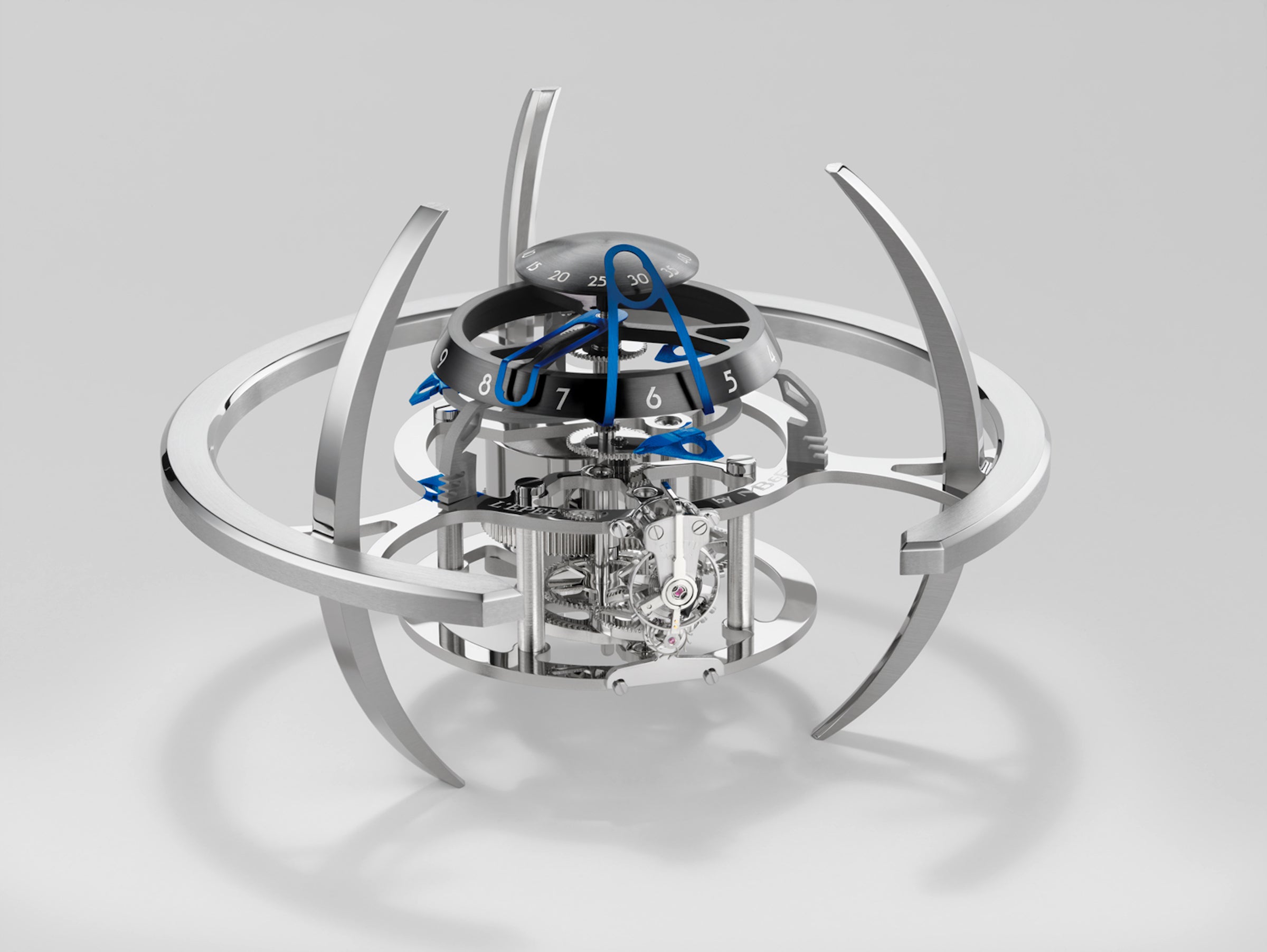 Somehow, time seems to have taken on new meaning in 2020, and what better way to track it than with luxury clocks that not only embraces ultimate mechanics but tells a story all its own. Some of the industry's finest brands create bold and edgy works of art that capture imaginations.
Some are multi-dimensional masterpieces that recall space flight or even time travel, while others look to nature for inspiration and create incredible timepieces that emulate motion and elegance.
No matter what the design influence is, these clocks have handmade and hand-assembled gears, pinions, wheels and other parts that work together like a beautifully orchestrated dance to track time in anything but conventional ways.
L'Epée 1839 Time Machine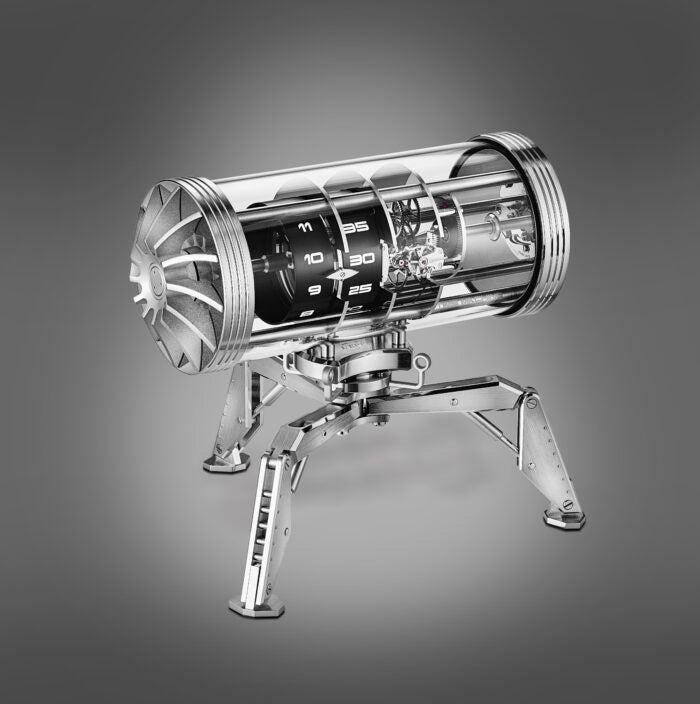 Inspired by the time machines seen in science fiction movies, this L'Epée 1839 clock evokes a real sense of the concept of time travel. In the movies, the time traveler typically sets the time, pushes a button or pulls a trigger, jumps into the machine and takes off, frequently with a rough landing at the destination time.
Suitably, this cylindrically shaped clock sits atop three feet that resemble a lunar module's feet — geared for a softer landing. At each end of the clock carriage is a moveable propeller, because it takes a huge amount of energy to travel through time. The propeller at the front of the clock is rotated to set the time; the opposite propeller winds the complex 370-part movement.
A kinetic work of art, the entire capsule of the clock can rotate 360 degrees, and the rolling can be locked if desired, thanks to a complex wing-nut system. The innovative desk clock measures just about 10 inches in length and about 8.5 inches tall. It is offered in multiple different materials, each in a limited edition of 50 pieces.
$33,200 in silver-finished brass and steel, Cellini Jewelers in New York, +1 212 888 0505, lepee1839.ch
 Jaeger-LeCoultre Atmos Transparente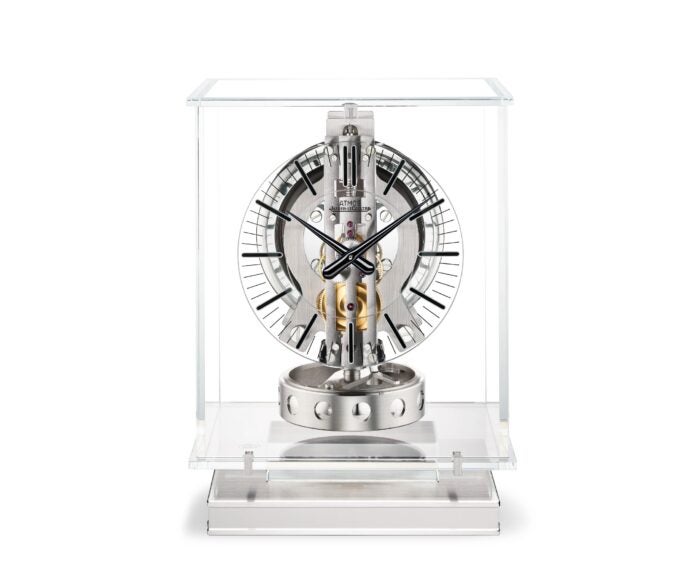 Easily one of the most revolutionary clocks of all time, the Atmos appears to run on air. The mechanism was first developed in 1928 by Jean-Léon Reutter, an engineer who brought the invention to Jaeger-LeCoultre to produce. The Swiss watch company has been building new renditions ever since. This Atmos Transparente clock uses different types of tempered glass to showcase the mechanics in all their glory.
Visible from every angle, the movement houses a small, hermetically sealed capsule that consists of a mix of gases that expand when temperatures rise and contract as they fall. With a single degree change in temperature, the caliber captures enough power to run for two days, meaning the 217-part clock movement is perpetually running.
The Art Deco clock's transparent glass dial features stick markers, and the 10-inch glass cabinet is made of a new-generation glass that is totally transparent and coated with an anti-reflective treatment.
$9,450 in glass with a dual-polished stainless steel base, Jaeger-LeCoultre in New York, +1 646 828 4328, jaeger-lecoultre.com
Le Guépard John-M Flaux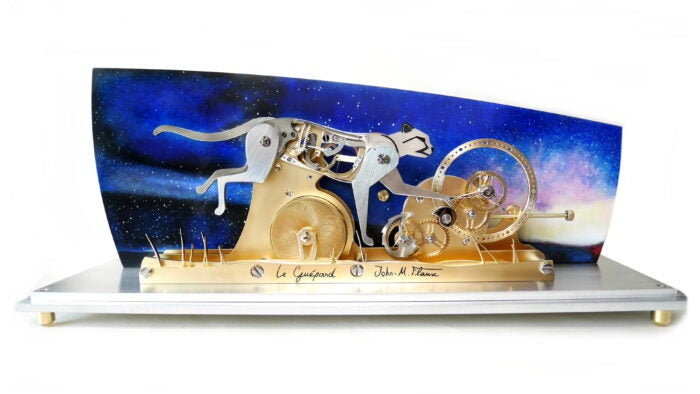 French watchmaker John-M Flaux has a penchant for creating artistic horological clocks that bring together intricate mechanisms with the likenesses of animals or objects to showcase a meeting of different worlds. The fantastic Le Guépard (cheetah in French) clock is an automaton with a moving head and legs. It also incorporates sonnerie en passant, a chiming mechanism that audibly sounds the time and sets the cheetah in motion. The sound and motions can be repeated on demand by actuating the cheetah's tail.
For Flaux, this clock represents the race against time the cheetah faces as an endangered species. To create the cheetah's outline, Flaux conceived and built each component to have a technical and aesthetic role. The elaborate automaton and striking clock consists of 205 hand-finished, hand-assembled parts, and assembly takes a full month to complete. Just five pieces will be made, and each will be personalized and unique.
The blue celestial background is micro-painted in acrylic by French artist Line Descombes and is one of the elements that can be customized. The clocks, which are key-wound and -set, measure about one foot in length.
$32,500 in tempered steel and brass, John-Mikael Flaux in Besançon, France, +33 363 081 930, john-mikael-flaux.com john-mikael-flaux.com
MB&F Starfleet Explorer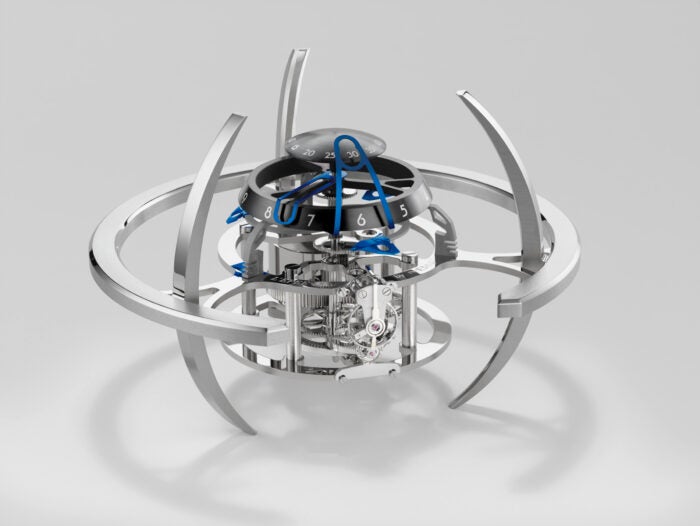 Six years after independent Swiss watch brand MB&F unveiled the futuristic Starfleet Machine clock that caused a stir around the world, the brand releases a compact miniature desk clock this year that looks like it should be floating in space.
The Starfleet Explorer measures just under five inches tall and uses bold colors — red, blue or green — as highlights to indicate the time. Designed by MB&F and executed by L'Epée 1839, the clock displays the hours on a horizontal chapter ring. A brightly colored, anodized hour hand rotates around the fixed hour disc once every 12 hours to show the time. Meanwhile, the minutes are showcased via a colorful fixed curved aperture on a mobile-dome top disc that rotates every 60 minutes. Even more alluring is the fact that the clock offers space-age animation.
Three tiny, hand-lacquered polymer spacecraft that match the time-indication color are situated on a circular track inside the movement. They rotate around the movement — or 'mother ship' — making one full turn every five minutes. The clock mechanism is fully visible and seems to float in the air thanks to its curved longitudinal legs. The clock is manually wound using a double-ended, palladium-finished brass key that also sets the time. Just 99 pieces will be built in each color.
$10,500 in stainless steel (for the main structure), MB&F in Geneva, +41 225 081 038, mbandf.com