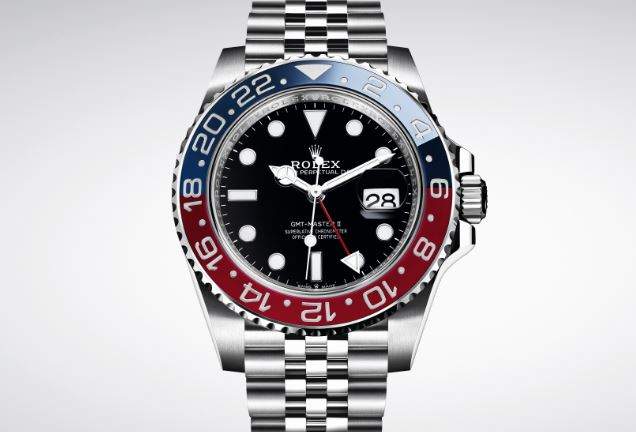 This story originally appeared in the January/February 2019 issue of Elite Traveler.
We take a deep dive into the world of travel watches. Whether you need to see all 36 time zones at a glance or simply know what time it is at home, you will find the perfect watch here.
Hour Hands
First designed to help pilots keep track of time zones in the early era of commercial flying, GMT watches use a 24-hour hand to track a reference time. Originally, the hand indicated Greenwich Mean Time, the day's universal reference time, but now it is generally used for home time (despite its name). Rolex's GMT-Master has set the benchmark since 1955, and its latest GMT-Master II brought back the iconic "Pepsi-colored" bezel from the original model, setting the watch world aflame after its release at Baselworld. Patek Philippe's Calatrava Pilot Travel Time uses a skeletonized hour hand to indicate a second time zone, but on a 12-hour scale. It has day/night indicators for both local and home time, and a local date hand at 6 o'clock. The secondary hours are easy to change on both watches, thanks to independently adjustable hour hands, so your watch won't lose accuracy when moving time zones.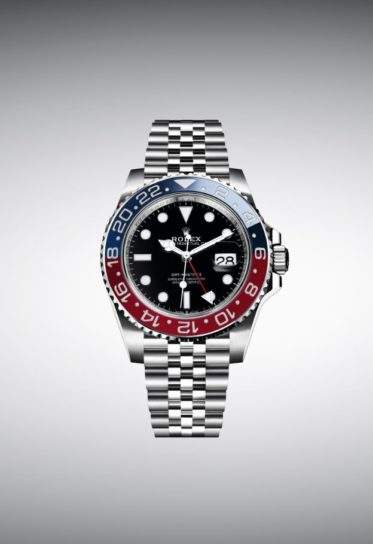 Rolex GMT-Master II watch in oystersteel, $9,250, Wempe in New York, +1 212 397 9000, rolex.com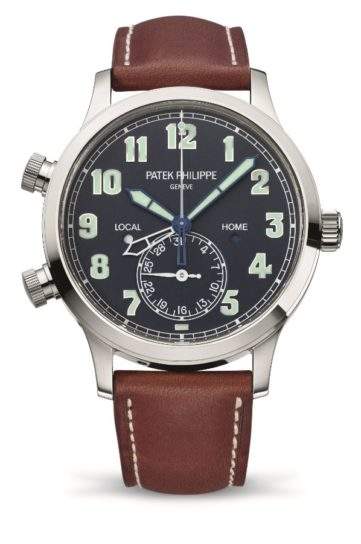 Patek Philippe Ref 5524G Calatrava Pilot Time in 18K white gold, $47,630, Gearys in Beverly Hills, California, +1 310 887 4250, patek.com
Dual Time Zones
These watches use apertures instead of hands to show the secondary time zone. Fabergé's very clever movement in the Visionnaire DTZ, designed by prestigious Agenhor Manufacture, hides a secret at its center, much like its famous eggs. When you look directly into the crystal dome, a magnified aperture tells the time of a second time zone. Be sure to take a peek at the back of the movement to see how small the numbers really are. To showcase the movement, Fabergé ingeniously uses a dial-side rotor; what appears to be a blue dial is in fact the embellished rotor. The movement is very subtle; it is only noticeable if you are really looking for it. Laurent Ferrier's Dual Time Galet Traveller uses two push buttons to move the secondary time zone backwards or forwards. The hour is visible at 9 o'clock, and the local date is displayed at 3 o'clock. There's also a seconds subdial at 6 o'clock.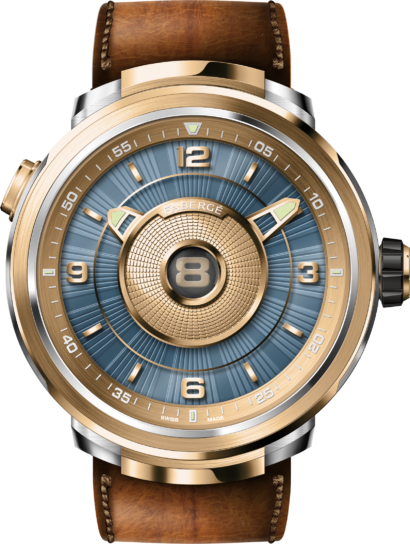 Fabergé Visionnaire DTZ in 18K yellow gold, $29,500, Cellini Jewelers in New York, +1 212 888 0505, faberge.com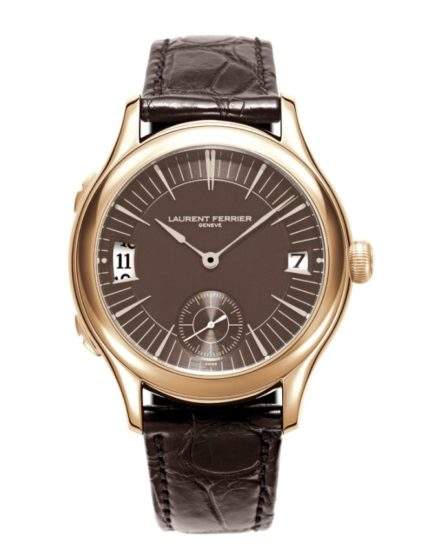 Laurent Ferrier Dual Time Galet Traveller in 18K red gold, $68,000, Swiss FineTiming in Chicago, +1 312 337 4700, laurentferrier.com
Triple Time Zones
For those with multiple offices and homes around the globe, a triple time zone watch can let you know what time it is in each location without calculating the time difference from your secondary time zone. A true masterpiece, Bovet combines three time zones with a flying tourbillon, a staggering 10-day power reserve and breathtaking artistic decoration. It has central local time with a moving dome that mimics the Earth's movement. The two additional time displays have 24-hour dials surrounding two engraved world maps, and have apertures with the city's name above each, so you'll never forget which dial tracks which location. What's more, it is convertible from a wristwatch to a pocket watch or table clock. The aptly named Master Banker from Franck Muller shows local time with central hour and minute hands, and has two subdials showing different time zones. This in-house movement spent several years in development, and has a flying tourbillon.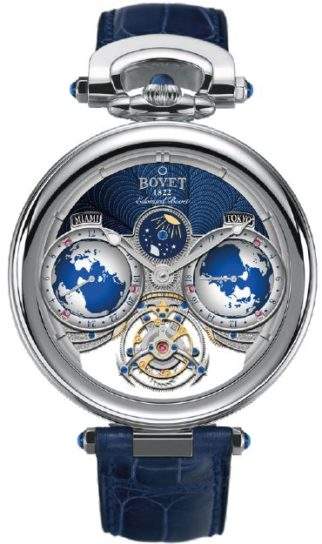 Bovet Edouard Bovet Flying Tourbillon in 18K red gold, $340,200, Cellini Jewelers in New York, +1 212 888 0505, bovet.com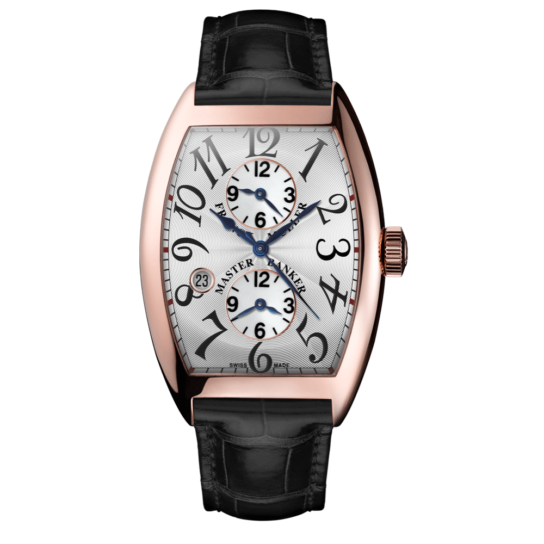 Franck Muller Cintrée Curvex Master Banker in 18K rose gold, $180,000, Franck Muller in NewYork, +1 212 257 5015, franckmuller.com
Independent Time Zones
These very complex watches allow you to track both hours and minutes in two different time zones, which is very useful for time zones that differ by 15 or 30 minutes. With two tourbillons complementing the two time displays and two barrels powering the movement (resulting in an impressive 90-hour power reserve), the Arnold & Son DTE is a serious piece of mechanical wizardry. Parmigiani Fleurier takes a different approach, displaying local time with traditional centered hands, and home time by a subdial at 12 o'clock, each with a day/night indicator. It also boasts a retrograde date function. Both timepieces are beautifully finished in a classic style. Arnold & Son has vertical Geneva stripes on the dial-side plate, lacquered dials and polished bridges, while Parmigiani Fleurier features the Toric collection's signature bezel with alternating knurling and gadroons. Each time zone is independently set by its own crown.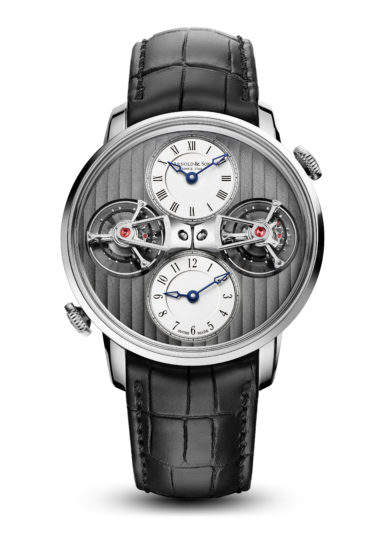 Arnold & Son DTE in 18K white gold, $215,850, Cellini Jewelers in New York, +1 212 888 0505, arnoldandson.com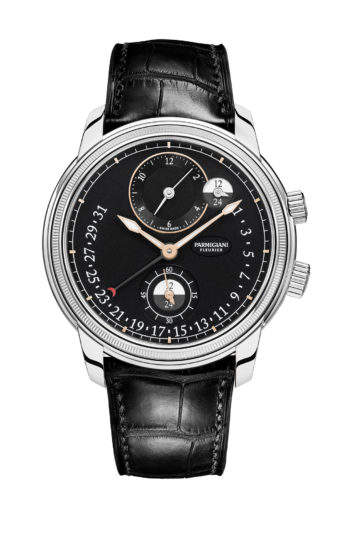 Parmigiani Fleurier Toric Hémisphères Rétrograde in steel, $18,500, Provident Jewelry in Jupiter, Florida, +1 561 747 4449, parmigiani.com
World Timers
With all of the Earth's time zones visible at a glance, the world timer is the ultimate travel watch. The Lange 1 Time Zone has an off-centered subdial for local time, with a tiny stop-seconds subdial and day/night indicator, as well as date function and a smaller subdial at 5 o'clock for a secondary time zone, also with day/night indicator. The peripheral chapter ring shows time in the 24 major time zones, which are easily changed by two push buttons. Housed in a stunning platinum case, Vacheron Constantin's Traditionnelle World Time features a beautifully engraved map of the northern hemisphere and a city ring with 36 time zones, including several offset by 15 or 30 minutes, with central hour and minute hands that tell the local time. The offset time zones are colored blue, and the time is shown by a circle instead of a triangle. The automatic watch has a 40-hour power reserve and boasts the prestigious Poinçon de Genève certification.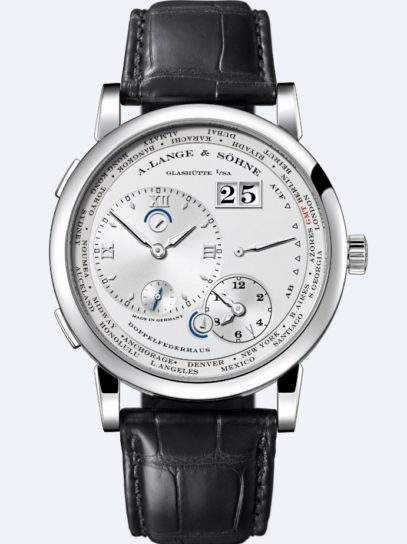 A Lange & Söhne Lange 1 Time Zone in platinum, $64,300, A Lange & Söhne in New York, +1 646 828 3150, alange-soehne.com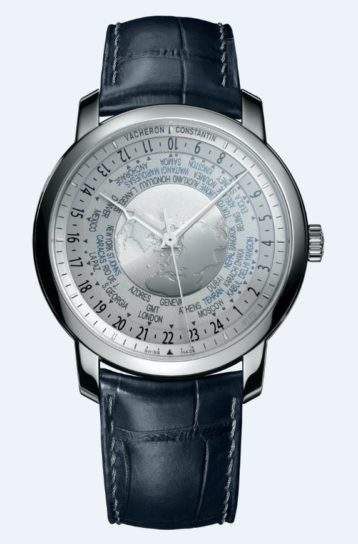 Vacheron Constantin Traditionnelle World Time in platinum, $92,500, Vacheron Constantin in New York, +1 877 701 1755, vacheron-constantin.com