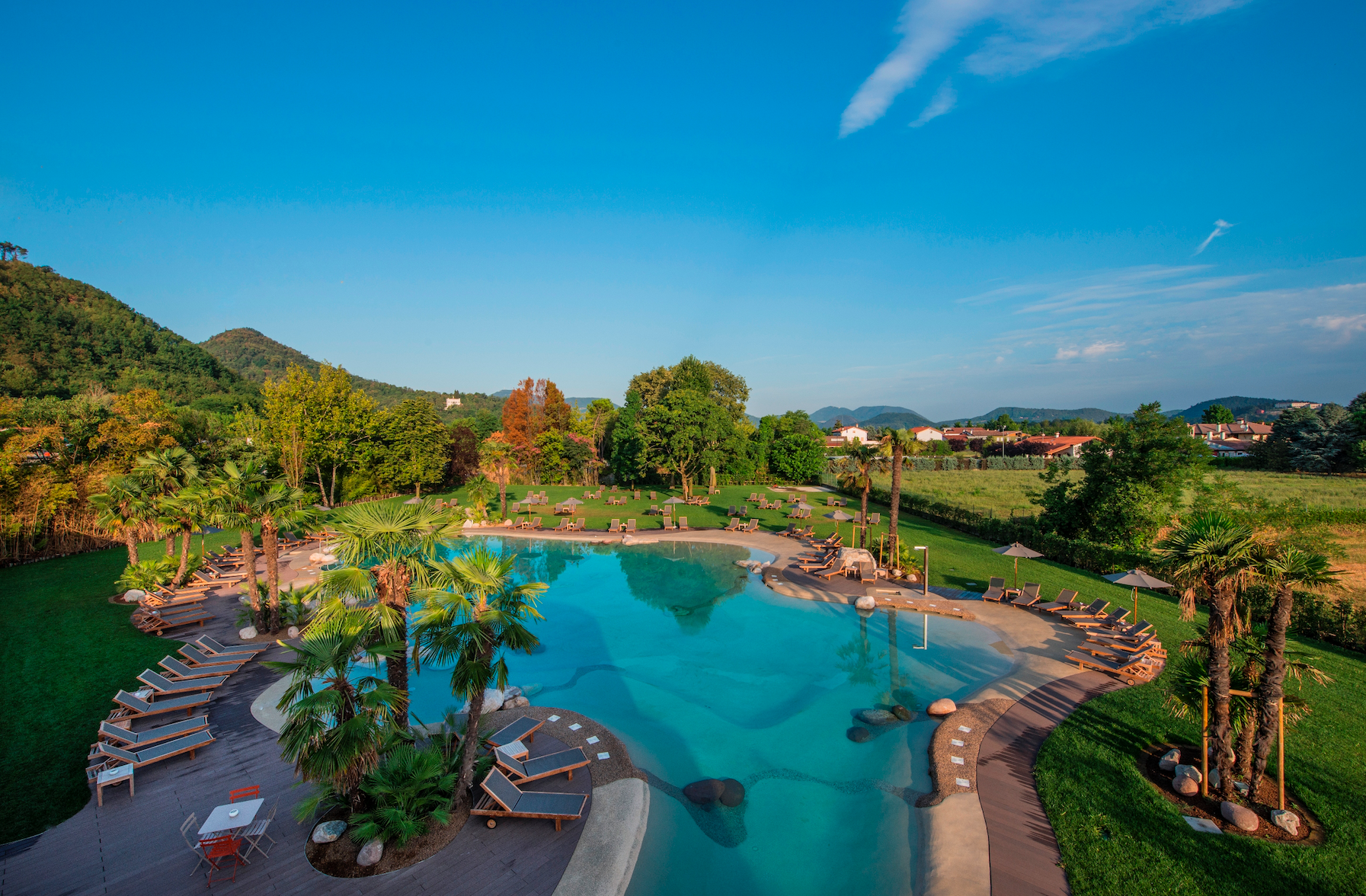 Terme di Relilax is a 120-year-old hotel and spa located less than an hour outside Venice Italy in a small town called Montegrotto Terme. The five-star hotel, which was recently renovated in 2018, has a series of results-driven retreats backed by medical professionals to help you obtain your goals.
As the oldest thermal center in Europe, Terme di Relilax truly specializes in meaningful treatments, whether it's through water therapy or mud treatments. The land itself dates back to Roman times, and it's said that soldiers in the war would use mud treatments to heal themselves of specific ailments. Decades of scientific research have proven that the mud used in Terme's treatments can provide anti-aging benefits and help reduce inflammation, manage pain and even help in curing osteoarticular syndromes.
Terme di Relilax has a series of treatments and techniques they've created. The first is AlcaRelilax Massage, which helps purify, relax and tone the body. This new treatment uses dry brushing and massage to increase lymph flow speed, strengthen the immune system and improve tissue nutrition and oxygenation. Like this massage, each treatment has both a relaxing and results-driven focus to it.
The hotel and spa also has detox diet programs to address cellulite, metabolic programs and deep cleansing, regenerating the skin or resetting the body. Upon coming to Terme di Relilax, you will meet with a doctor who will create a bespoke plan for you. Throughout the week, you will meet with the doctor to discuss what you like about your program or what you don't like and tailor it to make it the most enjoyable for you. While the average stay in three to four days, you can stay for as long as you wish until you achieve results.
There is a day spa in addition to the myriad treatment rooms and pools on property. In addition to the large pools (all surrounded by lush greenery), there is a Finnish sauna, steam bath and bio sauna, plus aromatherapy showers.
Your doctor will also put together a nutrition plan for you while you're there, which can be as strict or as easy as you'd like. The rooms are absolutely stunning, meshing old-world Italy with modern design. The residential-style accommodations are designed to make you feel completely at ease.
For more information, visit relilax.com