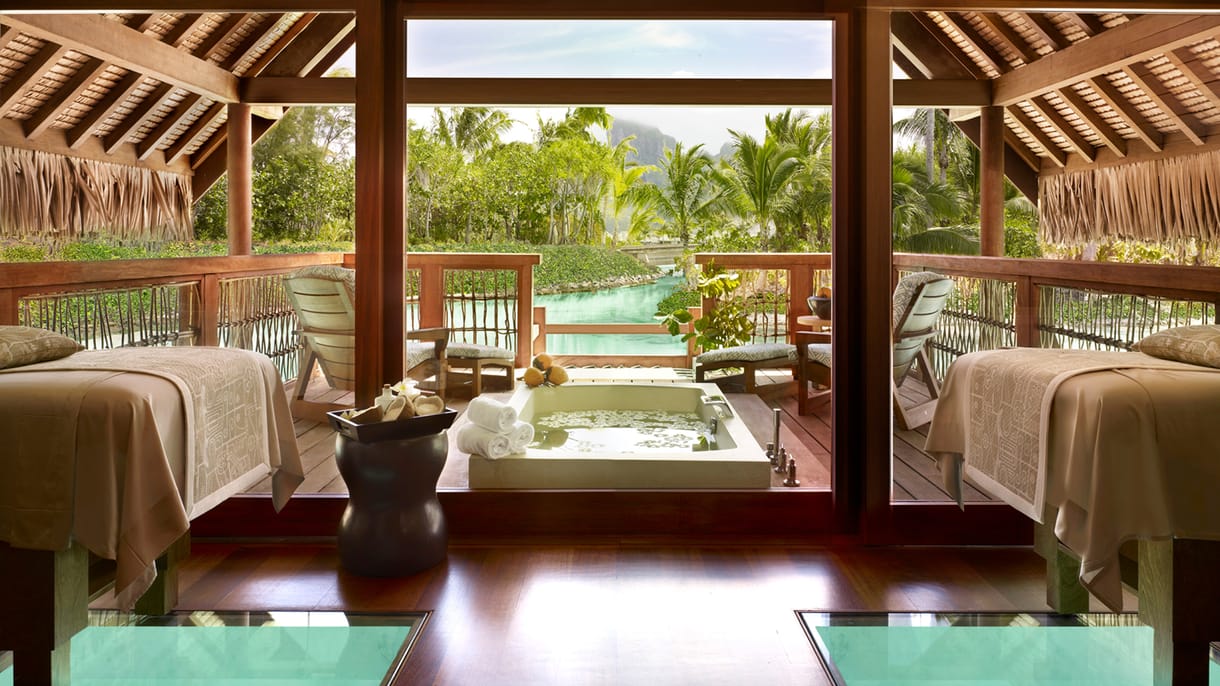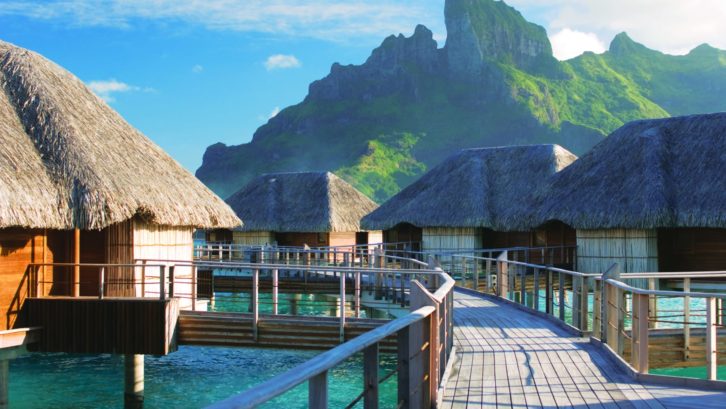 Located in French Polynesia in the South Pacific, Bora Bora is one of hundreds of islands that make up this part of the world. Known for its overwater bungalows, white-sand beaches and glistening water, Four Seasons Bora Bora is the ideal place for relaxation – especially when its privacy you seek.
Spa and wellness at Bora Bora is taken seriously, and many of the spa's treatments are derived from local cultures. The beautiful spa, which features indoor-outdoor spa suites, thatched roofing and views over lagoons, has plenty of services, from ancient-inspired relaxation rituals, facials, massages, sun therapy treatments and beauty services.
Opt for a treatment you can't get anywhere else. We love the Golden Sun Embrace ritual. It's a full-body experience that starts with a coconut and gold scrub and continues with an 80-minute massage. Next, your massage therapist will use 24K-gold oil to repair the skin. End your treatment with a Nano Gold Knesko Face Mask to hydrate the skin and leave you feeling stress-free.
Ingredients like Tahitian-black-pearl powder and algae sourced from the Indian Ocean are used in many treatments, so you can reap the natural skincare benefits of the earth. While here, make sure to book the Overwater Spa Suite, which are situated above glass panels that have a glass-bottomed floor looking directly into the lagoon. Perfect for couples, the room also has an outdoor bathtub and seating area with Mt Otemanu looming in the background.
After you've had your treatment, be sure to sign up for a Relaxation Experience. Take part in a private yoga class designed to your level in front of the hotel's lagoon or on the beach. Experiences also include visiting the relaxation lounges before your treatment to unwind before you see your therapist; the spa has steam rooms, sensory showers and plenty of space to enjoy watching nature. There's also an outdoor vitality pool that connects you with nature; trees shade you while you enjoy the scenery.
For more information, visit fourseasons.com/borabora