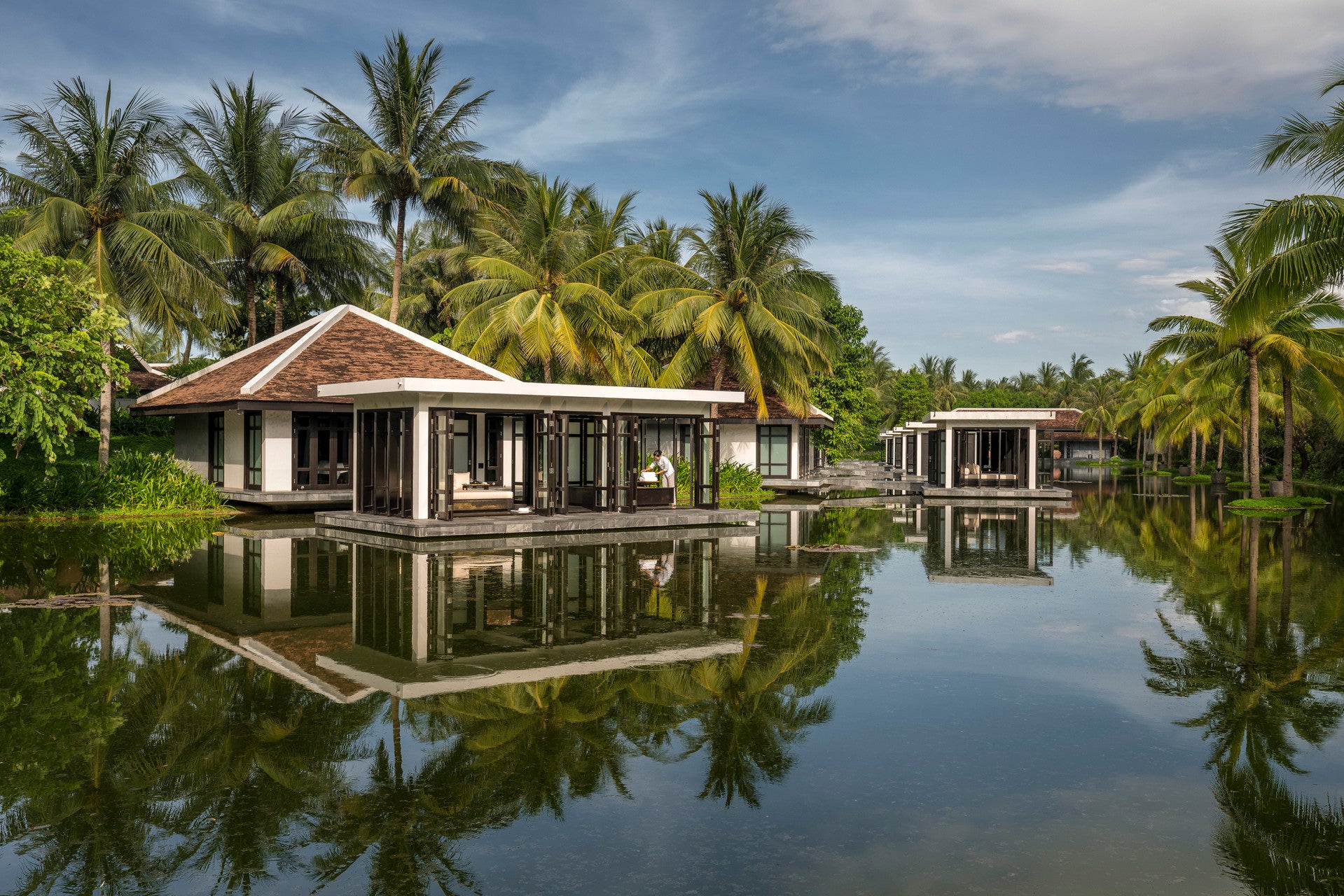 In the heartland of Vietnam lies a tranquil oasis: Four Seasons Hoi An, Vietnam (The Nam Hai). The lush paradise allows you to connect fully with nature and enjoy quality time with those you love. While you might not be traveling now, add this Four Seasons to your travel bucket-list later this year and into 2021.
The resort's Heart of the Earth Spa is reason enough to travel to this part of Vietnam. The spa is situated over a koi-fish-filled lotus pond (it appears as if it's floating), and there are several private spa suites connected over the water via teak bridges. Enter through the spa lounge with doors and windows open and looking out onto the pond before retreating to your private spa suite. Each therapy room is outfitted in traditional Vietnamese decor and there is a strong focus on tranquility and peace.
Book the Signature Ritual, called the Nam Hai Earth Song alone or with a couple. Your therapist will soothe your soul by performing a sound ritual using eight synchronized, quartz-crystal alchemy bowls. Next, you'll receive a Vietnamese scrub and bath using herbs from the resort's farm, followed by a deep-pressure massage and an immersive sound bath. The treatment also includes wafting spicy cleansing smoke from Hoi An agarwood for a relaxing aromatherapeutic sensation.
There are several wellness experiences and rituals at the resort each year, including learning about Asian wellness practices, speaking with wellness experts and learning about ancient techniques that promote relaxation and positivity. The full-service spa's treatment menu tries to include organic, natural. and detoxifying ingredients whenever possible, whether you're enjoying a body wrap, indulging in a bathing ceremony or receiving advanced facial treatments for a radiant complexion.
There is also a special kids' program called Children of the Earth, with a treatment menu tailored specifically for children. The menu features an Earthlight Crystal massage; Heart of the Earth Family Ritual, massage, bathing and a crystal sound immersion for up to four family members; and Branches & Roots, a pampering session for little hands and feet.
For more information, visit fourseasons.com/hoian