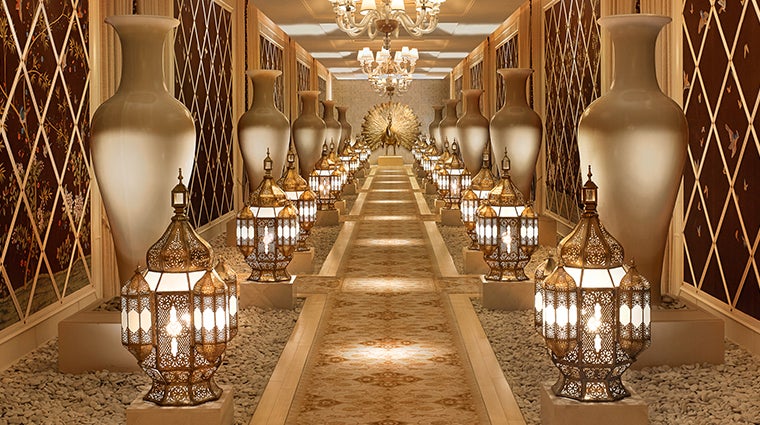 There are few spas more opulent than The Spa at Encore at Encore Las Vegas (part of Wynn Las Vegas). The Forbes Travel Guide Five-Star spa is a can't-miss next time you're in Sin City for its incredible treatments and purely indulgent setting.
Walking into The Spa at Encore at The Encore in Las Vegas is like being transported to a traditional Asian spa. Once you enter (each wing is separated by gender) there is a quiet sitting room and leading you to your grandiose treatment room is a pathway of lit golden lanterns. East-Asian inspired decor, such as life-sized Buddhas, intricate wall coverings and orchids, is seen throughout, from the large saunas to the steam room to the relaxation areas. The Jacuzzi and shower areas are bright and airy, with large skylights to let in the hot desert sun. There are even multiple different types of showers in this common area; choose from a waterfall shower, classic shower and many more.
All treatments have a healing element, whether it's the spa's exclusive Good Luck Ritual, a treatment based on the five Chinese elements to promote happiness which includes a massage, foot treatment, hand therapy and scalp therapy; or the Oxygen-Infused Facial that infuses vitamins, antioxidants and hyaluronic acid to your skin.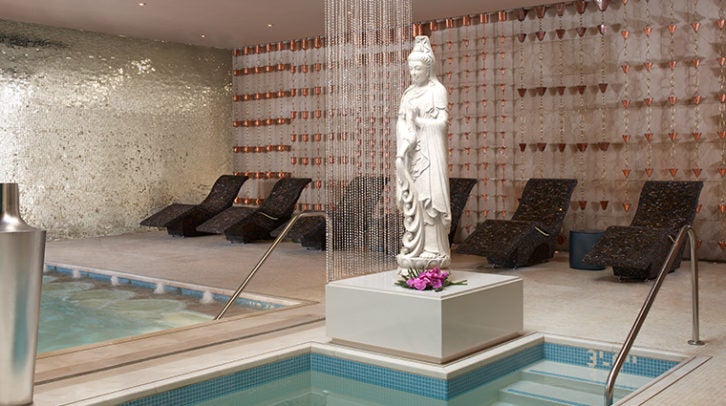 We love the Bodhi Massage and Visualization focusing on opening up your chakras, or seven main energy centers in the body. A unique light therapy treatment combined with aromatherapy, energy work and massage helps to relax and calm the mind and body. The treatment ends with a guided visualization practice.
The spa is a one-stop shop for all things wellness, and it offers massages, body treatments, facials, spa journeys (for example, The Classic, where you can sample the spa's classic treatments), manicures, pedicures and fitness programs.
The Encore is one of the city's most premier hotels, so you must check in to the Three-bedroom Duplex Suite. With stunning views over the city's colorful skyline, there are three bedrooms within this bi-level, 5,829-sq-ft suite. Marble bathrooms, butler's pantry, floor-to-ceiling windows and a billiard room are just a few of the features within the suite.
For more information, visit wynnlasvegas.com