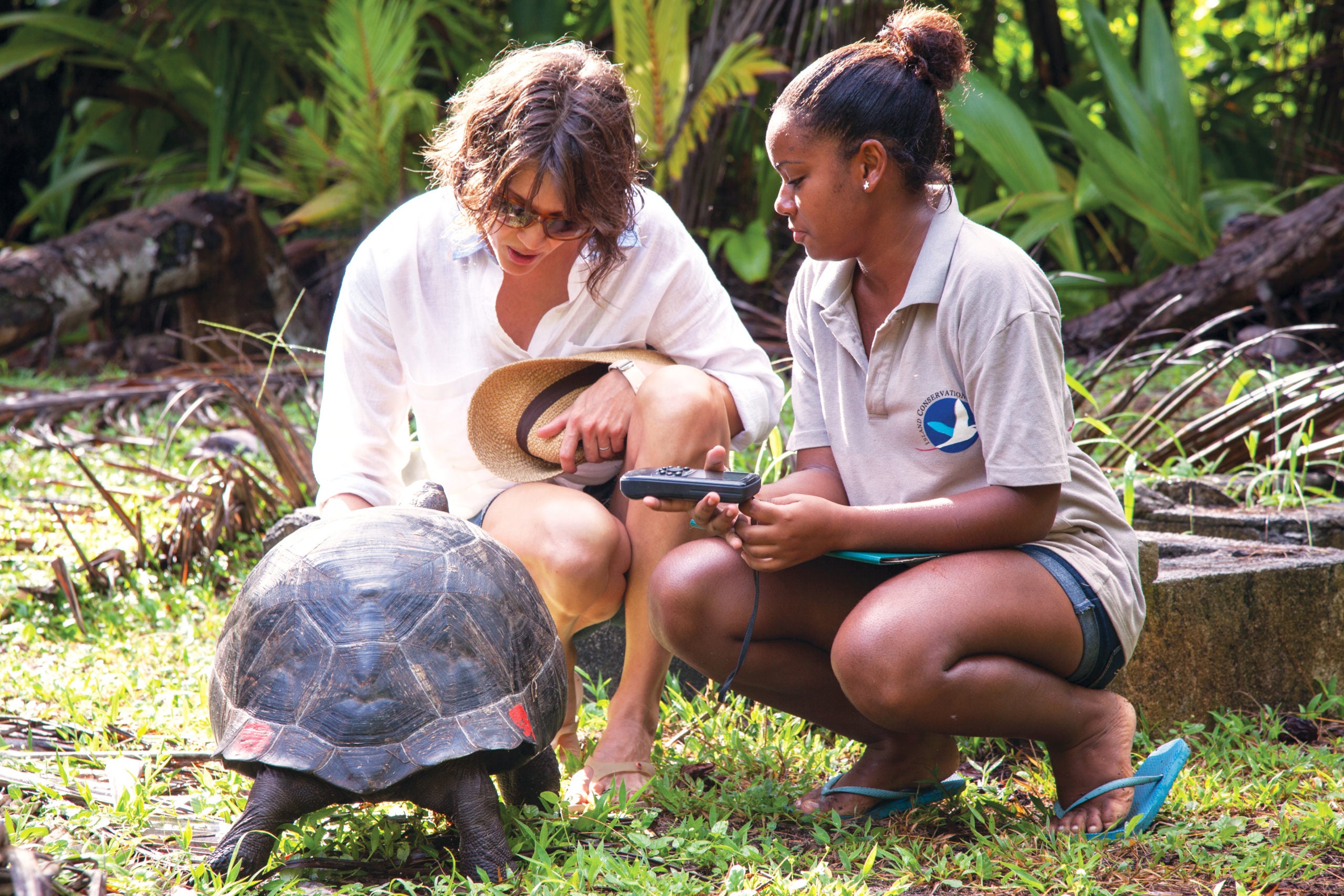 A new hands-on conservation experience in the Seychelles will allow guests to learn how to preserve the delicate eco-system while enjoying naturally beautiful and luxurious surroundings. Part of the exceptional Blue Safari Seychelles: Alphonse, Bijoutier and St Francois islands form a pristine paradise in the Seychelles Archipelago, considered one of the purest natural idylls in the world. White sand beaches line the edges of lush tropical forest surrounded by miles of unblemished shorelines, lagoons, seagrass flats and resilient coral reefs home to a vast array of wildlife.
From May to September, a new Explorer Season Conservation Experience will allow guests to gain knowledge and insight and encounter the diverse marine ecology, atoll geography, coral reef organism identification, conservation issues and local conservation projects. From educational talks and presentations, beach clean-ups and native tree planting to one-on-one interactions with experts in marine biology, conservation and underwater wildlife photography. Guided by Alphonse Island's own team of dedicated conservationists, guests can be involved in a range of conservation activities and projects which include:
– Reef Flats Expedition & Biodiversity Surveys
– Seagrass Surveys
– Bird-watching Activities
– Introduction to Coral Reef Ecology and Identification of Reef Fish & Corals
– Educational Conservation Presentations
– Beach Clean-ups
– Turtle Patrol & Bird Monitoring
– Native Tree Planting
– One-on-one interactions with experts in marine biology, conservation and an introduction to underwater wildlife photography
Stay in one of the island's exceptional 22 Beach Bungalows, five Beach Suites or two new Beach Villas which reflect a fresh island style for the 21st Century. Perfect for families and larger groups, both four-bedroom Beach Villas sleep up to eight adults and four children, seamlessly designed to bring the remote inside with artfully recycled furniture, nature-inspired art and chandeliers. Set among tropical greenery, steps from the beach, striking A-frame Beach Bungalows offer outdoor showers and patios overlooking the ocean for two adults and one child. Spacious Beach Suites sleep two adults and two children with indoor and outdoor showers, private pools with relaxation areas and easy access to the beach and ocean.
Not forgetting mealtimes, the menus at Alphonse Island Lodge are built around freshness and sustainability. Located directly on the beach, both the Le Lys bar and the Bijoutier restaurant are the heart and soul of Alphonse Island entwining the influences of local Seychellois Creole and French cuisine, with locally caught fish available daily along with organic produce grown on the island.
Pay for five nights and stay for seven! Available from 1 May to 30 September 2020, the seven-night Explorer Season. Conservation package costs from $5,432 pp full board (adults), £2,977 (children 12-17), and also includes Wi-Fi, the conservation activities detailed above, a generous array of non-motorized and land-based activities detailed below (note some carry an extra cost) and charter flight transfers. International flights not included. Alphonse Island is a 60-minute flight from Mahé, which departs every Saturday.
Alphonse offers guests a unique combination of activities, many exclusive to the island, including:
– Kayaking
– SUP (Stand Up Paddleboarding)
– Floodlit Tennis Courts
– Table tennis and a pool table
– Snorkeling equipment
– Giant tortoise feeding
– PADI five-star diving center with PADI Courses (extra cost)
– Explore the island by bicycle with a packed lunch
– Guided nature walks (extra cost)
Alphonse Island is part of Blue Safari Seychelles, whose philosophy is a combination of sustainable travel with luxury accommodation, where guests can be assured of an unforgettable experience combined with the highest level of attentive service.
For further information, visit alphonse-island.com or bluesafari.com