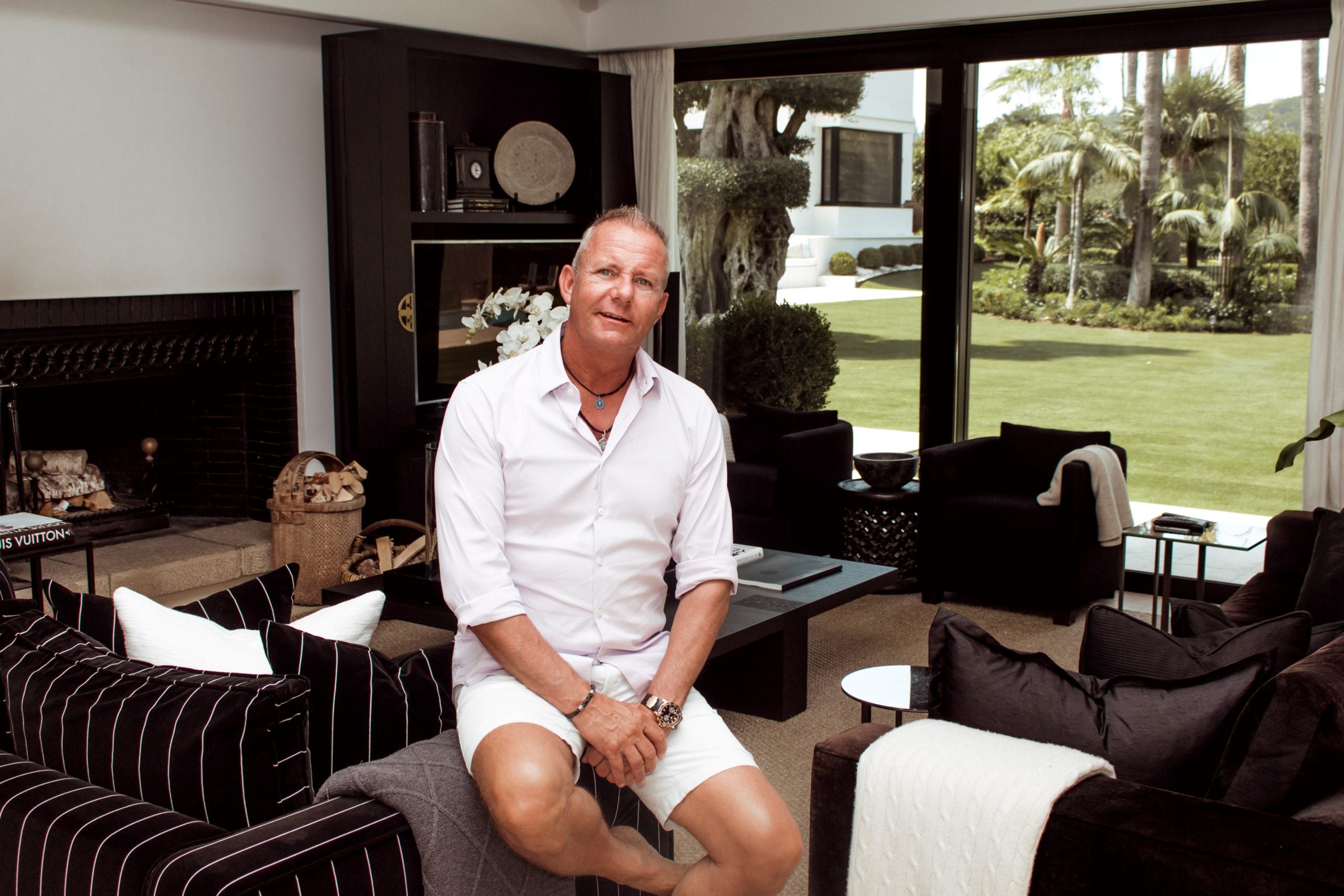 John Brendmoe is the chairman and founder of Antima Homes, a luxury brand that develops and designs exclusive and bespoke homes around the world. The 57-year-old is a globe trotter in the truest sense of the word and has visited 136 countries. He speaks exclusively to Elite Traveler about his work with Antima Homes and the inspiration that keeps driving him forward.
What has the journey looked like up to where Antima is now?
The journey started in 1929 with two hands, one tub of paint and a paintbrush. That's how my grandfather started out. He was first-generation Brendmoe, and his vision became our family's passion.
I started in the company as a painter and restaurateur during the time my father ran the company. And I later took over and built it to one of Scandinavia's biggest painting and restoration companies.
After a time I sold the company, but when I heard it was close to bankruptcy, I bought it back again and built it up once more. It was a great adventure, and I did it with the help of some very clever partners. Later, I sold the company a second time and moved into real estate investment. I would buy up old and forgotten apartment buildings in good locations and turn them into lively communities for commercial and residential use, incorporating homes, cafes, restaurants and shops.
After a few years, and after purchasing and selling over a thousand apartments, I sold my real estate portfolio and moved to Marbella, Spain. My plan was to take it easier, concentrating on a few personal investments. It was an unsuccessful retirement, and before I knew it I was back working with my children, buying, rebuilding and refurbishing houses. Our family company Antima was born, with my son at the helm as CEO, and my daughter is Head of Interior Design.
Today, Antima develops some extraordinary homes around the world. Focusing on quality, design and practical solutions. We work out of our head office in Marbella but have recently expanded to London and Los Angeles.
It has been an incredible journey for all of us. I feel so lucky to see the company grow, thanks to a highly qualified team of project managers, interior designers and back office. Right now I feel on top of the mountain, and my kids feel like they are just starting the ascent.
A large part of the journey has also been about respect. Respect for every partner, employee, supplier, and contractor that has done business with us along the way.
What is your proudest achievement to date?
My three kids, Sander, Synne and Sivert! I am so proud of them.
My oldest two children have old souls. They are so wise, as if they are seeing life through older eyes, or have been reborn. They don't take anything for granted.
And my youngest son has so much heart, he is so kind. It's beautiful to watch him grow into such a compassionate human being. He's a recording artist and extremely creative, in fact, he came up with the name Antima (the name is put together from the first two initials from each of my children's middle names).
What was the most challenging moment in your career?
I am not sure it's a 'moment', but I admit I am not a patient person. I want everything done yesterday. And in my business, this is a huge challenge.
Another challenge was losing my father due to a heart problem when I was in my twenties. This was a key moment that changed my whole perspective on life.
We were working together, building the painting business and all of a sudden he was gone. I was young and had to take charge of our company and look after my mum and sister, it was a very difficult time.
I wish he was here to see how things have turned out. How I'm working together with my son again, I know he would be proud. I miss him every day as a business partner, friend and father.
What inspires you to continue driving the company forward?
To create value and to build something that I can look back on and be proud of.
It's amazing to build a company that grows into its own "living organism". This business is more than just about me, it's about creating something that lives on after I'm gone.
I admit that another key element to my drive is making money. But I'm making money in order to have the power to use it for something good. My motto has always been: be good, do good and give back.
Of course you can be kind and do good deeds and take care of others, but you also need a lot of resources to make big differences and make breakthroughs in philanthropic sectors.
Three years ago we launched the Antima Charity Foundation. We sponsor charities who work against climate change, poverty, sex trafficking and protecting endangered species.
We cooperate with the following charities: The Against Malaria Foundation; Collective Calling, which helps beach rescue and camp support for refugees;  Maite Nepal, fighting against sex slaves who are trafficked from Nepal to India; The Rohingya Refugee Camp; Zulufadder, helping vulnerable children and youth in South Africa, and the Ciudad de Los Niños (Malaga orphanage), which supports children who have had difficult circumstances, and gives them a safe place to grow up.
What aspect of Antima Properties sets it apart from the competition?
We have a saying, an expression in Antima "we make homes with a "low shoulder guarantee".
We believe a home should be a breathing space and a place where you're able to disconnect and connect with the things and people you care about. A place that exudes calm and harmony, and a contrast to the rather hectic and noisy everyday lives we lead. This concept is important for our customers, as they don't want to buy a house, they want a home.
We pay attention to every detail and quality in our homes. There's a lot of items that people don't think about when they buy a house, but we make sure to do that for them. We use the best materials and products and have thought about every "small" detail.
Most of the furniture in our homes are custom-made: from sofas, chairs, tables, and bookshelves; to curtains, pillows and wall coverings. All elements are made by local manufacturers, based on drawings and ideas from our interior design team.
We also work with a brilliant manufacturer who creates unique pieces in iron. He designs and makes our door handles, lamps, etc. We finish the home with decoration and furnishings from around the world.
All our houses are sold "key-ready", meaning that you can come with your suitcase and move right in. There are even towels in the bathroom and hangers in the closets.
Aside from this, we focus on a number of elements that make our properties stand out from the competition, such as safety features, domotic technology, sustainable materials, home spa equipment, handmade furnishings and an award-winning interior design and landscaping team.
We also have 19 secret elements that must be ticked off before we consider buying a property to turn into an Antima home.
What is the inspiration behind the Antima charity?
To make a difference. We don't have a Planet B, so we need to protect the one we have. Our biggest inspiration is to be part of the change.
We believe that every action, small or large counts. We want to protect the weakest, and we have zero tolerance for the damage we are doing to the sea, to the earth and to human life.
What are your stand out predictions in the sector for the next 12 months and beyond?
Well as the saying goes: "After the rain and storm, comes a calm."
We believe that this is the philosophy to have right now. Successful businesses will be thinking past our present situation and planning for the future.
In Antima we are proactive rather than reactive and impulsive when situations turn. Our objective right now is to be responsible, to take action, and to have a clear plan to take us through the storm to the calm.
Having said above that I am not reactive or impulsive, here is an example where I did act reactively.
What does the word 'luxury' mean to you?
Time. Time is the most valuable and luxurious thing I have. I'm very careful about who and what I spend my time on.
Also, for me, the simplest things in life are luxuries: barefoot living, surrounded by family, and a sustainable, organic and vegan lifestyle.
Don't get me wrong, I love to occasionally spoil myself, my family and friends, with traveling and staying in beautiful hotels or on a yacht, but it's about who you do it with.
Where is your favorite place to visit?
As a family we have visited 136 countries. We've seen some amazing places, but the one place we always love to go back to is St Barts. It's a very special place for us.
We also love South Africa. It's a country of contrasts, but when you see people with next to nothing, happy and dancing in the streets, it makes you realize that there is hope for our world. It's going back again to simplicity.
When we visit South Africa, we never miss the opportunity to stay at the Royal Malewane Safari Lodge. There really is nothing like it. The most amazing safari experience you could imagine.
And what's on your bucket list?
Next year I will visit Rwanda. I will be going on a gorilla safari with National Geographic. We are there to support the people who are taking care of the gorillas. I know this is going to be an unforgettable and life-changing moment in my life.
What advice would you give to your younger self?
Be good. Do good. Feel good.  And when you give respect, you get it back.