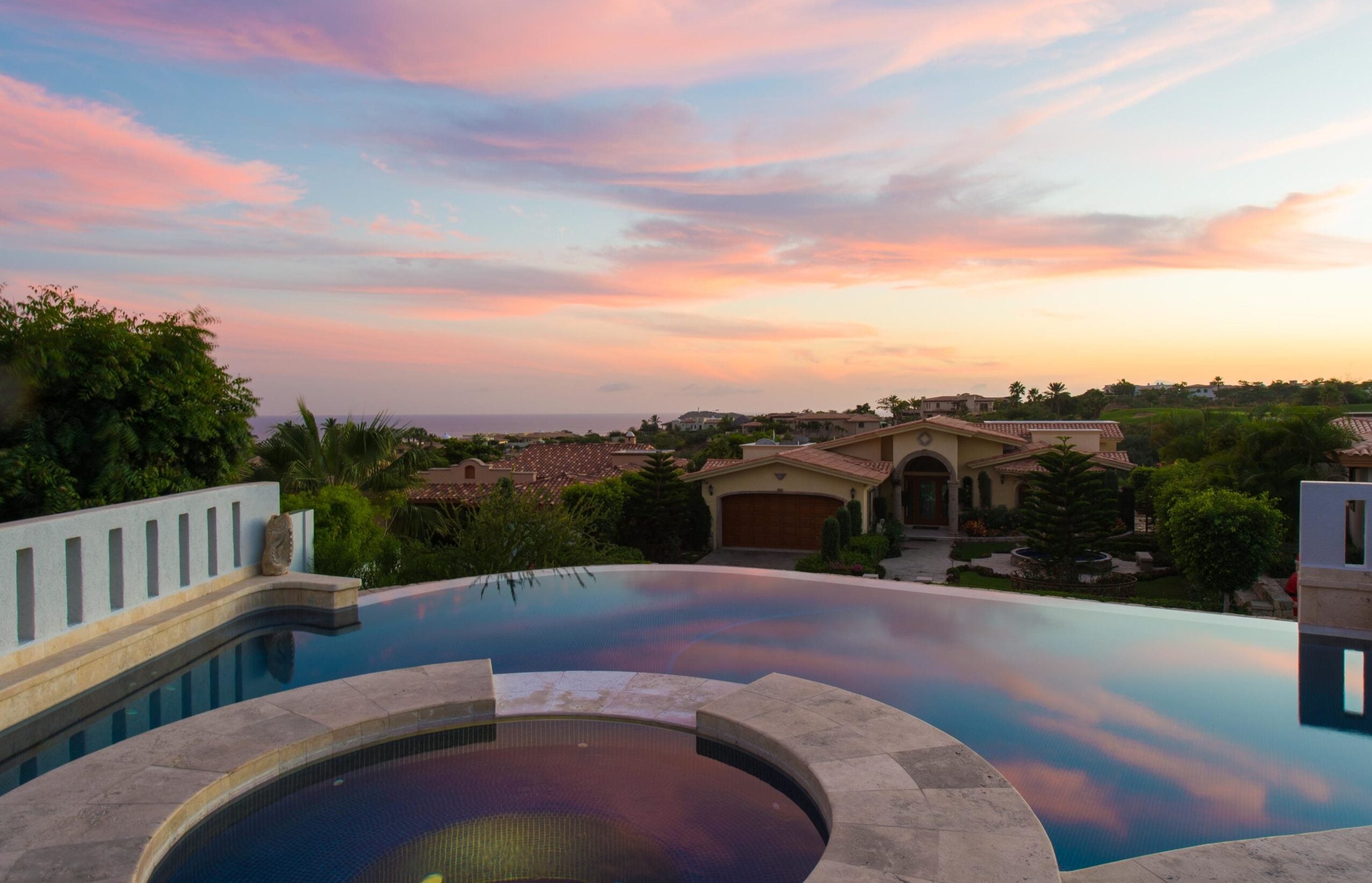 The number one motivation for today's sophisticated travelers is New Experiences.  Research tells us that high-net-worth travelers are looking for memorable experiences that provide privacy, security and all the luxuries associated with a carefree getaway with their families and friends.
Renting a private villa in Tuscany, a beach house in the Hamptons or Martha's Vineyard for a summer retreat is not that uncommon. Los Cabos, Mexico, with its growing inventory of luxurious private homes and beachfront villas, now tops the list of resort destinations that have all the necessary essentials to attract these discriminating travelers.
For example, Cabo Villas manages over 120 such properties in Los Cabos and the surrounding region. They provide everything from private transportation services that greet visitors arriving at one of Los Cabos' two private airports, arranging gourmet chefs, in-villa spa treatments, custom excursions, and much more.
Traveling with a family – large or small – presents its challenges. Finding the right balance of where to accommodate children that are too young for a separate suite or a place for young adults to have a measure of independence, is not easy.
The following villa reviews are designed to answer some of these questions and project images of a new way to enjoy a home away from home.
Villa Phoenix
Located in Punta Ballena, a gated community just a few minutes from Cabo San Lucas, is home for Villa Phoenix. This four-bedroom home features an airy interior with high ceilings, elegant decor, and pocket doors in the living room, dining room and gourmet kitchen that opens onto the spacious pool and deck area.
What makes Villa Phoenix perfect for families is the overall floor plan and layout of the bedrooms. For this review, we are looking at a family of seven. A haven for mom and dad, the spacious master bedroom is located on the main level and has large glass doors that open to the pool and terrace.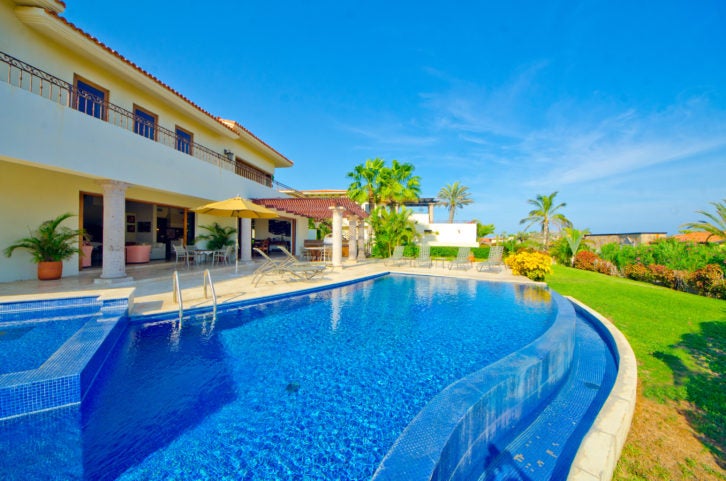 There are two bedrooms on the second level accessed by separate marble stairs cases. Let's put our teenage son in this "second master" while his twin nine-year-old sisters are in bedroom number three, which has two full beds. The nice thing about the second-floor bedrooms is the lack of a hallway between bedrooms, thus providing just the right amount of privacy.
Another unique feature is the large exterior terrace shared by both bedrooms, providing a unique common area with amazing views of the Sea of Cortez.
With the grandparents tagging along, this trip was truly a multi-generational affair. The fourth bedroom is a separate casita (small apartment) that is accessed from just outside the main living area and is perfect for anyone wanting to end the day a little early or catch a few more winks in the morning.
Everyone will enjoy the large pool (with a Fastlane unit for fitness swimming), jacuzzi and patio equipped with a barbeque grill, plenty of lounge chairs and a dining table with seating for eight.
Another important feature is all guests have privileges at the Exclusive Punta Ballena members-only Beach Club. Villa Phoenix guests have full access to the beach club pool and fitness center, all cradled in a beautiful oceanfront setting.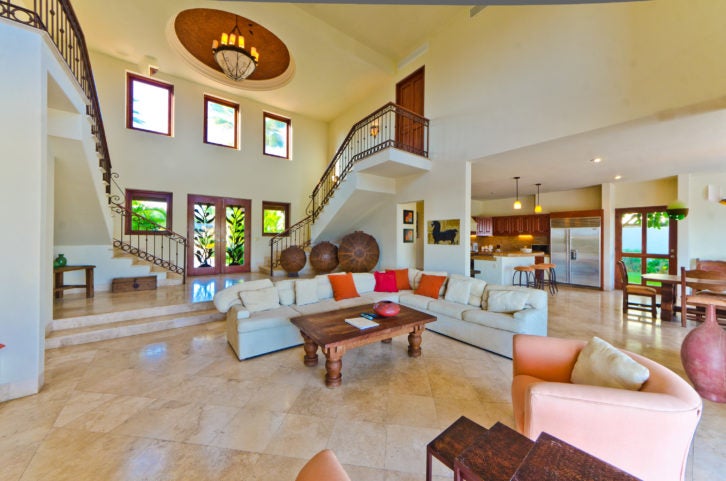 Villa del Corazon
Living up to its name, this beautiful vacation villa is sure to work its way into the hearts of everyone in your group. Located in the prestigious, gated Cabo Del Sol golf community, its striking modern décor, contemporary architecture and great location make the perfect choice for larger groups.
Each of Villa Corazon's seven bedrooms has a king size bed, full bath and luxurious appointments making Villa Del Corazon the ideal choice for a family reunion or destination wedding party.  Everyone gets equal treatment and the villa also boasts a separate casita, perfect for parents or grandparents.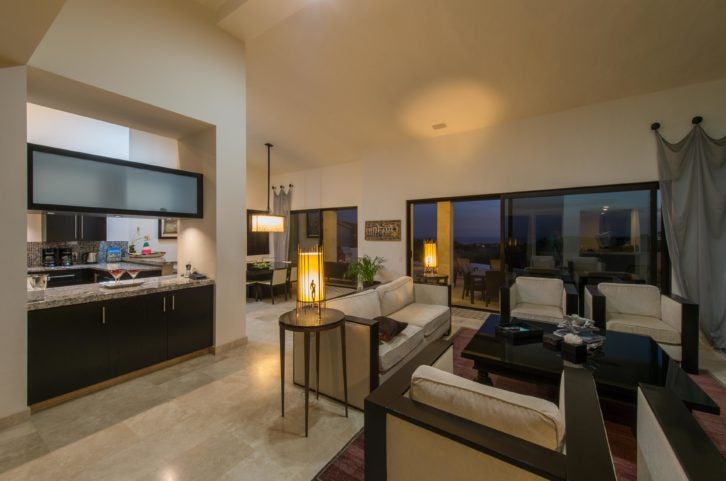 If you're looking for laid-back style and ample amenities, Villa del Corazon will delight you and your guests. Inside, travertine tile, an airy floor plan and a sleek gourmet kitchen with granite countertops create an atmosphere of easy luxury.
The sophisticated décor includes attractive areas for lounging and dining, as well as comfortably outfitted guestrooms. Everything you need for entertaining is here, including an entertainment system, satellite TV, iPhone docking stations and a wine fridge. Spa-inspired bathrooms offer a bit of added luxury.
Outside, the villa includes an excellent setting for enjoying the beautiful Los Cabos weather and views of the azure Sea of Cortez. Take advantage of the lovely swimming pool, expansive terrace, jacuzzi for six and plenty of lounge chairs. There's also a shaded patio dining area, gas BBQ, bar with refrigerator and an outdoor shower.
One of the main advantages of villa living is that every stay can be customized to the renter's personal taste.  Daily maid service is included, however, for larger groups it is recommended that guests request a private chef to prepare breakfast/lunch or dinner. Having someone else cook takes all the stress out of the daily routine and allows you more time to enjoy.
For more information on these properties as well as additional options visit: www.CaboVillas.com