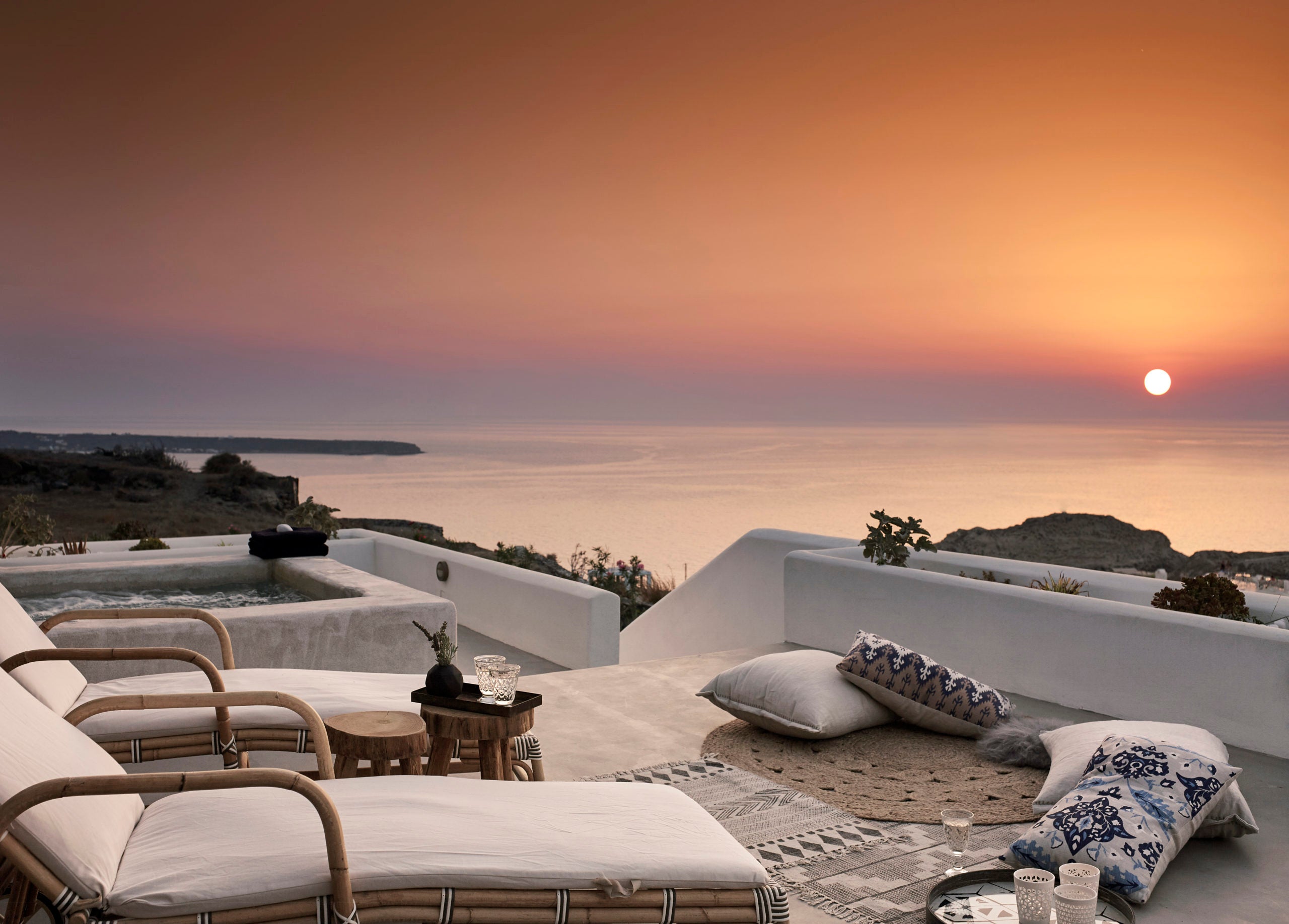 Original, laid-back and private is what describes best this all-suite and villas hotel that has brought a fresh concept in a world-famous destination and a modern flair with easygoing spirit to your summer days and nights.
Santo Maris Oia Luxury Suites and Spa is a lavish and serene retreat, located in the breathtaking island of Santorini. Being a destination for those who are bound by a desire and know-how for high quality and distinctive style, here you can feel right at home and instantly be reassured that all your needs are met in a seamless experience.
Being inspired by the architecture of Santorini, every single detail around the suites and villas holds a story. Separated into five sprawling neighborhoods – named after Greek island complexes – and inspired by the light and the colors of the island, our guests can linger in their spacious personal verandas with heated jacuzzis and spanning views in every suite.
Guests can also stroll around the picturesque alleys surrounded by greenery and the whitewashed domed suites or splash around the dazzling infinity pools. From here, they can gaze at the magical vistas to the Aegean Sea and the renowned sunset of Oia to make their stay indulgently exclusive.
The perfect holiday rhythm is easy to come at the award-winning (Best Resort Spa in Europe since 2017 – World Spa Awards) Anassa Spa, offering a plethora of deeply rejuvenating treatments and health and fitness packages as well as a wonderfully equipped gym.
Ranked among the best restaurants in Greece by the Greek Cuisine Award, Alios Ilios serves delicacies inspired by a creative Greek cuisine concept of philosophy, exquisite produce from around Greece and the freshest, seasonal produce from the sea to our very own garden. The Akratos Poolside Bar and the Romantic Bar, both serve expertly mixed cocktails, while the in-room candlelit dinners add a true sense of tranquility and pampering.
For those who do want to tear themselves away for an excursion, the hotel's Guest Experience Specialists are always ready to carefully design the perfect tailor-made trip or even the whole stay. Guests are thus able to connect with the local culture, gastronomy, nature, adventure sports and anything else they desire or are inspired to explore. This is just one way they remain above the rest. At the same time, they are firmly connected with the island in a meaningful and sustainable way that respects Santorini's community and nature.
Contact: + 30 22866 00630, suites.oia@santomaris.gr, santomaris.gr/oia