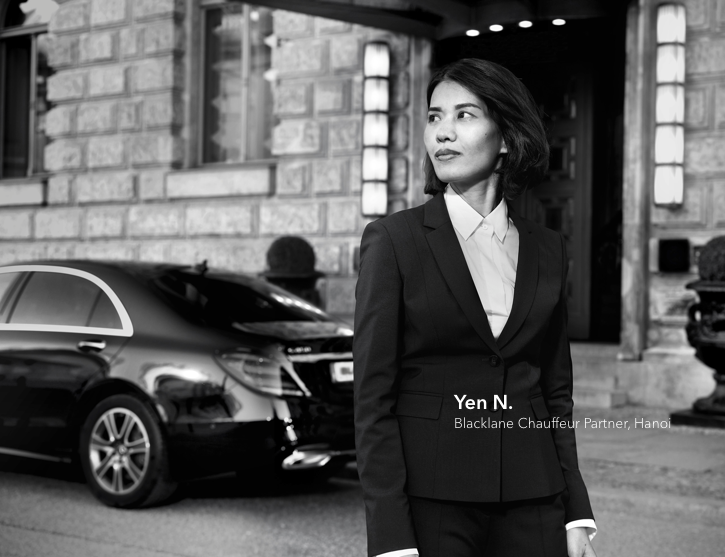 Decked out in smart, crisp black suits: Blacklane's crew of dedicated chauffeurs make sure every journey is tailored to perfection.
You know the feeling: the business presentation that runs over; the unexpected delays; and the anxiety that creeps in knowing you have a long-haul flight ahead. Blacklane removes all the stress and uncertainty from this situation.
As you pack your laptop in your briefcase, your chauffeur will already be waiting. Upon arrival, you'll be greeted by your personal airport concierge, who will fast-track you through security and into departures.
Suddenly, hours of stress-filled business travel are replaced with moments of calm found in the plush leather seat of a brand new vehicle, before sipping coffee in a lounge before your direct-to-gate escort collects you for your flight. Once you land, you will experience the same consistency and comfort as your journey continues.
Blacklane's crew of chauffeurs and airport concierges are carefully chosen, ensuring the best possible service. Alongside an unparalleled level of professionalism, chauffeurs are natives on the roads they navigate. They know the short cuts, rush hour routes to avoid, hints and tricks to get you where you need to go, without ever sacrificing safety or comfort.
Meet the heroes driving Blacklane's award-winning service
Yen: Curator of Calm
As the director of a chauffeur company in Hanoi, Vietnam, Yen (pictured above) leads a busy life but that doesn't affect her workflow.
Every day Yen establishes a calm environment not just for guests to enjoy, but for her team to thrive on. She said it often comes down to having a positive disposition on any situation that might come her way — "Thinking positively and being open-minded helps me bring calm to my work and my chauffeurs."
Peter: Guardian of Travelers
Peter's entire career path has been centered around his strong organizational skills and the motivation to excel in whatever he set his mind to. He started off as an aircraft mechanic, then shifted to organizing events. It seemed only natural for him to start his career as a chauffeur — an experience-based service that keeps him connected to people from around the globe.
"I always give 120% and just can't imagine working somewhere else than top tier – and if you want to work in ground transportation, being a chauffeur is the top tier."
Ramanan: Wings on the Ground
Guiding travelers through the airport only scratches the surface of what Ramanan does day-to-day. Every service is tailored to meet the requirements of each individual guest. This can include anything from knowledge of the most peaceful coffee spots to speeding you past immigration lines after a long flight.
"We have to adapt all the time on this job. We have to do more than people request, we have to customize. There is no routine, every day it's changing."
Contact
Website:  blacklane.com or pass.blacklane.com
Email: service@blacklane.com