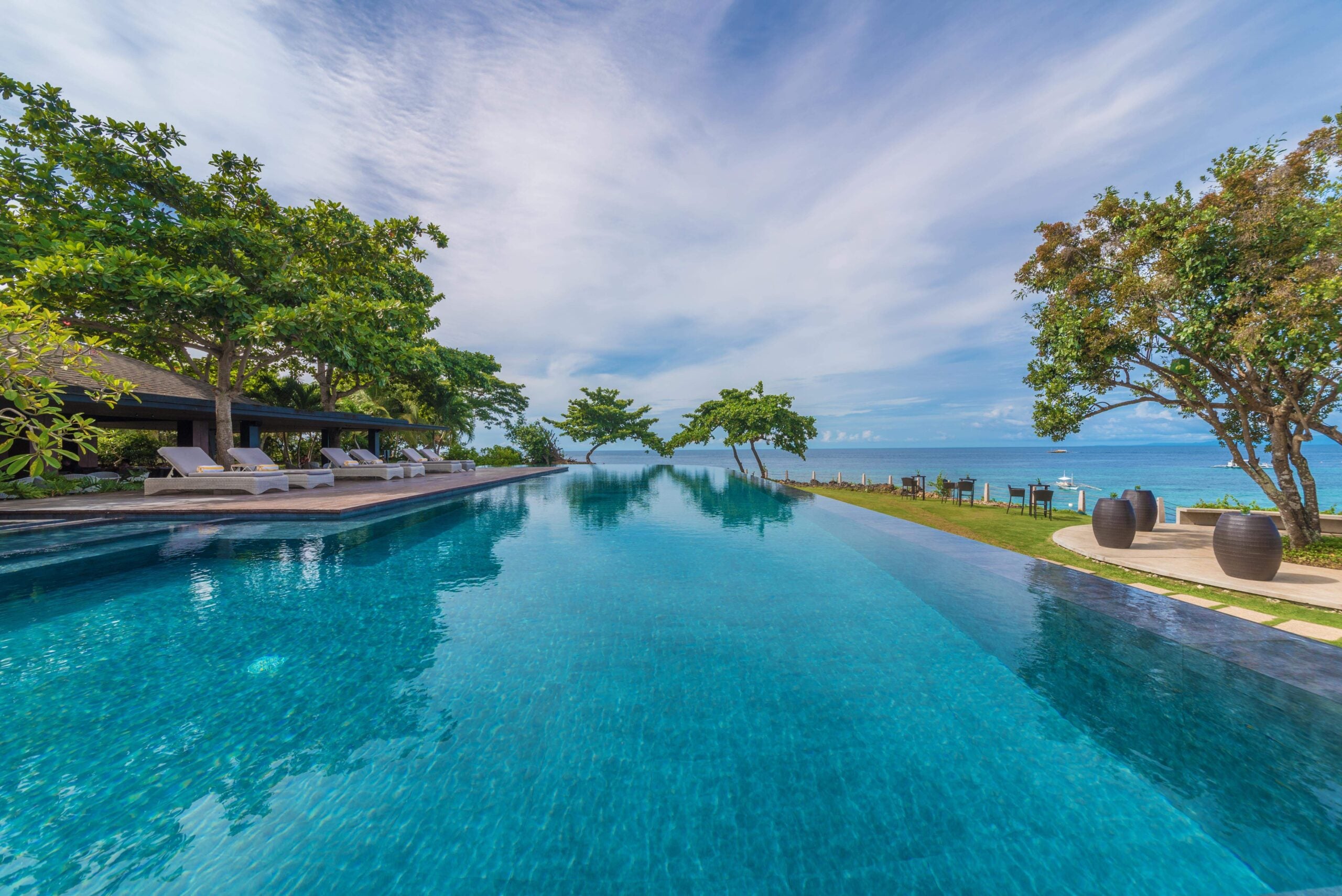 The Philippines is made up of over 7,000 islands and while some of these have been transformed into bustling metropolises, many remain more-or-less undisturbed by human influence.
Whether you are looking to experience a thriving cosmopolitan city like Manila or a seemingly deserted paradise, the Philippines has it all to offer, but the island of Panglao strikes a perfect balance. Known for its white sands, crystal clear waters and exceptional diving sites, visitors to Panglao can explore natural wonders by day and sip cocktails on the beach by night.
In partnership with the Philippines Department of Tourism, Elite Traveler details three luxury Panglao resorts to visit this year.
Amorita
Situated on the southern edge of Panglao Island in Bohol, Amorita is a multi-award winning resort that places great emphasis on industry-leading customer service according to Filipino traditions.
Amorita sits on top of a limestone cliff and offers spectacular views out across the Bohol Sea. Among its 98 luxury suites are 16 pool villas as well as two brand new grand villas, designed to meet the needs of only the most exclusive guests.
It has two infinity pools, its own in-house dive center and a number of fine dining options at Tomar Wine Bar and the acclaimed Saffron Restaurant, the only restaurant in Bohol offering authentic Boholano heritage dishes.
For more information, visit www.amoritaresort.com. 
Eskaya
Located just a short walk down the beach from Amorita is the equally exclusive and luxurious Eskaya. However, unlike Amorita's contemporary buildings, Eskaya is a wonderful example of traditional Filipino architecture. Named after the only known indigenous tribe on Bohol, Eskaya aims to connect its guests with the Philippines's cultural history.
The resort's luxury villas have been designed to mimic traditional Filipino interiors and the Handuraw Spa, which enjoys incredible sea views, offers centuries-old techniques to relax and detox you during your stay.
There are only 15 villas across the resort and 11 have their own private swimming pool. Whichever you choose to stay in, you can be sure of an exclusive feel and uncompromising hospitality.
Lantawan, the restaurant on site, serves traditional Filipino food with the fish caught that day. However, there are also a range of dishes with European elements to offer guests a wider and more modern range of cuisine during their stay.
For more information, visit www.eskayaresort.com
Bohol Beach Club
Every luxury Bohol resort have Bohol Beach Club to thank for their success – they were the trailblazers who first brought high-end accommodation to the area.
Situated away from the bulk of tourist destinations, this laid-back resort allows guests to completely unwind on fine white sand beaches. The rooms and facilities are built within a coconut plantation, which offers an extra level of seclusion for guests.
This is the resort of choice for the eco-conscious tourist as the resort places great emphasis on sustainable development. Indeed, the newly renovated Deluxe Green Rooms offers guests the chance to reduce their environmental impact by eliminating single-use plastics.
The hotel also offers a range of land and watersport activities including scuba-diving, island hopping and tours of the countryside.
For more information, visit: www.boholbeachclub.com.ph
For more information about Philippine destinations visit www.itsmorefuninthephilippines.co.uk or download the Visit Philippines app from mobile app stores.