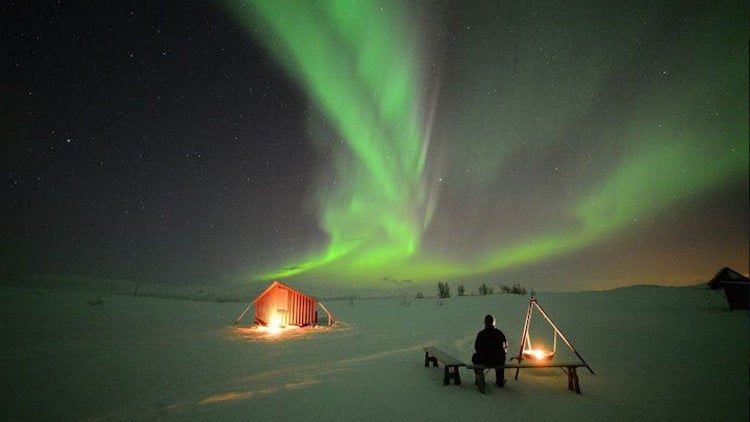 What do you prefer: one big vacation or a lot of mini-breaks? The former gives you the chance to explore somewhere in great detail while the latter keeps you feeling fresh throughout the year. Now, Off The Map Travel is offering you the best of both worlds.
The luxury travel specialists have introduced the Scandinavian Six experience, consisting of six miniature adventures around Northern Europe over the course of a year. It has been designed specifically for those keen to explore Scandinavia but find themselves short of time.
Over the course of the year, travelers will immerse themselves in the very best of what the region has to offer, including romantic log cabin stays, hunting the Northern Lights and basking in the Midnight Sun.
"Included in this new holiday concept are six separate weekend trips to Scandinavia, each lasting three (or more) nights," says Jonathan Cooper, Arctic travel expert and founder of Off the Map Travel. "Although the overall plan can be adapted for each guest, the Scandinavian Six adventure is designed to offer top accommodations and activities for a long weekend, showcasing Scandinavia at its best across its varied seasons."
The Scandinavian Six can be started at any point in the year, but an ideal time would be a romantic Valentine's Day weekend in Alesund, Norway. During this break, travelers stay at Hotel Storfjord and undertake a private fjord cruise, spa treatments for two, and an under-the-stars dip in the outdoor Jacuzzi.
As light returns to the Arctic in April, it is the perfect time to enjoy the vast area while it is still blanketed in thick snow. Guests travel to Kiruna and Abisko in Sweden to partake in traditional Arctic pastimes such as ice fishing and cross-country skiing. For the modern-centric, there is also snowmobiling and heli-skiing.
In June, guests travel to Svalbard to experience 24-hour sunlight. A desolate and hostile place in the winter, Svalbard becomes a beautiful hiking destination at this time of year. The lack of snow also makes it easier to spot the elusive polar bear.
September sees travelers reach Finland, where they can marvel at the autumnal landscapes and catch the first Aurora of the season. To offer the best chance of seeing the phenomena, guests sleep in a glass-roofed igloo in Rovaniemi.
Next is a trip to the sophisticated city of Copenhagen, Denmark. This quintessential European capital has endless sights to see and streets to wander through. The trip rounds off shortly after with two (yes, two) New Year's Eve celebrations as guests ring in the new year in Finland before hopping to Sweden to do it all over again an hour later.
"This is a holiday that brings the best of the region together, from city to remote wilderness and from health and well-being to adventure and adrenaline – all with the chance to experience the Northern Lights in some of the best destinations in the world," adds Off the Map Travel's Jonathan Cooper. "Scandinavia is a destination to explore with so much to see during each changing season, and this new concept fits the lifestyles of today's busy traveler."
The Scandinavian Six itinerary is priced at $12,999 per person. Contact info@offthemap.travel; +44 800 566 8901; offthemap.travel