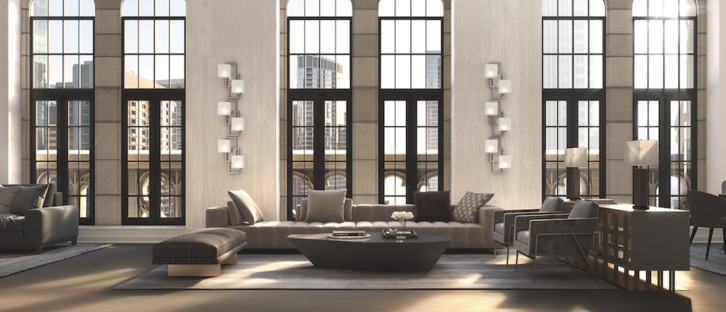 The iconic Tribune Tower has been impeccably reimagined, providing buyers with an array of distinctive, luxury condominiums and lavish amenities while honoring the heritage of the historic building. Developers CIM Group and Golub & Company have combined landmark architecture with the lifestyle that discerning buyers expect.
Located in Chicago's most premier location, Tribune Tower Residences offers an unparalleled lifestyle close to the city's finest restaurants, best shopping, hotels and cultural destinations, and the beautiful Riverwalk and lakefront. Residents of Tribune Tower have access to four levels of unrivaled amenities including a luxury spa area, state-of-the-art fitness center, indoor pool, driving-range simulator, co-working lounges and entertainment areas with bar and prep kitchen.
A private courtyard provides access to a residential outdoor oasis, a rare luxury in the city. The 25th-floor Crown Amenity has intimate seating and dining areas framed by the stunning original flying buttresses that afford 360-degree views of the city.
Price: $700,000 to $7m
Contact Jeanne Martin, sales director, info@tribunetower.com, +1 312 967 3700, tribunetower.com