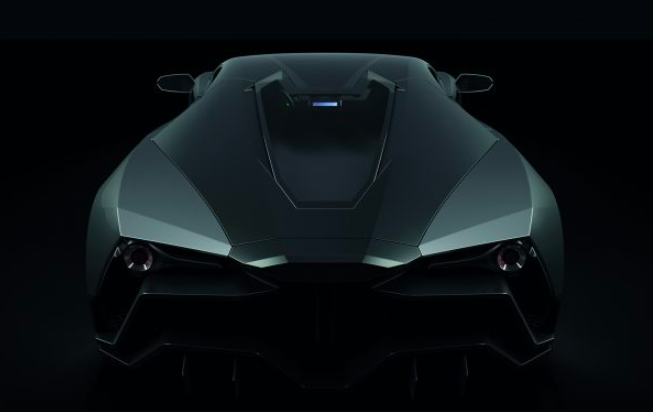 The Tritium supercar will be officially unveiled at Top Marques Monaco as organizers insisted the June event will still go ahead despite the ongoing Covid-19 crisis.
Billed as the most customizable supercar in the world, the Tritium will herald a new era for electric vehicles when it is revealed at Monaco's Grimaldi Forum this summer. The car will be 100% made to measure with prices starting at $1.2m. Just 11 units will be available.
The Tritium supercar is the first vehicle from the Finnish start-up company and has taken six years to develop. It offers 185-miles of range and is power by a 500 kW battery. Little is known about its performance, but buyers will be immediately attracted to its unmistakable design, which takes inspiration from the Lamborghini Aventador.
The car is constructed with easily-removable panels, allowing owners to swap  different aspects of the car in-and-out to suit their evolving style. The interiors will be equally-customizable with an endless amount of options to choose from.
Confirmation of the unveiling will boost Top Marques Monaco, which continues to plan as normal despite seeing the cancelation of other trade shows due to the ongoing Covid-19 pandemic.
Salim Zeghdar, CEO of Top Marques, said: "I have been watching events unfold with enormous regret and would like to offer my support to the organizers and exhibitors of events like the Geneva International Motor Show and Techno-Classica Essen 2020. As things stand today, I am confident that Top Marques should go ahead as planned.
"Exhibitors like Tritium continue to trust us by confirming their participation and we are still signing up new exhibitors for our event in June. We hope to see you then."
Iconic brands confirmed
Also due to make its very first public appearance at Top Marques in June is the Roland Gumpert Nathalie 'First Edition', an electric Supersports coupé from the visionary German engineer who also brought us the Gumpert Apollo. With a top speed of 190mph and an acceleration of 0-60mph in 2.5 seconds, the Nathalie 'First Edition' is one of the fastest supercars you can drive on the open road.
Iconic supercar brands McLaren, Bentley, Rolls-Royce, Mercedes-Benz, Lamborghini, Porsche and Aston Martin have also confirmed their presence at Top Marques, with the latter exhibiting not only a number of undisclosed supercars but also the AMB 001 – its first ever motorbike.
Strictly limited to just 100 examples, this track-only motorbike represents the union of iconic Aston Martin design and state-of-the-art Brough Superior engineering to create a piece of automotive art for the motorbike connoisseur.
For more information or to book tickets, visit topmarquesmonaco.com