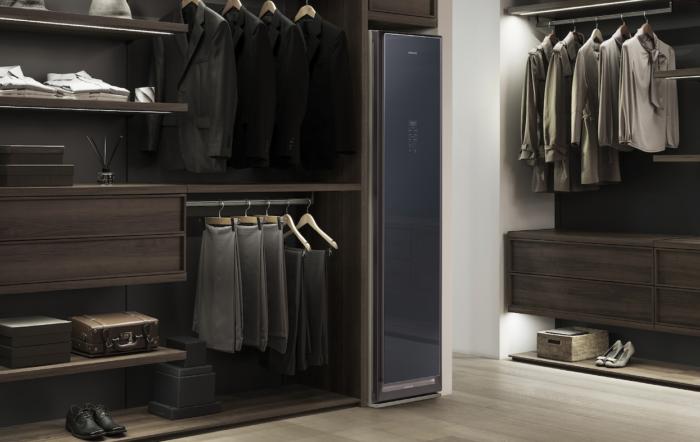 We've all been there: You have an important event and want to wear your favorite suit or outfit, but it needs to be dry cleaned and it is too late for that. Samsung has a solution: the AirDresser. The innovative product from the tech giant was unveiled at CES, the Consumer Technology Association's consumer electronics show, earlier this year to great fanfare. It uses powerful air and steam to remove dust and germs, meaning your clothes are refreshed, clean and ready to wear.
Add your clothing to the unit and it releases powerful, fast-moving air to loosen and free dust. Then the JetSteam function sanitizes clothing to rid it of bacteria, viruses and allergens (this stage is particularly useful for linens and soft toys). There is a deodorizing filter that breaks down and removes odor-causing particles, and the self-cleaning function dehumidifies, sanitizes and deodorizes the interior of the unit without using harsh detergents.
Finally, it dries clothes at a low, gentle temperature, minimizing heat damage and shrinkage. It also has a setting that can smooth wrinkles without ironing by using a combination of steam and air to relax the clothes. The dehumidifying function even helps keeps the rest of your clothes at their best (even though they are not inside the unit) by drawing out the moisture in the room. The AirDresser is sleek and discreet, and can easily blend into most closets. It runs quietly enough that you can switch it on overnight without disturbing your beauty sleep.
From $1,550 samsung.com