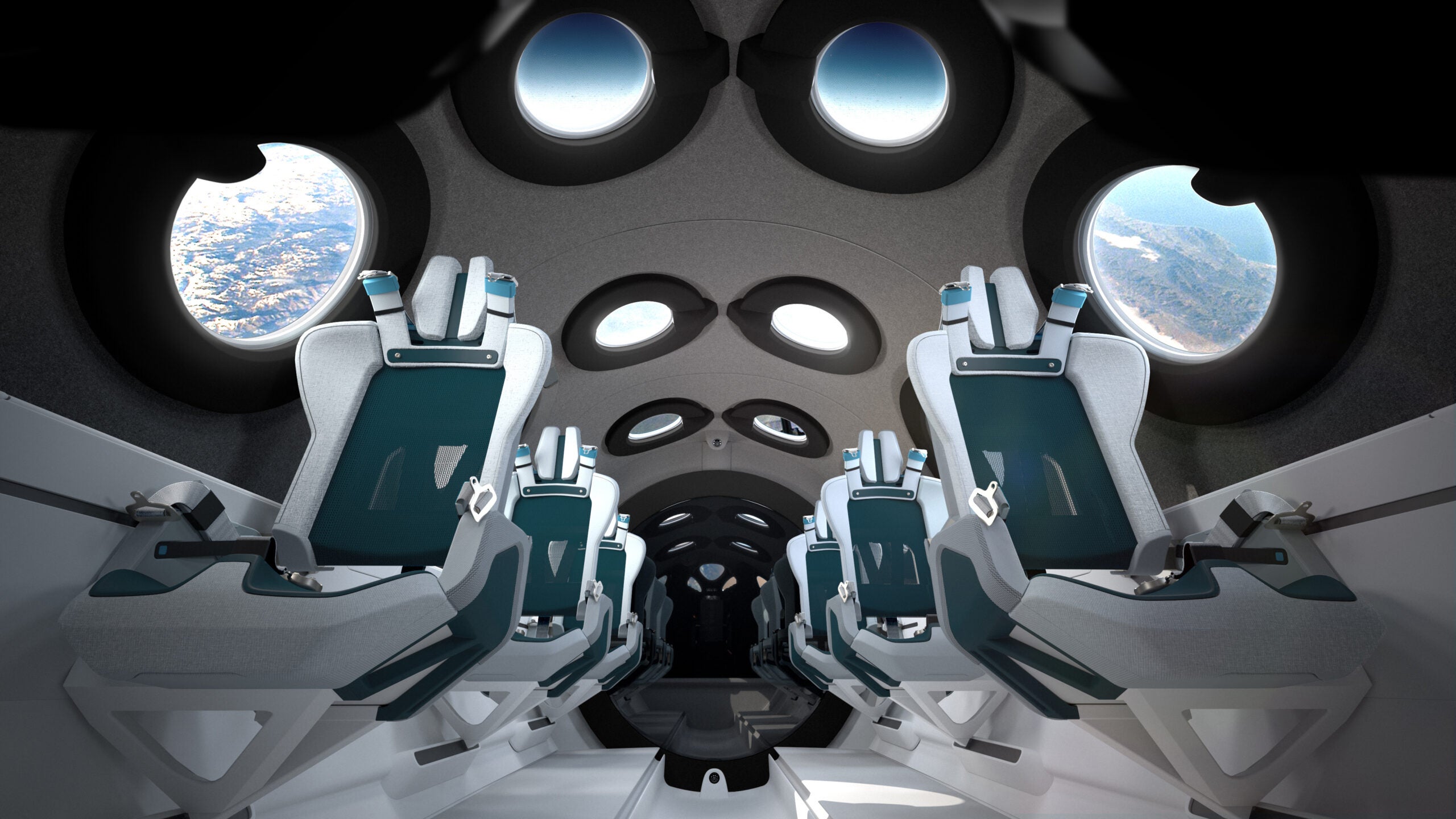 It seems like an age since Richard Branson first promised to send paying customers into space, but his Virgin Galactic project took another step toward its maiden flight this week with the unveiling of the cabin interior of the SpaceShipTwo vehicle, VSS Unity.
Over 600 people have already signed up for the $250,000 roundtrip to the edge of space. The flight will take passengers 60 miles above the earth where they will be able to see our atmosphere and experience zero gravity.
Now those would-be astronauts have a better idea of what the experience will look and feel like. The interiors include space-aged custom space seats, 12 large windows and the biggest mirror ever installed in a spaceship cabin.
The individually-sized, reclining seats will absorb some of the excessive G-forces that would otherwise be felt by the passengers. With mood lighting that adapts and changes according to the situation, the cabin will offer a relaxing launch experience when compared to conventional rockets and inspire a sense of confidence and familiarity in the passengers.
The SpaceShipTwo cabin dimensions allow for an out-of-seat weightlessness experience for the passengers. Soft cabin surfaces and elements become intuitive hand and footholds, allowing them to explore the cabin freely and fully. The "Halo" that surrounds all 12 windows have soft extended edges, which makes it easy for passengers to perfectly position themselves for awe-inspiring views.
There will also be a large emphasis on documenting the experience. A large mirror at the back of the cabin will further enhance the experience by allowing passengers to view themselves as they float in zero gravity. The cameras will generate high definition output to provide everything from the first Instagram posts, to a beautifully edited and historically significant personal movie.
Michael Colglazier, CEO of Virgin Galactic said: "In just my second week as Virgin Galactic's CEO, it is with great pride that I can lead our talented teams in revealing this latest milestone in our journey to space. The spaceship cabin interior is in many ways the design centerpiece of the astronaut journey and what has been created will both facilitate and elevate a uniquely profound and transformational journey for the thousands who will fly.
"The fascination with spaceflight is universal and Virgin Galactic is here to satisfy it. We are particularly proud to be able to share this latest milestone with millions around the world, particularly during these unusual times. We hope the new app, with cutting-edge AR technology will help bring the dream of space one step closer for space enthusiasts everywhere."
Richard Branson, founder of Virgin Group said: ''When we created Virgin Galactic, we started with what we believed would be an optimal customer experience and then built the spaceship around it. We will continue with that ethos as we expand our fleet, build our operations and underpin Virgin Galactic's position as the Spaceline for Earth.
"This cabin has been designed specifically to allow thousands of people like you and me to achieve the dream of spaceflight safely – and that is incredibly exciting.''