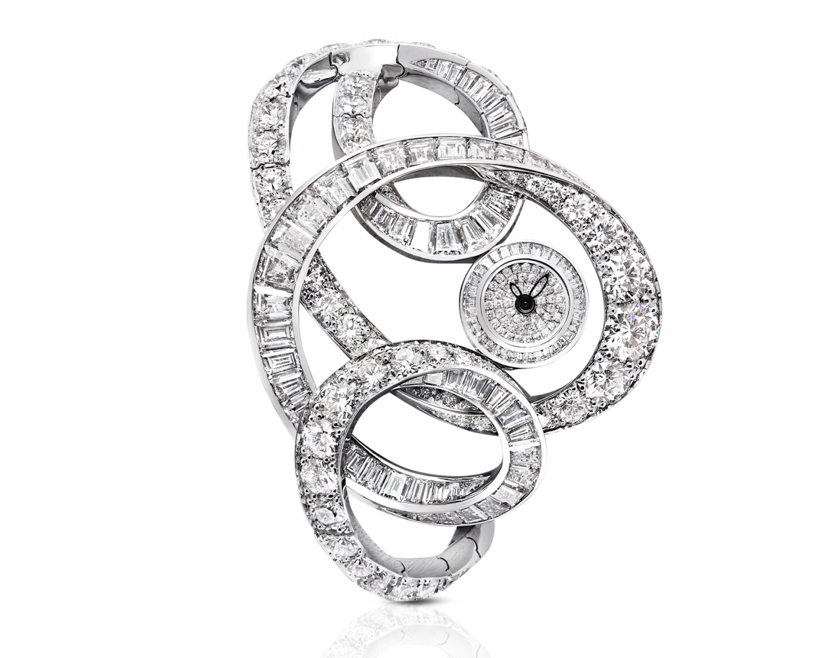 Two years ago, Graff unveiled a high-jewelry collection named Twombly, which was inspired by the late American artist, Cy Twombly. It features loops and swirls in scintillating diamonds, and its beauty captured the attention of socialites everywhere. Now, Graff unveils the first wristwatch in the Twombly collection.
The shimmering timepiece boasts a miniature, brilliant-cut, diamond-set dial with a baguette-set outer bezel. Ribbons of diamonds form a swirling bracelet that surrounds the dial and fans out over the wrist. A host of diamond cuts, including baguette, brilliant and a variety of fancy cuts, are used in this wearable work of art.
The diamonds are meticulously set into the twisting and turning scrollwork, revealing a different look at every glance. The highly sculptural watch includes 244 invisibly set diamonds and weighs more than 25 carats.
Price: $180,000 in 18K white gold
Contact: Graff in New York, +1 212 421 3605, graff.com