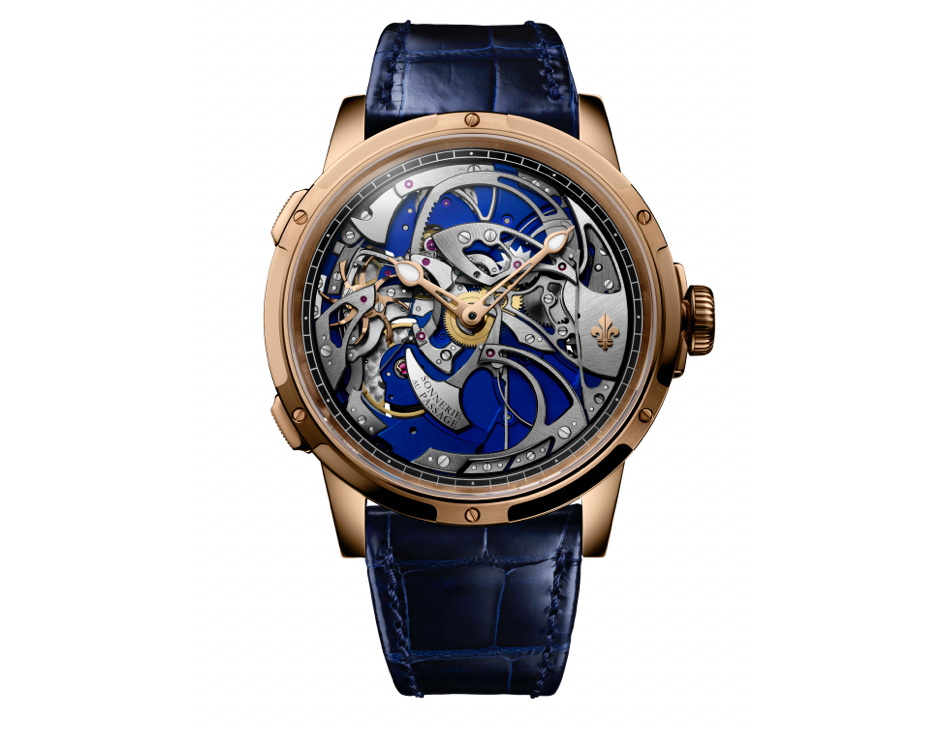 Ultravox represents the independent Swiss brand's first hour-strike timepiece, a rare complication in watchmaking. Unlike a minute repeater that strikes the hours, quarter-hours and minutes past the hour, this unique mechanism strikes only the hours on the hour, emitting a melodic chiming sound. If desired, there is a silencer mechanism so the wearer can disengage the chime.
The mechanism's levers, cams and springs are visible dialside, with the activator finger (flirt) that whips the striking hammer at 11 o'clock into action. The balance wheel channels the force to regulate the cadence of the hammer. Created to celebrate the 250th anniversary of the birth of its namesake, Louis Moinet, the exclusive movement needed a host of revisions, with watchmaker extraordinaire Eric Coudray completely redesigning the caliber (it is signed Eric Coudray & Co), working in tandem with the brand.
The watch takes its name from the Latin words for 'the ultimate voice.' The highly complex movement plate has more than 50 jewels to engage the chiming components without friction. Via the transparent caseback, one can view the system of parallel double rotors that endow this watch with 38 hours of power reserve.
Price: $149,500 in 18K rose gold
Contact: Grenon's of Newport, Rhode Island, +1 401 846 0598, louismoinet.com