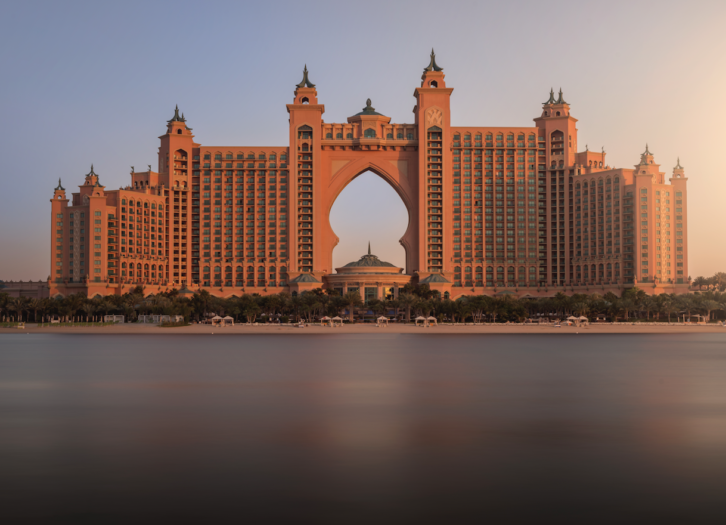 Sitting at the tip of the world-famous Palm Jumeirah, Atlantis has become a tourist destination in its own right as well as one of the best hotels in Dubai. It is Dubai's second-biggest hotel with 1,500 rooms and 23 restaurants. As the name suggests, there is a distinct underwater theme running throughout the hotel and you are never far away from a splash of blue or a shell-patterned rug. The aquarium is also one of the biggest in the world, proudly hosting 65,000 inhabitants.
With a bowling alley and a giant waterpark, this is not the place to go for a peaceful stay, although relaxation can be found in the SuiQi Spa. The dining options read like a who's who of world-class chefs. Hakkasan, Ossiano, Nobu and Gordon Ramsay's Bread Street Kitchen are all located somewhere in the expanse.
Top Suite: Royal Bridge Suite
One of the most sought-after suites in the whole of Dubai, this expansive space is located above the hotel's iconic gap. The 3,000-square-foot suite has played host to some big names in the past, including Kim Kardashian and Kanye West – make of that what you will. It has its own guarded entrance and a private elevator and comes fully staffed with dedicated chefs and butlers. It has an expansive lounge, a 16-seat dining room and a private library. The balconies offer uninhibited views out to sea or across the Palm and the rest of Dubai.
info@atlantisthepalm.com, +971 4 426 2000, atlantisthepalm.com