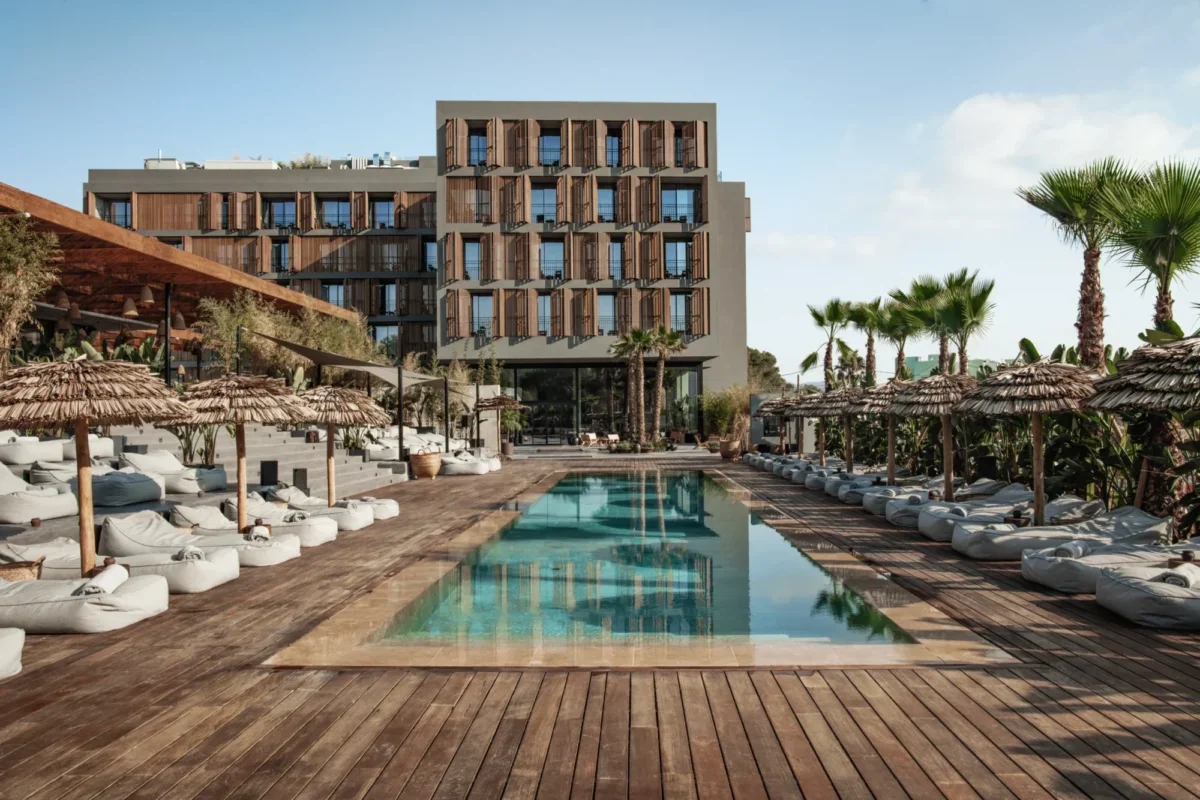 Sun, sea and salacious dancing. The party island of Ibiza has a wild reputation that was born during its hedonistic heydays of the 1970s and 80s. However, there are two sides to every coin. Step away from the nightlife and you will discover the island of Ibiza is one of Europe's most sought after luxury travel destinations and home to some of the best hotels in the Meditteranean.
Visitors to the iconic Balearic Island indulge in a sun-drenched summer where some of the finest hotels offer wellness retreats, fine dining and immaculate sea views. A mixture of independent hideaways and renowned luxury hotel groups curate an alternative side to the island that operates at a slower pace.
So if you're looking to stay at the classic Hacienda and Gran Hotel Montesol or keep it contemporary in the freshly opened Nobu Ibiza Bay or Six Senses, Ibiza possesses a variety of options that will suit the needs and styles of all travel lovers.
Here, Elite Traveler divulges the superior luxury hot spots Ibiza has to offer, allowing you to soak up the sun in style as you enjoy one of the greatest islands in the Mediterranean.
OKU Ibiza
OKU Ibiza is a five-star sanctuary of wellness that has a cohesive design language that can be seen in every element of this incredible hotel.
Doused in Wabi Sabi styling, OKU Ibiza calls its unique aesthetic bohemian minimalism, and it's easy to see why. The incredible mixture of stone, wood and earthy tones are utilized throughout the hotel. The rooms seem to be carved directly from Ibiza's rocks. This styling even extends to the fitness center, which includes NOHrD equipment made from natural materials. With a motto of laidback luxury, OKU creates a tranquil paradise that is situated a stone's throw from the high octane clubbing of San Antonio.
Guests at OKU Ibiza can begin every morning with complimentary morning yoga, before getting creative and designing their own dream breakfast bowl. The hotel's two pools give visitors plenty of options if they are in search of their daily Vitamin D fix, before the evening when the resident DJ plays at sunset each day.
Working in perfect harmony with OKU Ibiza's tranquil setting, the hotel also includes a spa and wellness center with internationally trained therapists that use local ingredients and time-honored techniques.
Six Senses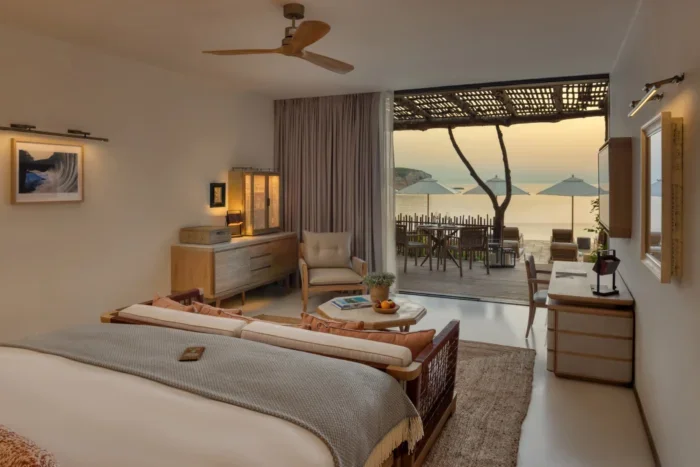 Heading up to the peaceful and private northernmost tip of Ibiza is Six Senses, a glorious retreat that epitomizes the free kindred spirit of the island. The 20-acre site features 137 guest accommodations that range from a modest single room to an exclusive mansion with 10 bedrooms and its own private pool, garden and ballroom.
The Six Senses Spa is a clear highlight, spanning 12,900 sq ft and featuring a Caldarium hot bath, tropical rain shower and massage catacombs. If you're looking to recharge your batteries, the Longevity program will fulfill your needs with a three or seven-day program that begins with a high-tech screening followed by the latest biohacking methods. Those who are in Ibiza to sample the clubs will flock to the After Party Detox, a citrus body scrub that rejuvenates you, ready for another night on the town.
If you're looking to get your blood pumping in a different way, there are also a variety of experiences on offer that allow you to fully delve into the Ibiza lifestyle. Picture stand-up paddle boarding around the bay at sunset, or cliff diving into the azure blue ocean.
Six Senses Ibiza also takes sustainability seriously. They generate some of their own electricity through the 298 on-site solar panels, bottle their own water in reusable glass bottles and have become the first BREEAM-certified resort in the Balearics.
Nobu Ibiza Bay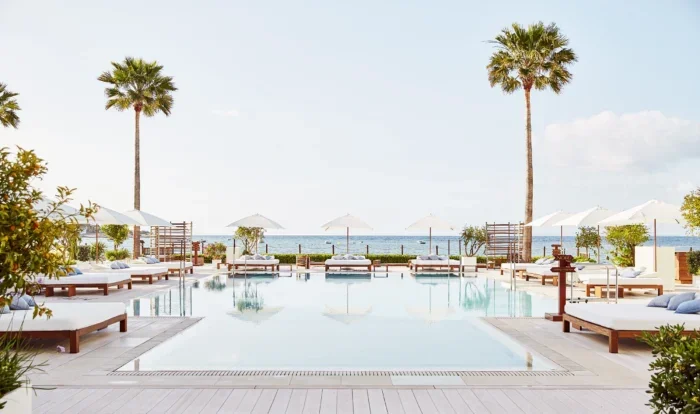 When Hollywood hero Robert De Niro teamed up with one of his favorite chefs Nobu Matsuhisa in 1994, neither of them could have known the success they would have. Now with 50 restaurants and 13 hotels, Nobu dominates the luxury sleeping and eating market.
Nobu Ibiza Bay is their offering in the Balearics. Situated in the southeast Talamanca Bay, Nobu Ibiza finds itself outside the hustle and bustle yet still within walking distance of Ibiza's Old Town. With a beach just outside, you can practically walk directly from your room straight into the ocean.
As it's a Nobu, you can expect not only lavish and beautifully designed rooms and suites (some of which have their own pool) but also one of the best restaurants on the island. The new-style Japanese cuisine pairs perfectly with the relaxed Ibiza lifestyle as these two cultures come together in textbook harmony. There is also the laidback Spanish beach restaurant Chambao, or BIBO, an Ibiza-inspired restaurant from the Michelin-starred chef Dani Garcia.
After that, if you have still not reached your ultimate zen then Nobu Ibiza Bay also comes with a wealth of holistic wellbeing and beauty experiences at the on-site spa.
Hacienda
Staying on Ibiza's north coast, we come to another historic location in The Hacienda Na Xamena, notable for being the first and only five-star accommodation on the island for nearly two decades. Suspended 500ft above the sea and surrounded by a natural park, the Hacienda takes privacy and exclusivity to new levels.
The 77 rooms and suites provide ample options while numerous meeting and banquet rooms make it the perfect location for a special event. Three freshwater swimming pools, a volleyball pitch, a soccer pitch and a home cinema will keep your guests entertained for hours.
Aside from its stunning and appropriate white architecture — designed by Belgian architect and owner Daniel Lipszyc back in the 60s — the Hacienda is all about the views and the privacy. When it was originally built in 1969, there was no infrastructure, so construction began without roads, water electricity or telephone lines. The end result is a clifftop paradise that provides both solitude and some of the best photo opportunities on the island. An opportunity that has not been missed by celebrities.
The Hacienda also plays host to Edén, a fine dining restaurant that focuses on locally sourced produce and seasonal flavors.
Gran Hotel Montesol
Found on the southeast coast of the island in the old quarter of Ibiza Town, this classy establishment dates back to 1933. When it opened, the Gran Hotel Montesol effectively kickstarted Ibiza's tourist trade with wealthy travelers visiting the island for the first time.
This hotel has seen it all, from the aristocrats that first graced its rooms in the early 1930s to the soldiers who moved into the hotel during the Spanish Civil War and WW2. After the wars, the 1950s and 1960s saw the Gran Hotel Montesol transform into a popular spot for the celebrities of the day seeing regulars like Orson Wells, Pink Floyd and Carolina de Mónaco. The old colonial-style building is now regarded as a Bien de Interés Cultural marking the hotel as a site of significant cultural interest.
This is the ideal location for those looking to stay in one of Ibiza's most historic spots. Its 33 boutique rooms have been tastefully designed and given a modern uplift while maintaining classic touches like wooden flooring and stunning balconies. Heading upstairs you will discover the Spanish Israeli fusion restaurant Sabbaba as well as a rooftop cocktail bar offering unbeatable views of sea and citadel.
For more information on Ibiza and Spain's other travel destinations, visit spain.info