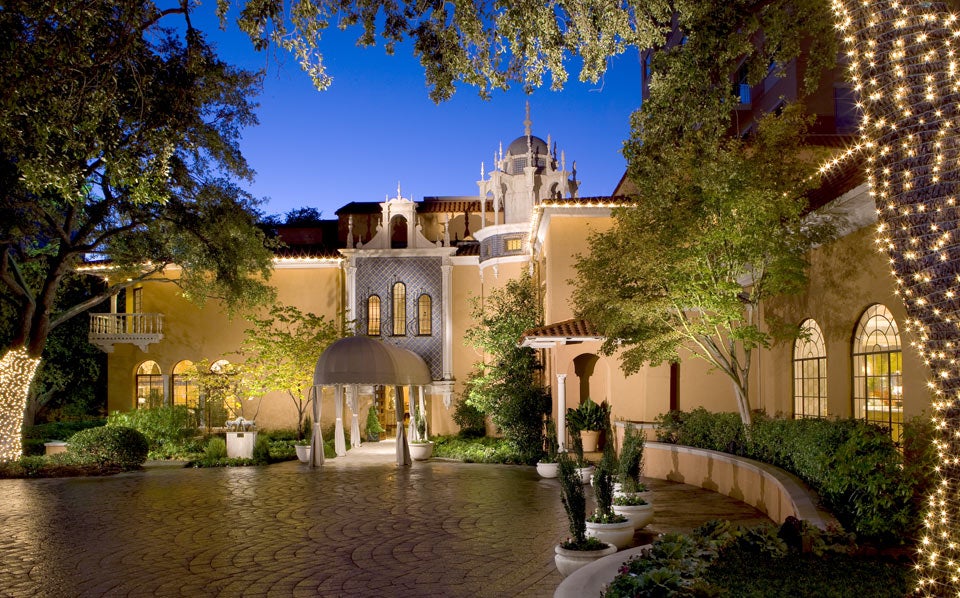 By Kelsey Llewellyn
Hot weather has never held back Dallas, where frozen margaritas were born and the first hotel to install air conditioning still stands today. But, this city has far more to offer than its subtropical climate. During your trip to Dallas, expect an opulent shopping scene, unique art exhibits and entertainment that will inspire once-in-a-lifetime excitement (and a whole lot of dancing). From luxury shopping to the best hotels, these are our picks of the best things to do in Dallas.
Shopping
For over a century, Dallas has been a mecca for luxury shopaholics due to Highland Park Village, a fabulous upscale shopping plaza. Named America's first shopping center, this National Historic Landmark opened its doors to luxury shoppers back in 1913. Don't worry though—it has certainly kept up with the times, featuring luxury designers such as Céline, Dior, Jimmy Choo, Saint Laurent, Christian Louboutin and Chanel. Check out the Village Theater, Texas' first luxury movie theater (and a great place to relax after a long day of shopping).
The firsts don't end at Highland Park Village. Stroll around the Main Street District of downtown Dallas and shop at the first Neiman Marcus. This Recorded Texas Historic Landmark still serves as the corporate headquarters and flagship store of Neiman Marcus. Be sure to grab a delicious meal at Zodiac Restaurant, the building's venerable lunch venue, and try its iconic Mandarin Orange Soufflé.
For a singular luxury shopping experience, visit NorthPark Center, a spacious and enclosed shopping mall with over 235 retailers, department stores and restaurants. NorthPark Center blurs the line dividing malls from museums with its exquisite art, architecture and landscaping. Here, it's not uncommon to admire works by famous artists like Andy Warhol alongside works by award-winning designers like Stuart Vevers.
Dallas Art District
The city's shopping scene isn't the only place to marvel at history. Located in the Arts District of downtown Dallas, the Dallas Museum of Art is one of the largest museums in the United States (and one you truly wouldn't mind getting lost in). Boasting a collection of more than 24,000 objects that span from the third millennium BC to the present day, this museum is a paradise for curious visitors.
While in Dallas, don't miss out on one of the finest modern and contemporary sculpture collections in the world. At the Nasher Sculpture Center, admire pieces by major modern sculptors, such as Rodin, Picasso, Calder, Moore and de Kooning. After exiting this dramatically designed structure by Renzo Piano, stay in the Dallas Arts District for an indoor or outdoor performance at the AT&T Performing Arts Center, which features the Broadway Series as well as shows by touring performers. This multi-venue center also hosts local performing arts organizations, such as The Dallas Opera, Dallas Theater Center and Texas Ballet Theater.
Entertainment
From its country music venues to its football games, Dallas entertains guests with its own unique spin on southern culture. At The House of Blues, dance the night away to rock n' roll and blues music while chowing down on southern- and internationally-inspired dishes (such as jambalaya or shrimp and grits). The VIP table awaits those in search of an elevated place to enjoy the show and premium menu (with top-shelf spirits, craft brews and an exclusive menu), as well as a personal VIP Host and cocktail server. If you return on Sunday morning for the acclaimed Gospel Brunch (and you should), try the signature chicken and waffles while swaying to the stirring voices of the restaurant's exuberant gospel choir.
Put on your dancing shoes (or cowboy boots) and head to the largest honky tonk in the world. Erected in 1981 to replace a 100,000 sq ft department store, Billy Bob's Texas encourages guests to unearth their inner-southern spirit by pairing live music with live bull riding. Since its establishment, this authentic-Texan nightclub has been celebrated as the "Country Music Club of the Year" 12 times.
You'll find big-name performers (Ed Sheeran, John Mayer, and Lionel Richie have upcoming concerts) as well as professional sports games at the American Airlines Center. Dance to live music by your favorite artist or cheer on a Dallas team (the Mavericks or Cowboys, depending on the season) while relaxing in one of the arena's rental suites.
Where to Stay
Four Seasons Resort and Club Dallas at Las Colinas
Wilting under Dallas' heat is unthinkable at the Four Seasons, where guests can splash around in a 25,000 sq ft resort pool or lounge on a 1,500 sq ft sandy beach. Others grab their drivers, wedges and putters, and head to the resort's Par-70 TPC golf course. Tired from a day in the sun? Take advantage of the spa's complimentary steam, sauna, whirlpool and relaxation areas. If you're in the mood for something even more personal, the spa offers massages, facials and professional salon services. Be sure to enjoy a delicious meal at LAW (Land, Air and Water), which features Texan-inspired cuisine in a sophisticated setting.
https://www.fourseasons.com/dallas/
Tweets by FSDallas
The Joule, Dallas
Art enthusiasts will adore The Joule, a sumptuous 161-room hotel in the central business district that features an extensive art collection with over 70 mosaics by Millard Sheets. This rejuvenated 1920s neo-Gothic building boasts proximity to the Dallas Arts District as well as the flagship Neiman Marcus. But, its eye-catching art collection is only one of this hotel's distinguishing characteristics. Be sure to take a dip in the eight-foot cantilevered pool, extending over the edge of hotel and providing swimmers with a jaw-dropping view of Main Street below. Spanning 8,000 sq ft, the Joule's subterranean spa is equally impressive. Pampering guests with geothermal-inspired European heat treatments, the spa provides healing experiences such as the Earth Inspired treatment (which consists of a foot ritual, full-body exfoliation with coconut sugar and oils, a hot stone massage, and a Shirodhara oil pour). From $295 for 110 minutes.
https://www.thejouledallas.com/
Tweets by thejoule
The Ritz-Carlton, Dallas
Embellished with contemporary artwork, luxurious furniture and expansive windows that wash rays of sunlight into spacious rooms, The Ritz-Carlton Dallas is the perfect place to stay during your visit to the city. If the 12,000 sq ft spa doesn't inspire you to begin packing (it's incredible), the hotel's exquisite cuisine will certainly seal the deal. We love the Guacamologist, who prepares and serves guacamole in the hotel lobby every evening with selections from the Tequila Vault as well as chef Dean Fearing's signature margarita. Try more from chef Fearing at the hotel's culinary gem, Fearing's Restaurant. Expect to be served creative American cuisine in one of seven different settings (including an intimate Wine Cellar, the chef's table in Dean's Kitchen and a verdantly decorated Ocaso patio).
https://www.ritzcarlton.com/en/hotels/dallas
The Rosewood Mansion on Turtle Creek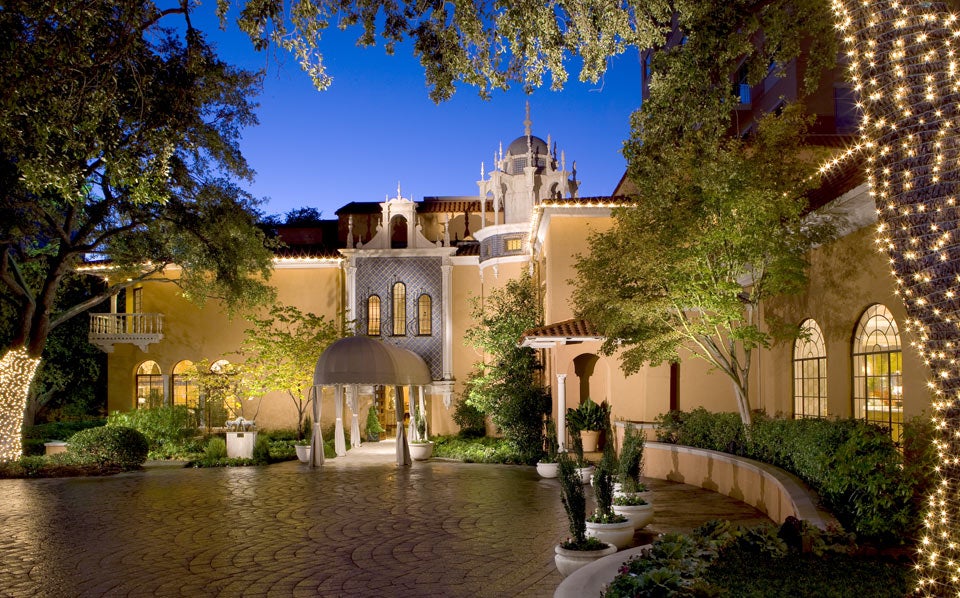 Experience true southern hospitality at the Rosewood Mansion on Turtle Creek, a luxury hotel scrupulously restored since its storied days as a private residence that hosted famous guests (including President Franklin D. Roosevelt). While this iconic hotel sits in the heart of Dallas, it is tucked away from the bustling crowds in its own sanctuary. Exuding the same sense of exclusivity that characterized its past, the Rosewood Mansion greets guests with meticulously hand-carved fireplaces, stately marble floors and brilliant stained-glass windows. Dine at the Mansion Restaurant, a 35-year-old elegant fine dining venue serving authentic Texas cuisine with subtle global influences and locally sourced ingredients. Be sure to enjoy the tasting menu with wine from the hotel's carefully curated selection (which features wines from around the world as well as rare Texan vintages).
https://www.rosewoodhotels.com/en/mansion-on-turtle-creek-dallas
Tweets by RWTurtleCreek