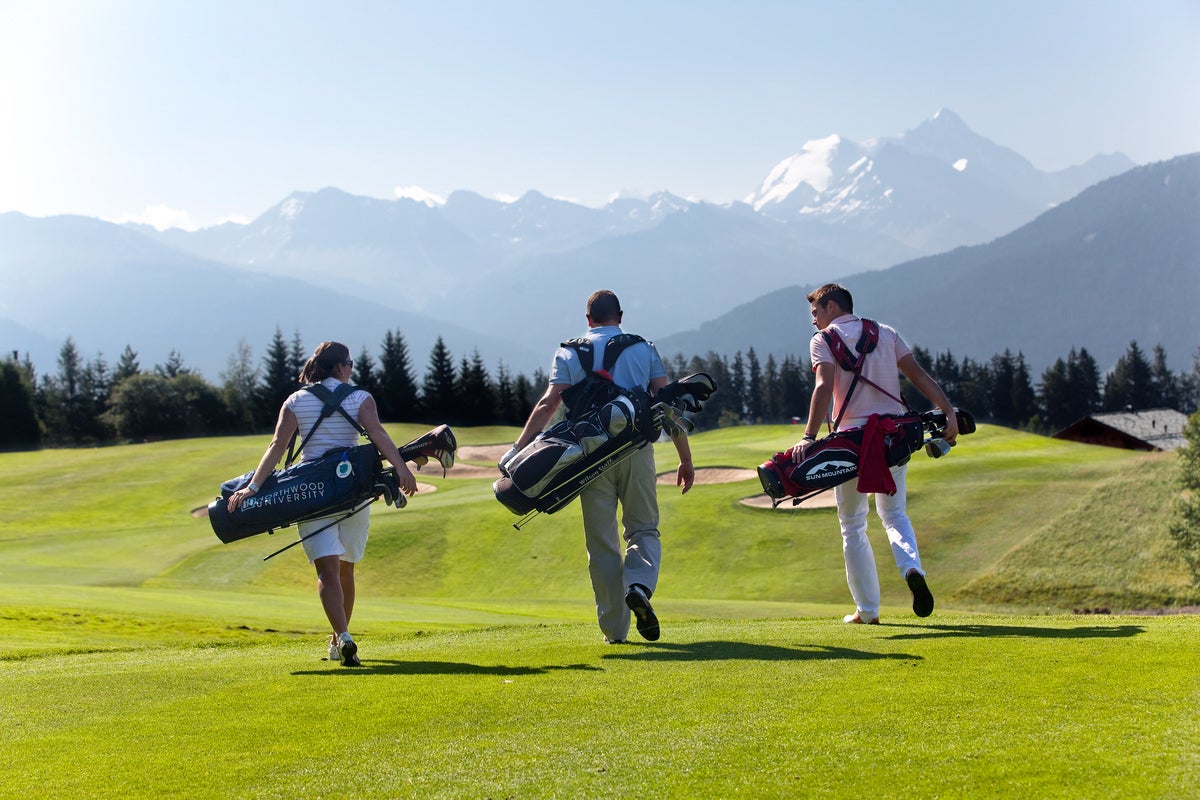 When thinking of summer destinations, the Alpine region of Switzerland does not immediately spring to mind. A majestic and beautiful place, no doubt, but one that most tourists see when it is blanketed by snow.  Most people will know Switzerland is home to world-class pistes, but wait for the snow to melt and you will discover some of Europe's best golf courses. Luxury travel specialists Leo Trippi is offering the most avid golfers the opportunity to experience five of the best Alpine golf courses on a new 10-day itinerary.
Oliver Corkhill, CEO of Leo Trippi, said: "Ski resorts are not often the first choice holiday destination during warmer months, which is a shame as the scenery in the Alps during the summer and fall is spectacular.
"We wanted to highlight this and as Switzerland is home to some of the best golf courses in Europe it seemed like the perfect place to start. We have also seen an increase in the number of clients requesting to book summer ventures with us to have the full 'Leo Trippi experience' in both the summer and winter."
The jam-packed adventure includes five rounds of golf at some of the country's most exclusive clubs. And don't think you will be enjoying days off in between. The itinerary also includes a variety of other activities, such as a cable car up the Glacier 3000 and wine tastings at some of Switzerland's most renowned vineyards.
There is plenty of distance between the courses, but you will be traveling in style every step of the way, including a trip on the world-famous Golden Pass train to Gstaad. The travel also offers the chance to dine in some of Switzerland's best restaurants and stay in several of its finest hotels.
Of course, any action-packed adventure needs downtime and Leo Trippi will make sure your mind and body stays in peak condition with a selection of spa treatments included in the price.
Corkhill continued: "We wanted to create an itinerary in which golfers can hone their skills as well as enjoy all the other pursuits the mountains have to offer. Wine, wellness and golf just seemed like the perfect mix of sport and leisure – a true hole in one!"
The Itinerary
Day one: Arrive in Gstaad
After flying into Geneva airport, guests may ride the scenic Golden Pass train to Gstaad. Then, settle in for a two-night stay at the Ultima Gstaad, a boutique hotel with exceptional facilities, including spa and clinic.
Day two: Golf Club Gstaad-Saanenland
This 18-hole (par 70) course is technically challenging and surrounded the Bernese Alps. With its panoramic terrace and well-appointed clubhouse, non-golfers are also guaranteed a relaxing day, culminating in time spent in the Ultima's spa and clinic.
Day three: Gstaad to Villars-sur-Ollon
A day of exploration awaits, with a stop at Col du Pillon and its cable car up the Glacier 3000. From here, steel your nerves to take on the Peak Walk by Tissot, the only suspension bridge in the world to connect two mountain peaks.
Day four: Golf Club Villars
The only 18-hole (70 par) golf club in the Vaudois Alps, Villars' south-facing greens offers a view of Mont Blanc, as well as some challenging altitude differences and slopes. The afternoon ends in the Royalp Spa.
Day five: Badoux Wines
The wines tasted so far on this trip will no doubt have whetted the appetite for the delights of Day 5, when guests will visit Badoux wines to learn about the production process and sample this popular Valais varietal.
Day six: Villars to Crans Montana
En-route to a four-night stay at Ultima Crans Montana, guests will stop at Sion Golf Club.
Day seven: Golf Club de Sierre
Guests will make their way to Golf Club de Sierre, which is punctuated by challenging water obstacles. Following a day on this technical course, unwind in Ultima Crans Montana's vast spa and clinic.
Day eight: Géronde Wines
A different Valais wine awaits at the Géronde wine cellar, where the Rouvinez family have become, over the course of 60 years and three generations, the biggest vine owners in the Canton of Valais. 
Day nine: Golf Club Crans-Sur-Sierre
This club is one of the most prestigious in the Alps and hosts the Omega European Masters each August. With four courses, including the 18-hole Severiano Ballesteros and beautiful 9-hole Jack Nicklaus, it is surrounded by magnificent alpine panoramas – a visual treat for players and spectators alike.
Day 10: Golf Club du Domaine Impérial
A final game of golf before departure from Geneva airport – and where better to end the trip than on the course that's been ranked number one in Switzerland numerous times? As one of Europe's top 50 courses, this 18-hole course requires precise playing alongside a creek and around small hills.
The Leo Trippi Alpine Golf Escape starts from CHF 7,250 (approx. $7,840) per person, based on a group of eight people.