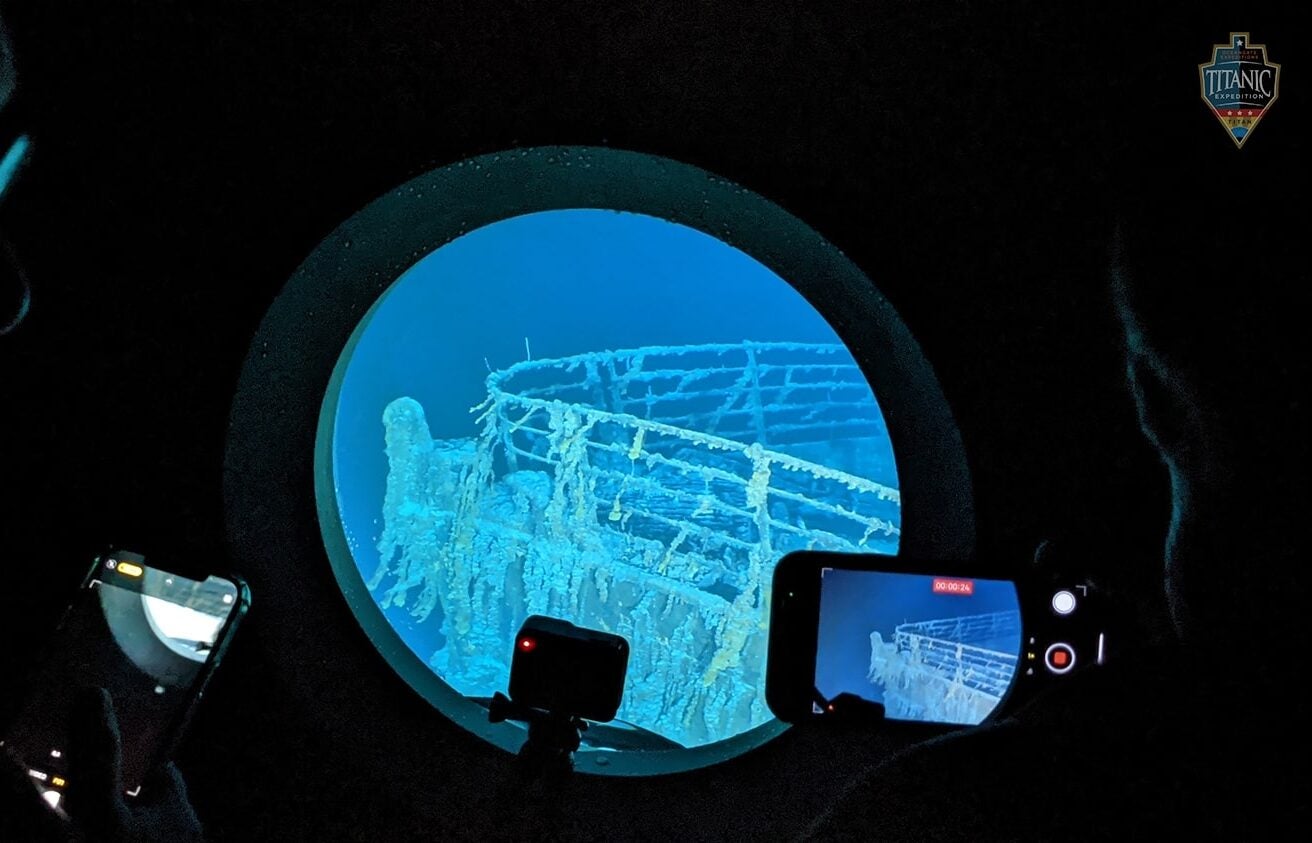 Follow in Jacques Cousteau's footsteps and become an underwater explorer by diving to the wreck of the RMS Titanic. This is your chance to step outside of everyday life and discover something truly extraordinary with OceanGate Expeditions.
Become one of the few to see the Titanic with your own eyes.
Intrepid travelers will sail from the Atlantic coast of Canada for an eight-day expedition to dive on the iconic wreck that lies 380 miles offshore and 12,400ft below the surface.
After learning the ropes topside, guests, trained as Mission Specialists, will climb into the world's most spacious deep-diving submersible, and begin their underwater adventure. The submersible has the largest viewport of any deep-diving sub in the world and has an array of high-definition cameras to document your discoveries.
You will feel like you have left the world behind as you and your dive team quietly fall through the water column. You will see alien-like creatures glide by the viewport. Then, after what seems like just a moment, you will see the stunning wreck appear from the darkness.
"Our first glimpse at the actual bow section was overwhelming," said world traveler Bill Price. "The enormity of it, the history of it, the fact that when you say Titanic to anyone in the entire world – they know what you're talking about."
Unlike most deep-ocean shipwrecks, the Titanic has a variety of hues thanks to microscopic lifeforms like Halomonas titanicae that create a rainbow of rusticles.
"The colors are just incredible with the rusticles — the reds and oranges and blues and greens," said Stockton Rush, CEO of OceanGate Expeditions, and lead sub pilot. "I haven't seen these incredible colors on any other wreck."
The pilot will maneuver around key features of the ship like the bow and Captain Smith's quarters and explore other areas that have not been seen for 110 years.
"It's tougher to go to the bottom of the ocean than it is to go to the far side of the moon. We saw things that maybe human eyes had never seen before," said NASA astronaut Scott Parazynski.
After surfacing, you will join the rest of the crew topside to review the dive and work with scientists and Titanic experts to go over your discoveries. Every dive is an opportunity to find something new to help scientists understand more about the deep ocean.
"If you want to see what is at the bottom of the ocean, the beauty of it, then this is the way to do it. It's the best thing I have ever done," said diver and pilot-in-training Renata Rojas.
Become a Mission Specialist and join a crew of explorers, scientists, and filmmakers dedicated to exploration of the deep ocean.
A limited number of openings remain for Mission Specialists to join the 2022 Titanic Expedition for $250,000, and spots are already filling for 2023. Contact Kyle Bingham at kyle@oceangateexpeditions.com or +1 425 595 6343, or go to oceangateexpeditions.com/elitetraveler