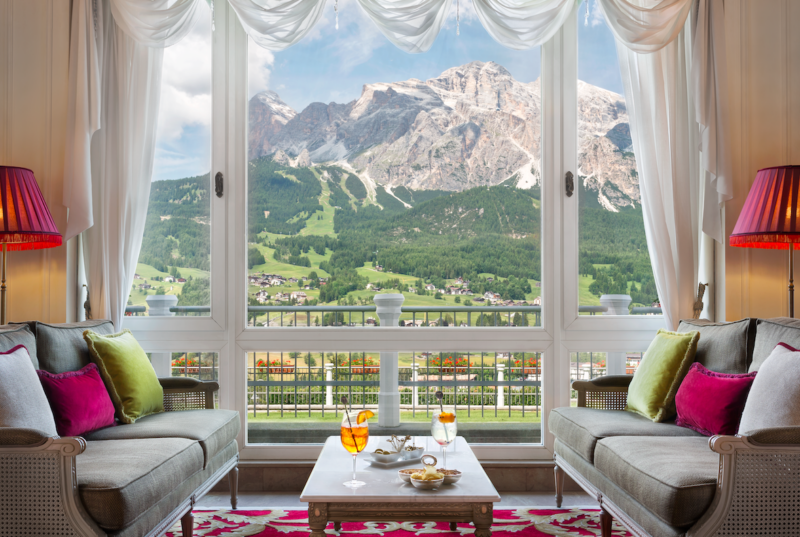 Marriott International has used the power of its luxury portfolio to create a series of luxury road trips across the globe. Created with the help of the world's leading concierge company Quintessentially, the once-in-a-lifetime adventures include stays at some of Marriott International's most exclusive properties.
Marriott counts The Ritz-Carlton, St. Regis Hotels & Resorts, The Luxury Collection, EDITION and W Hotels among its portfolio. The company's reach extends to 7,400 properties across 30 brands and 135 countries and territories. It aims to fully utilize its empire by curating journeys that allow guests to travel between some of its most esteemed properties in North America and Europe.
The new luxury road trips come in response to the changing habits of tourists due to the Covid-19 pandemic. Even the wealthiest of travelers have decided against international journeys this year, and self-driving trips have experienced a remarkable boom as a result. As with most things, even the humble road trip can be transformed into an ultra-luxury experience if done correctly.
"During this time we know that many of our guests are choosing to travel in different ways. They might be staying closer to home, or seeking the personal space that driving between destinations affords," said Tina Edmundson, luxury portfolio leader at Marriott International. "With this series of exclusive road trips, and with the expertise of Quintessentially, we are thrilled to be able to offer our guests access to unparalleled, luxury-focused experiences that meet the moment."
Quintessentially was brought on board to help curate truly unique experiences in each of the destinations. Whether traveling through Florida, Tennessee, Italy or Spain, the luxury road trips are packed full of diversified, high-end activities that are unique to that location. The experiences include yachting through Miami with a personal crew and chef, horseback riding along the historic Agua Caliente Indian Reservation, an after-hours tour of Florence by river cruise, and building a guitar in Nashville.
"At Quintessentially, we are the authority on creating one-of-a-kind, unforgettable experiences. With this collection of road trips, we are excited to bring these different destinations to life in a unique way and can further tailor the packages to guests' personal preferences," said Annastasia Seebohm, CEO of Quintessentially. "Marriott International's unparalleled luxury portfolio allows for a seamless experience as guests move between properties and explore at their own pace."
The journeys start from just over $10,000 for two guests and include stays in five-star accommodation and a range of experiences. Guests will also have access to a number of vintage cars, such as a 1960s Ford Mustang Convertible, so they can travel in style. The car selection will vary according to the location. The offer will run through the end of October.
The Marriot x Quintessentially Luxury Road Trips
Best of the Sunshine State
Stay at: The Miami Beach EDITION, The Ritz-Carlton, Naples, and The Ritz-Carlton, Sarasota
Experiences:
– Journey deep into the Everglades aboard an airboat
– Private seaplane experience from Miami to Key West
– Tour of 3 fine art galleries in downtown Naples with local art expert
– Sunset sail around Naples
– Take a luxury yacht to explore the coast of Sarasota
– Sunset electric bike tour of historical downtown Sarasota
From $23,510 (all prices for two guests)
Rancho Mirage to the Sonoran Desert
Stay at: The Ritz-Carlton, Rancho Mirage, The Phoenician, a Luxury Collection Resort, Scottsdale and The Ritz-Carlton, Dove Mountain
Experiences:
– Horseback riding along the historic Agua Caliente Indian Reservation
– Mountain biking in Palm Springs
– Behind the scenes of Scottsdale's art and culinary scene
– Experience a classic cattle drive in Scottsdale
– Explore the Colossal Cave Park with a geologist
– Graffiti tour and lesson with a local mural artist in Tucson
From $11,526
Deep South to Music City
Stay at: Perry Lane Hotel, a Luxury Collection Hotel, Savannah, The Ballantyne, a Luxury Collection Hotel, Charlotte, and The Joseph, a Luxury Collection Hotel, Nashville
Experiences:
– Kayak tour through Savannah's Ebenezer Creek
– Tea tasting trip to Charleston
– Picnic at Charlotte's Duke's Mansion
– Learn the slow methods barbecuing meat from a pitmaster
– Build your own guitar in Nashville
– Learn the story of Jack Daniels and his world-famous whiskey
From $13,285
Classic Italy
Stay at: The Gritti Palace, a Luxury Collection Hotel, Venice; St. Regis Florence; and St. Regis Rome
Experiences:
– Guided walking tour of classic Venice
– Private boat trip on the Venice lagoon and visit to Murano glassblowing factories
– Afterhours tour of Florence by river cruise
– Tour of the exclusive Palazzo Corsini followed by a visit to the Villa Torrigiani, Europe's largest private garden
– Early morning, private visit to the Sistine Chapel
– Guided baroque passeggiata in Rome
From $25,965
The Dolomites to Lake Geneva
Stay at: Cristallo, Luxury Collection Resort & Spa, Cortina d'Ampezzo; Hotel Goldener Hirsch, a Luxury Collection Hotel, Salzburg; and The Ritz-Carlton Hotel de la Paix, Geneva
Experiences:
– Enjoy a private yoga lesson in the mountains
– Hike the mountains with a private guide
– Bike tour of Salzburg
– Walking tour of Mozart's Salzburg
– Private boat ride on Lake Geneva
– Visit the Patek Philippe Museum with a private guide
From $13,975
Gastronomy of the Basque Region
Stay at: Hotel Maria Cristina, a Luxury Collection Hotel San Sebastian; and Hotel Marqués de Riscal, a Luxury Collection Hotel, Elciego
Experiences:
– Exclusive meal in one of San Sebastian's members-only cooking clubs
– Learn to cook traditional Basque dishes under the guidance of a private chef
– Explore the Rioja wine region via bicycle
– Tour Europe's finest Rolls-Royce collection, housed in a medieval tower
From $10,430