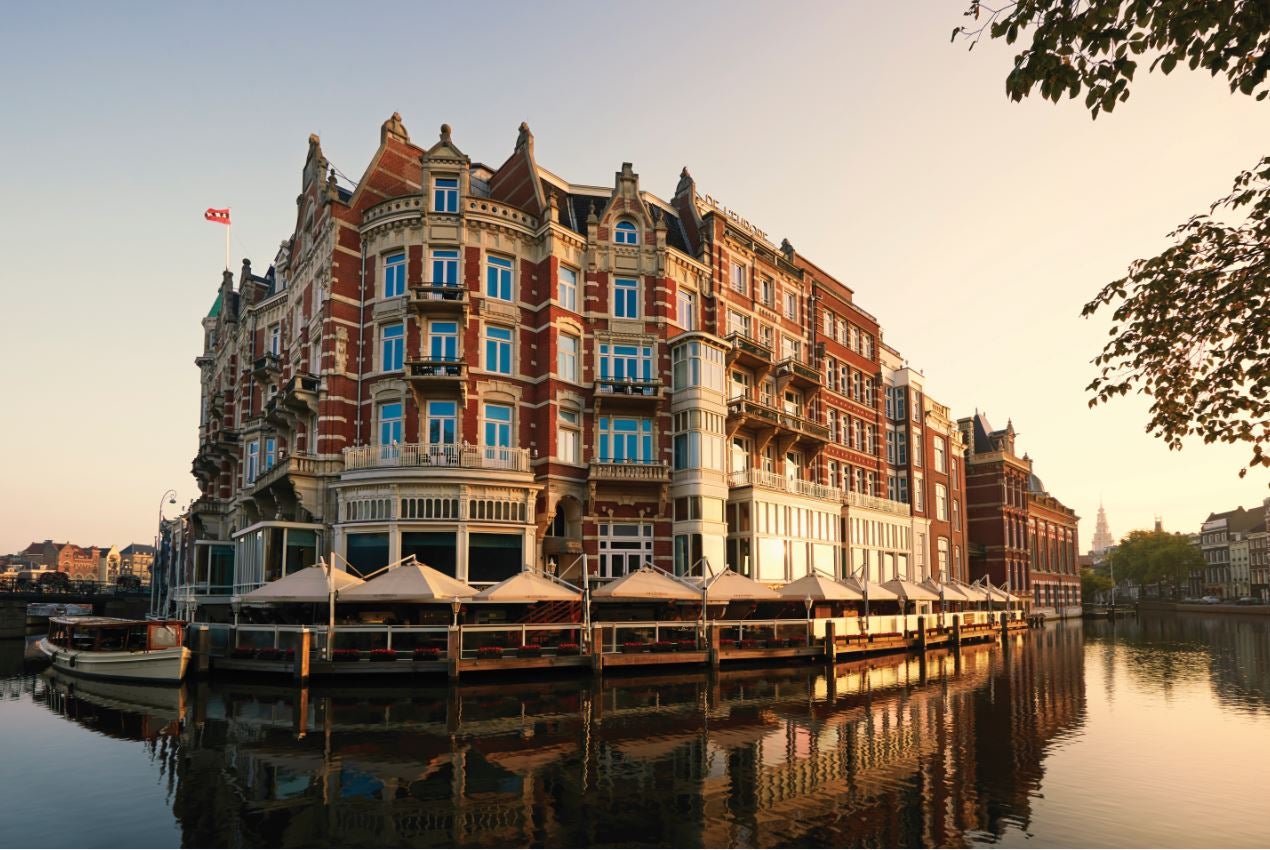 Its days as the world's greatest port city may be centuries past and its reputation as a center for backpacker hedonism may be abating, many would say thankfully. But, at a pace akin to the languid flow of the canals that traverse Amsterdam, so the cultural waters of the city glide and ripple anew at a pace that unfailingly pleases. Two showstopper museums, the Rijksmuseum and the Stedelijk Museum, have recently reopened after huge renovations and the dining scene, long lagging behind the likes of Berlin and Brussels, has finally expanded beyond Indonesian and Edam with an impressive range of food halls, organic markets and young chefs rethinking the Dutch larder. It's all, typically for this nation, understated and consensual in approach – bellicose bombast is very much for other cities. But for stylishness and quirkiness in equal measure, this is a weekend break destination that continues to quietly beguile.
TOP RESTAURANTS
Ron Gastrobar Oriental
Two years ago Ron Blaauw decided to rip up his formal, Michelin-starred restaurant and create an entirely new, more informal restaurant in the same space. The result is a buzzy, wildly popular joint with stripped-down dishes that don't compromise or fuss. Try the Jerusalem artichokes with crispy veal brains and pickles or the unctuous cauliflower with truffle cream, black pudding and Pierre Robert cheese.
Choux
On the south bank of the IJ River, this pretty, bright red building is home to renowned chef Merijn van Berlo's new venture, and is a breezy, informal spot with dishes brimming with distinct, original flavors such as pork belly with pig's trotters bouillon, squid noodles, onion puree, sprouts, kale and spelt.
&Samhoud Places
Ignore the baffling name of this haute retreat in Overveen and concentrate on Moshik Roth's supremely confident, and often outright thrilling, high-end comfort food. Dishes come thick and fast on the tasting menu, with highlights including sweetbreads with polenta, croutons, shaved mushrooms and parmesan. Leave room for the knockout dessert option of bonbon with a sublime beetroot, hollandaise and mascarpone filling.
TOP SUITES
Art Collector's Suite
Pulitzer Amsterdam
Dutch elegance is personified at these Golden Age-era canal-side houses – 25 of them fused together to create Amsterdam's most celebrated standalone hotel. The Art Collector's Suite is one of five differently themed suites, and is rich enough in assets to make Gertrude Stein green with envy. With a private canal-side entrance, this two-room apartment features sculptural furniture and intriguing original pieces from the Pulitzer collection, including a modern interpretation of Frans Hals' The Last Supper by Thierry de Cromieres, with the votive symbolism replaced by beer, burgers and laptops.
From $726 per night. Contact Gladys Camphuijsen, director of sales, gc@pulitzeramsterdam.com, +31 205 235 235, pulitzeramsterdam.com
Provocateur Suite
De L'Europe De L'Europe houses several one-of-a-kind signature suites, including the beautifully appointed Provocateur Suite. Ideal for guests who appreciate luxury and space, the Provocateur Suite echoes Vincent van Gogh's famous painting with a starry night ceiling of lights, twinkling over the generous circular bed. Located in the Dutch Masters wing, it offers contemporary amenities and the latest technology, including award-winning Coco-Mat beds, iPod docking station and Bose surround sound system. The suite offers picturesque city views as well as romantic Amstel river views.
From $2,150 per night. Contact Eef Sparla, chief concierge, concierge@deleurope.com, +31 205 311 777, deleurope.com
Penthouse Suite
Conservatorium Hotel Within a couple of minutes' walk of both the Van Gogh Museum and the Gucci store, this handsome 19th century building, formerly a bank, effortlessly fuses artistic and acquisitive sensibilities, from the stylish glass-encased lobby lounge to the gentle and soothing pale color schemes in the rooms, all accented by the signature clean lines of Italian starchitect Piero Lissoni, who designed the interiors. The Penthouse Suite's floor-to-ceiling windows overlook the hotel's historical facade and offer sweeping views of Amsterdam and beyond.
From $7,468 per night. Contact Roy Tomassen, generalmanager, info@conservatoriumhotel.com, +31 205 700 000, conservatoriumhotel.com
Prinsengracht Suite
Amsterdam Andaz Designer Marcel Wanders is the force behind this fusion of whimsy and luxury that exudes myriad playful Dutch touches, from the tulip shaped chairs to subtle hues of orange amid the furnishings. The immense suite is an open-planned behemoth with canal views from the huge windows, plus rainfall walk-in shower, LCD TV and Geneva sound system.
From $2,981 per night. Contact Roselyn García, front desk manager, amsterdam.prinsengracht@andaz.com, +31 205 231 234, amsterdamprinsengracht.andaz.hyatt.com
LATE NIGHT AMSTERDAM
Occii
Keeping true to the Dutch spirit of experiment and diversity, this industrial space is now one of the city's most exciting live performance venues. The roster runs the gauntlet from modern jazz to skate punk to poetry.
Tapzuid
Take your taste buds way beyond Heineken at this cozy late night joint in the De Pijp area. It takes its Dutch brews seriously; there's two dozen on tap, almost all from bespoke local craft makers.
GlouGlou
Also in De Pijp, this is a dimly lit space that simply oozes conviviality, helped in no small measure by the house emphasis on natural wines. There are enormous cheeseboards on offer and the sun-drenched garden terrace is a much sought after spot for Amsterdam gourmands come summer.