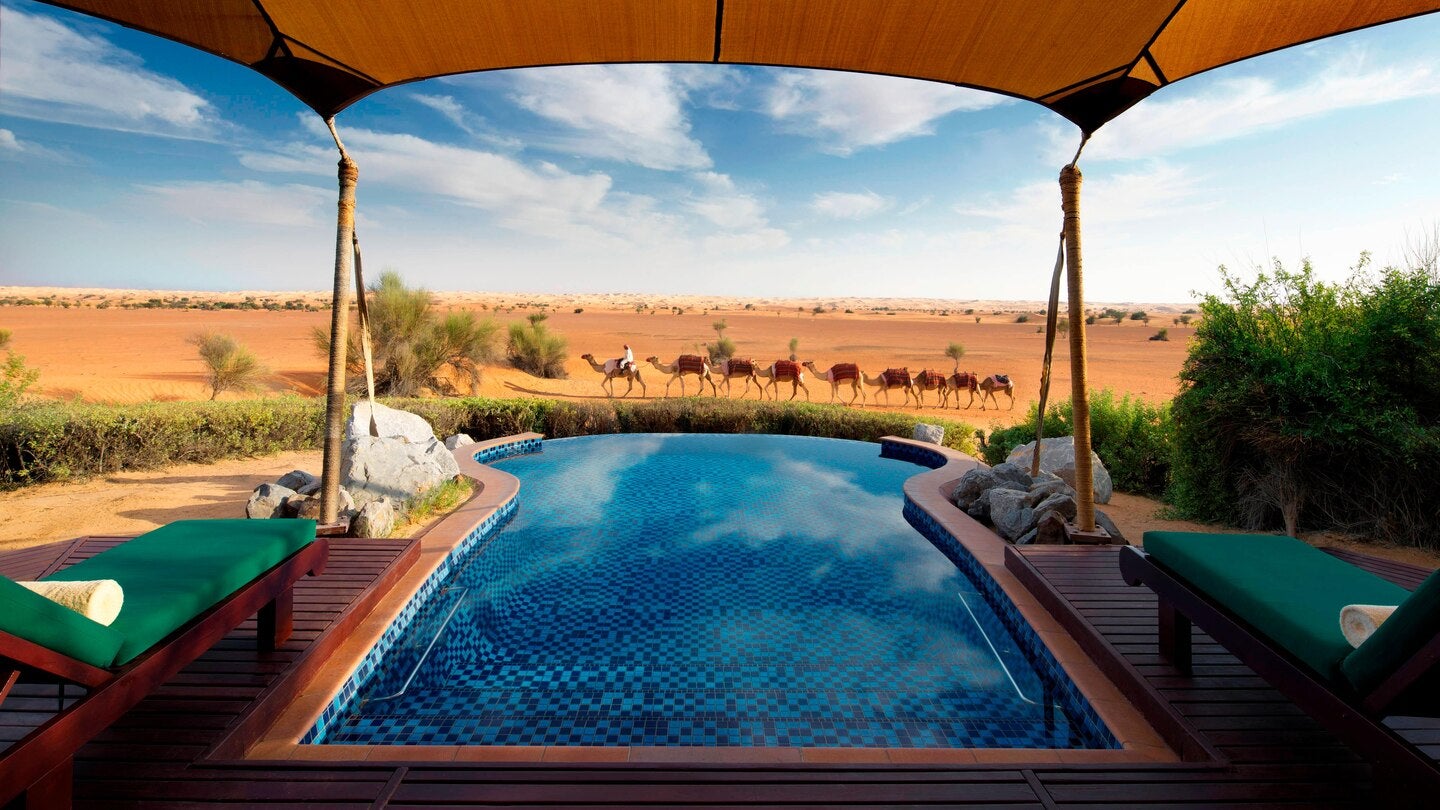 Far removed from the hustle and construction of Dubai, Al Maha is located 40 miles into the desert along the Dubai-Al Ain road. There are now a number of luxury desert escapes in Dubai, but Al Maha was the hotel that first blazed the trail. Here, 42 tented suites, each with a private pool, are scattered across the golden dunes and the palm groves of the Dubai Desert Conservation Reserve. This reserve is one of the largest formally protected conservations in the Gulf and gives its guests complete tranquillity and the freedom to wander on foot or horseback. Guests can finish the day watching the sunset over the dunes while sipping luxury cocktails at the Terrace Bar before dining at Al Diwaan. There is also the option to have a picnic out on the dunes or dine in private in your suite. The hotel also comes with the ultimate in personalized service with a ratio of three staff to every one guest.
Top Suite: Presidential Suite
With 6,200 square feet of meticulously designed luxury, this suite is the ultimate in desert sophistication. Its tranquil inner courtyard holds two fountains and leads to a large wooden deck with a private pool overlooking miles of sand dunes. Three bedrooms, each with their own bathroom, and a majlis lounge are adorned with original antiques and artifacts. Set apart from the other rooms and suites the luxury of this suite is in its privacy, but it also benefits from Al Maha's meticulous service; everything from the temperature of your coffee and swimming pool to the personal itineraries can be customized before your arrival. Every extravagance is catered for; the Presidential Suite even has quarters for your private staff.
asilvis@emirates.com, +971 4 832 9900, al-maha.com